View Your Network's Broadband Speed, Computer Bandwidth Usage, and the Status of Connected Network Devices–from an Easy-to-Read Display
Belkin's new N1 Vision wireless router features an advanced interactive network display that allows you to view the activity of your network. Packaged in a new sleek and sophisticated design, N1 Vision offers the best in networking performance with its wireless 802.11n(1) 3×3 MIMO radio design and wired gigabit ports.
The N1 Vision wireless router also continues Belkin's commitment in providing the best user experience through its plug-and-play "CD-less" installation and simple network security setup.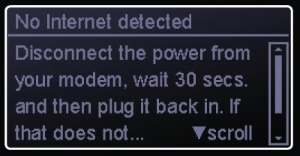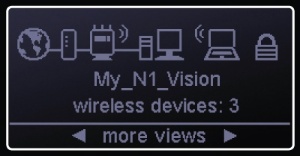 AVAILABILITY
Late July 2007 with launches in Asia, Europe, and Australia to follow.
Patent-pending LCD displays your:
Download/Upload Speedometer
Network Bandwidth Usage
Number of Connected Devices
Guest Access Network Key
Date and Time
Ideal usage:
Streaming video, music, and photos
Online gaming
Surfing the Web
Chatting with friends
Emailing
N1 Vision Wireless Router (F5D8232-4) – $199.99
Interactive network display
Plug-and-Play "CD-less" setup
Operating Range: Up to 1,600 ft.(2)
Link Rate: Up to 300Mbps in 20/40MHz channel mode
Compatible with IEEE 802.11g, 802.11b, 802.11n draft 2.0(1), 802.3ab
Ports: WAN – 1 Gigabit port; LAN – 4 Gigabit ports
Security: Wi-Fi Protected Setup™; WPA™, WPA2™; 64-/128-bit WEP encryption; multiple SSID
VPN Support: PPTP; IPSec pass-through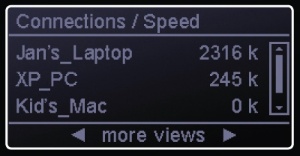 NOTE: The standard transmission rate – 300Mbps – is the physical data rate. Actual data throughput will be lower.
Quote:
Chris McGugan, VP of Product Management for Belkin:
"We always strive to build products that are useful, simple, and thoughtfully designed. Here, we've evolved the intuitive LED display from our flagship N1 Wireless Router into an interactive LCD on the N1 Vision, giving you a sophisticated wireless router that tells you much more about your network activity."

"The innovation found in the N1 Vision wireless router is the springboard for subsequent products that will further enable the interaction between the home user and his or her network."
(1) Belkin N1 Products: N1 Vision (F5D8232-4), N1 Wireless Router (F5D8231-4), N1 Wireless Notebook Card (F5D8011), N1 Wireless USB Adapter (F5D8051), N1 Wireless ExpressCard Adapter (F5D8071), and N1 Wireless Desktop Card (F5D8001) are compliant to the IEEE 802.11n 2.0 draft specification. Although Belkin incorporates all mandatory elements of the IEEE 802.11n draft 2.0 specification and designs the software to be upgradeable once the standard is finalized, Belkin cannot guarantee upgradeability.
(2) Products were tested in an outdoor environment. Actual speed and distance will vary depending on interference, network traffic, building materials, and other conditions. Range and speed are determined using a Belkin N1 Vision (F5D8232-4) and an N1 Wireless USB Adapter (F5D8051), N1 Wireless Notebook Card (F5D8011), N1 Wireless ExpressCard Adapter (F5D8071), or N1 Wireless Desktop Card (F5D8001).
About Belkin International, Inc.
Belkin offers a diverse product mix that provides people with seamless electronics integration in their homes, cars, and on the go. Founded in California in 1983, Belkin is a privately held company and the recognized leader in connectivity solutions, in addition to accessories for MP3 devices, computers, and more. We provide extensive solutions for networking, home theater – with our PureAV line of cables, power, and digital wireless accessories – and many more categories. You can view and purchase them at http://www.belkin.com, as well as through a network of major distributors, resellers, and superstores.
Belkin's phenomenal growth has led to our expanding global presence. In addition to corporate headquarters in Los Angeles, we now have offices throughout Europe – in the United Kingdom, the Netherlands, and Germany, among others – and in the Asia Pacific region, including Australia, Shanghai, and our regional headquarters in Hong Kong.