Plays Music Wirelessly From Your iPhone Through Your Home Stereo
With the new Belkin Bluetooth Music Receiver, you can wirelessly enjoy the music from your iPhone or iPod touch through your home stereo system. It frees you up from being tied down to docks and wires, and puts total control of your device in your hand so you can change tracks without ever getting up from your couch.
Connect the receiver to your home stereo system with the included cables, and then easily pair your device to the Receiver wirelessly to listen to, share, and control your music from up to 33 feet away. The Bluetooth Music Receiver uses Bluetooth v2.0 to give you reliable, high-quality sound.
The Bluetooth Music Receiver can remember up to six paired devices.
Bluetooth Music Receiver (F8Z492) — US: $49.99
Now available in the US
March 2010 in Canada, Europe, Asia, and Australia
Features Bluetooth v2.0 with EDR for superior performance
Transmits up to 33 ft. away
Includes 3.5mm-to-RCA and 3.5mm-to-3.5mm cables
Compatible with all devices enabled with A2DP stereo Bluetooth, including:

iPhone 3GS, 3G, and first generation
iPod touch 2nd generation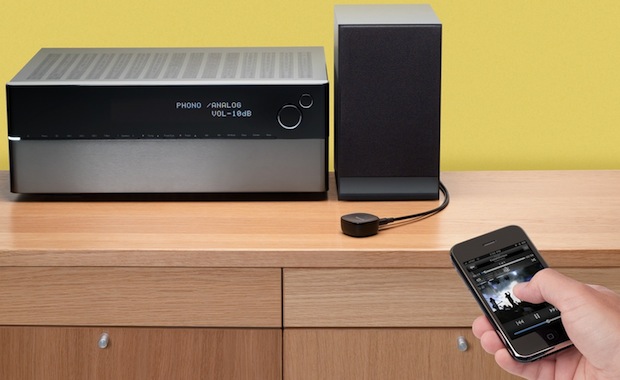 Using the built-in stereo Bluetooth on your iPhone and iPod touch, the Bluetooth Music Receiver connects to your home stereo to play music wirelessly.