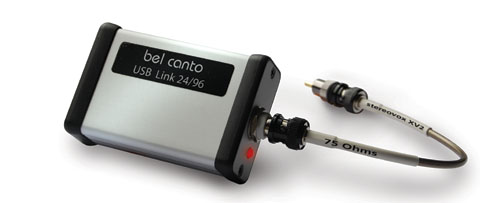 Bel Canto Design debuts the USB Link 24/96, the must-have component for computer hard disc music systems. This device converts a computer-derived USB input of up to 24 bits and 96kHz to SPDIF and outputs the signal on a 75 ohm BNC. The USB Link 24/96 includes a Stereovox SV2 BNC/BNC cable with RCA adaptor to feed your audiophile DAC of choice — most likely a Bel Canto DAC3! Significantly improves the sound of your 16-bit 441.kHz music files as well.
Features
Converts USB computer-sourced files to SPDIF output
Compatible with native drivers on Mac and Windows
Accepts high-resolution audio files with data rates up to 24 bits and 96KHz
Quality Stereovox XV2 BNC/BNC with RCA adaptor connects to any quality DAC
USB Link 24/96 disables system volume control
Low-jitter clock recovery features reference crystal oscillator
Self-powered via USB input benefiting from LC filters and low-noise local regulation
Galvanic isolation between computer and audio system prevents high-frequency noise from polluting signal
MSRP: $495
Includes Stereovox XV2 BNC/BNC SPDIF cable with RCA Adaptor
A Snap to Set Up
Simply connect a type-B USB cable from computer to the USB input on the Link; a red LED indicates power. Your MAC or PC automatically recognizes the unit as Bel Canto 2496 USB in the Sounds and Audio Devices control panel. Connect the supplied Stereovox XV2 cable between the USB Link into either a RCA or BNC SPDIF DAC input with the handy adaptor provided and you're ready to rip! Pardon our enthusiasm; you're ready to play high quality music from your computer!
Bel Canto music products merge artfully with your lifestyle, your music, and your audiophile passions. They're compact, sleek and hip enough to flatter any room. Designer John Stronczer uses less power to do more with elegant, efficient designs that always get you closer… to the experience.