The smart, casual BeoVision 8 32″ LCD video display from Bang & Olufsen is made for people who are looking for a casual TV with multiple placement options and fantastic picture and sound performance
The problem with many flat-screen TVs is that the sound they produce is just as flat as the screen even though it is what you hear that adds true depth and realism to what you see.
The sound performance of BeoVision 8 sets new standards. While the down-facing bass speaker provides a firm foundation for movies and music, the front units are tuned specifically for the reproduction of human speech so you get the feeling of voices coming directly out of the screen.
Chief Designer David Lewis explains: "We have moved the sound forward and up like a proper stage with a real orchestra pit, creating the uncompromised synergy of design and sound quality you would expect from a Bang & Olufsen solution."
Excellent picture quality
The BeoVision 8 32-inch screen is based on progressive display technology with a glare surface providing perfect contrast. This is particularly relevant when you watch TV during the daytime where other screens suffer from poor light conditions (too much ambient light!).
"The result of using the glare surface is a significant improvement of contrast. Black is blacker, both when the screen is turned on and when it is turned off," explains Business Manager Rie Pripso.
A flexible solution
With BeoVision 8, our customers get more options in interior decoration, as it can easily be moved around and placed high or low, on a desk, stand or wall, in a cabinet, or even directly on the floor.
Thanks to this flexibility, the BeoVision 8 concept is ideal for contemporary living where a switched-on television is an indispensable part of everyday life.
It is a video display that fits in your living room, but also perfectly in the kitchen, the bedroom, or the children's playroom. Everything about BeoVision 8 delivers a message of easy living without compromise as it offers incredibly high quality in one easy-going, compact package built to be used anytime, anywhere.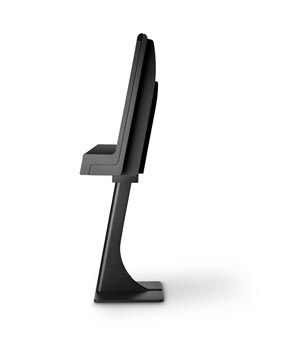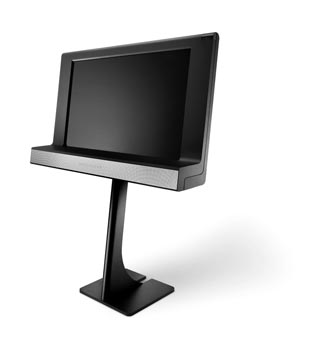 BeoVision 8-32 specifications:
| | |
| --- | --- |
| Designer | David Lewis |
| Dimensions (w x h x d) | 33.5 x 20.9 x 8.7″+ stand |
| Weight Approx. | 45 lbs. |
| Cabinet finish | Black/Silver |
| Remote control | Beo4 recommended |
| Power consumption | Typical 125 watt/stand-by 0.5 watts |
Picture:
| | |
| --- | --- |
| HD-ready | Yes |
| LCD: | 32″ 16:9 TFT LCD (Glare surface with low reflection coating) |
| Resolution | 1366 x 768 |
| Luminance of white (center of screen) | Typical 500 cd/m2 |
| Contrast ratio (center of screen) | Typical 1200:1 |
| Response time | Typical 6 msec. |
| Viewing angle | Typical +/-88 degrees both vertical and horizontal |
| Menu languages | English, Danish, Dutch, Spanish, Italian, German, French, Swedish |
| IR control output | Built-in — supports two STB's or other external units (IR-blaster included) |
| Loudspeakers: | Stereo Channel |
Connections:
| | |
| --- | --- |
| AV-connectors | 2 x 21-pin Scart sockets (CVBS in/out, RGB in, Y/C in (automatic 16:9 sense (pin-8), |
| | automatic Y/C detect, B&O AVL(1-way)) |
| | 3 x phono sockets (Y-Pb-Pr) |
| | 3 x phono sockets (CVBS/L-R) |
| | 1 x VGA socket |
| | 1 x HDMI socket |
| Camcorder / Auxiliary | 3 x Phono sockets (video in/audio L-R in), auto detection (video) |
| Headphones | Mini jack |
| Loudspeaker output | Power Link connector |
| IR control output | 2 x mini jack |
| Optional extra: | System module (Master Link + additional AV connector (SCART)) |
| Stands: | Floor stand, video stand, wall bracket |