Bang & Olufsen announced the BeoPlay A8 sound system with AirPlay for wireless music streaming from Apple devices. It is just like the original BeoSound 8 iPhone/iPod/iPad docking station, but the new A8 adds AirPlay to make listening to music from your iPod, iPhone or iPad even easier. Otherwise they share the same design, specs and outstanding sound. While their is no visible dock in the photos, the A8 does have one that pops in (or out) so you can listen to music or charge your device that way too.
The new BeoPlay A8 intuitively streams music with Apple AirPlay. BeoPlay A8 will recognize your iPhone or iPad, and then ask if you prefer to listen to your music through its balanced set of dynamic two-way speakers and formidable Class D amplifiers.
BeoPlay A8 has the power and acoustic authority to let your music shine, and also has the portability to turn any kitchen or summer cottage into a party zone. It connectivity is so seamless that your only question will be which song to play next.
Henrik Lorensen, VP for B&O PLAY, sees BeoPlay A8 as a logical addition to the B&O PLAY range of premium audio devices designed for the digitally connected. "BeoPlay A8 packs an incredible acoustic punch for its weight, and its design is as easy on the eye as it is on the ear. What it really does is let people connect to their music wherever they want to be."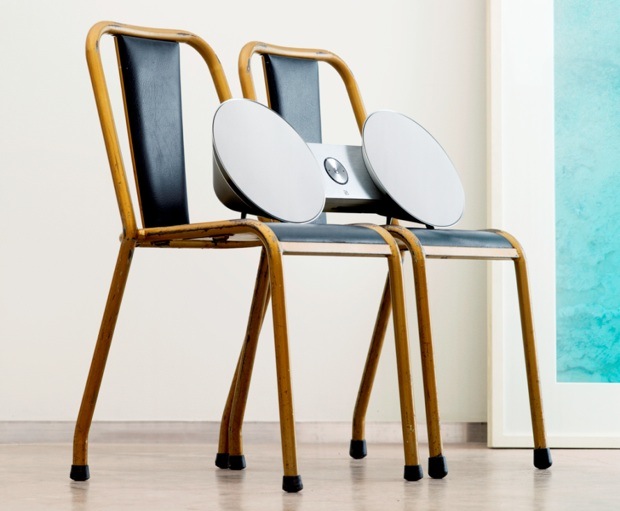 BeoPlay A8 hides an impressive array of hard-working components under its stylish hood. The five-inch midrange/bass speakers output 70 watts of fully integrated Class D amplifiers, and the 3/4-inch tweeters are powered by 35 watts each.
Designed by David Lewis Designers, BeoPlay A8's clean lines and flat front conceal the 1.3 litre volumes of the speaker casings, whose shapely cones have no parallel surfaces to create standing waves.
One can adapt the sound mode to BeoPlay A8's location in the room to further enhance the startlingly true listening experience. A simple switch lets users compensate for wall resonance by choosing between three pre-programmed modes: wall, corner or freestanding positions. Users control the music with a dedicated remote or their iPhone and iPad.
Price and Availability
The B&O BeoPlay A8 will be available in either black or white for $1,149.