The only soft case that lets you stand your iPhone 3G and 3GS in vertical and horizontal mode
Evolution Designs, LLC has just introduced the BackFlip case — the only soft case that lets you stand your iPhone 3G and 3GS in vertical and horizontal mode with an integrated kickstand that simply flips back into the case to fit in your pocket or purse. The BackFlip Case is available at www.backflipcase.com for $29.95
Now you can Flip your iPhone Up wherever you go. Prop it up at your desk and see who's calling or texting without lifting up the phone. Watch a movie on the plane with no hands. Give an impromtu vacation slide show on your iPhone when you're having lunch with your friends.
Patent Pending
Portrait AND landscape modes
Kickstand folds away flat
Protective soft case
Easy access to controls and openings
Charges while in case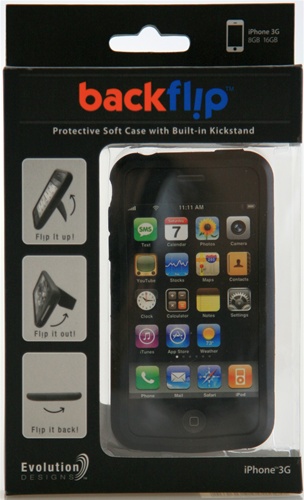 The BackFlip iPhone case was released October 22, 2009. As an introductory special, they are offering free shipping to the US in you order your iPhone case by October 31, 2009. Plus they offer a 30 day money back guarantee from the day you receive your case if you're not satisfied. The free shipping offer is only for the US. For orders outside the US, please select USPS First Class or USPS Priority Mail for the lowest cost.
Friends and Family Offer
Free Shipping plus a friend discount of 20% if you order by October 31. Use the Coupon Code "friendsandfamily" at checkout to get the discount when you order on the website.
About Evolution Designs, LLC
The BackFlip soft case with kickstand is designed by Evolution Designs, LLC, a San Francisco, California company and is manufactured for Evolution Designs in China. The Founders of Evolution Designs have a combined experience of 35 years in producing innovative high-quality consumer products and providing excellent customer service to our customers.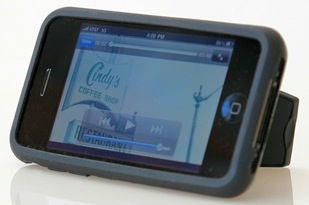 Reviews Around the Web:

backflip kickstand iphone