AudioControl, a U.S. designer and manufacturer of high performance theater components has again raised the industry standard with their new premium theater pre-amplifier, the Maestro M3. The Maestro M3 delivers an awesome combination of theater processing plus it allows users the unique ability to extend video and audio signals over CAT-5/6 wiring via AudioControl's Active Balanced Outputs. Additionally the Maestro M3 incorporates a distinctive look that is elegant and effectively portrays the true high-end nature of this product.
"A principle design goal of the Maestro M3 was to be AudioControl's premium, top-of-the-line theater processor which encouraged the design team to adopt a "cost is no object" approach," commented Tom Walker, president of AudioControl. "At the end of the development process, the Maestro M3 ended up being equipped with an incredible list of features making it a high value to our dealers. What we are most proud of is the stellar video and audio performance and the gorgeous chassis design."
Stylish Design: The simple yet elegant design of the front panel on the Maestro M3 is highlighted by the refined Rose Gold lettering on a high gloss black front. AudioControl's tasteful cool blue display compliments this exquisite design.
Serious Audio and Video: In addition to the numerous inputs, the Maestro M3 has audiophile quality pre-amp outputs that provide up to 10 channels of balanced (XLR) and unbalanced output. Audiophile quality components combined with state-of-the-art DA converters deployed across each channel provide maximum sound quality. A Stereo Direct mode allows for disabling of digital processing when using 2 channel analog sources.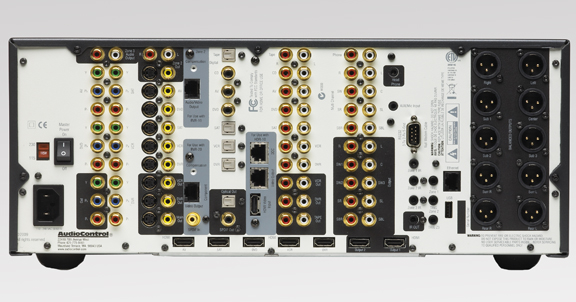 Among the twenty video inputs are five discrete HDMI inputs which can accept high resolution signals (up to 1080p deep color) and route the signals to one of the dual assignable HDMI outputs. A broadcast quality internal video scaler allows for upconverting, scaling and frame conversion of all video sources to HDMI.
Feature Laden: The Maestro M3 is equipped with an unprecedented number of video and audio inputs, which support all of today's digital and audio formats, including HDMI v1.3 (1080p). All of the latest Hi-Definition surround formats from Dolby and DTS are supported. The AudioControl Maestro M3 is also one of the first theater products to utilize Dolby Volume technology which provides a consistent volume level across all sources and content, and a reference-quality listening experience at any volume level. For those looking to enjoy their LP collection, a Moving Magnet phono input is also provided on the back panel. The Maestro M3 is highy automation friendly and can be controlled via IR, RS-232 or via IP control over an Ethernet connection.
Active Balanced Outputs: The Maestro M3 is equipped with AudioControl's Active Balanced Circuitry which provides the unique ability to extend selected video and audio signals over standard CAT-5/6 cabling. The rear panel of the Maestro M3 is equipped with several RJ-45 connectors that can extend component, composite, and even HDMI signals over the Cat-5/6 cabling to AudioControl Active Balanced receivers (sold separately).
AudioControl demonstrates their commitment to reliability by backing the Maestro M3 with their five-year Bulletproof Warranty.
The Maestro M3 theater processor will make its world debut at the 2009 CEDIA Expo in Atlanta. AudioControl will also be displaying the Pantages G3, the new companion amplifier to the Maestro M3.
AudioControl is a U.S. designer and manufacturer of highest quality theater processors, distributed audio amplifiers, signal processors and precise analysis products, celebrating more than 30 years of making good sound better. The company's headquarters, including research and development, manufacturing, production, and training facilities continue to thrive in Mountlake Terrace, Washington; heart of the rainforest of the Pacific Northwest. AudioControl, Maestro M3, Pantage G3 and "Making Good Sound Better" are trademarks of Electronic Engineering and Manufacturing, Inc.