Atlantic Technology has introduced its System 4200e THX Select home theater speaker ensemble, an improved version of its critically acclaimed* System 4200 THX Select system. The 4200e front-and center-channel speakers have been redesigned by replacing the original user-installed cosmetic side panels with permanently attached finishing panels. In addition, the new system's 642e subwoofer has a new, more massive 12-inch woofer and an improved cabinet.
Like its predecessor, System 4200e provides the home theater enthusiast with premium THX Select certified performance in a moderately priced product that looks and sounds like a far more expensive system. Based on Atlantic Technology's CORE (Custom Optimized, Room Enhanced) design philosophy, System 4200e has timbre characteristics that are amazingly similar to the company's more exotic, top-of-the-line (in the $25,000 range) System 8200 THX Ultra2 package.
For both dealers and consumers, the use of permanently attached side panels turns out to be much easier and more practical than using add-on panels. Since the newly redesigned front and center cabinets have slightly greater interior volume than before, there is also a nominal improvement in their bass response. Finish options remain the same: Gloss Black, Satin Black, Maple, or Silver.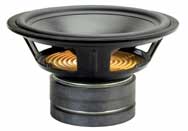 The most important performance upgrade, however, is to the 642e SB subwoofer. It uses a brand new 12-inch woofer, with a three-times heavier magnet and new cone design with a lower resonant frequency. This results in an improved output over the two lowest octaves, and a significant reduction in harmonic distortion levels.
In addition to its new woofer, the 642e SB subwoofer features a powerful 300-watt internal amplifier which drives the system to produce high bass levels from 25 Hz to 300 Hz (+/- 3 dB). It also incorporates Atlantic's exclusive Clear Filter Technology, which eliminates the deleterious effects that the subwoofer's enclosure itself can have on the sound.
The Atlantic Technology 4200e LR front speakers use two 5.25-inch GLH (Graphite Loaded Homopolymer) woofers mounted one-each above and below a single 1-inch silk dome tweeter. This vertical MTM configuration provides a wide, highly linear horizontal dispersion, while limiting vertical dispersion to reduce unwanted reflections from the floor or ceiling. The 4200e C includes the same drivers oriented horizontally, but with the woofers side-by-side and the tweeter above and between the woofers. Since the effective acoustic distance between the woofers is so small, any theoretical horizontal dispersion limitations of this configuration are essentially irrelevant. The 4200e C also features Atlantic's exclusive tilting base design, to aim the speaker directly at the listeners for optimum dialogue reproduction.
All three front speakers include controls that can adapt sound quality for different speaker placements. A three-position High Frequency Energy switch adjusts for rooms that are acoustically too bright or too dull. A Boundary Compensation toggle can be used to adjust the lower-midrange output to compensate for the sound colorations caused by placing a speaker close to a TV screen, or building it into a cabinet or shelving unit.
The 4200e SR dipole/bipole surround speakers use one woofer and tweeter system angled toward the front of the room, and another identical system angled toward the rear. A front-panel switch allows the pair to operate either out of phase in a dipole mode, or in-phase as a bipole speaker.
The Atlantic Technology System 4200e speakers will be available in January. Suggested retail prices are: 4200e LR, $930/pair; 4200e C, $550 each; 4200e SR, $900/pair; and 642e SB, $920 each. The combined price for a 5.1-channel system is $3500.00.
From its inception in 1989, Atlantic Technology's mission has been to produce home entertainment products that exemplify the very best in both performance and value. The company specializes in complete high-performance multi-channel speaker systems, state-of-the-art home theater electronics components, and products for custom audio/video installation. For more information on Atlantic Technology and its many fine products for home theater and custom audio/video installation, visit www.atlantictechnology.com or call 781-762-6300.
# # #