Atlantic Introduces Upgraded, Affordable System
Atlantic Technology has introduced the System 1400, a high quality compact speaker package that replaces the company's popular System 1200 series with improved performance and updated aesthetics for outstanding home theater sound at very reasonable prices. The system consists of a compact two-way LR model, a matched horizontal center channel, and a low-profile on-wall dipole/bipole surround/height speaker. The system is designed to integrate perfectly with any of the company's newly announced SB series powered subwoofers.
"Our System 1200 was always extremely popular as a bang-for-the-buck leader in compact home theater packages," comments Atlantic Technology President Peter Tribeman. "The System 1400 picks up that tradition, and takes it to even higher levels of performance and convenience, thanks to the inclusion of our acclaimed Low Resonance Tweeter (LRT™), and the addition of the 1400 SR-z surround. There really is no beating this system at this price."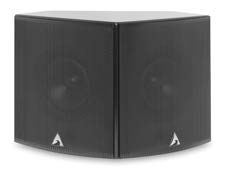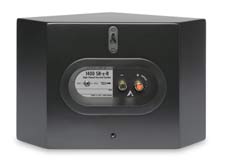 1400 SR-z
New for Atlantic Technology System 1400 is the 1400 SR-z dipole/bipole surround/height speaker, which uses a pair full-range drivers to deliver an enveloping and convincing surround soundfield. The polymer-treated 3-1/2-inch drivers used for these speakers use Atlantic's new High Frequency Assistive Radiator (HFAR) technology, which greatly expands the range of the driver while still allowing for a remarkably small enclosure. The 1400 SR-z's bipole or dipole sound field, and shallow 5-3/8-inch mounting depth makes it especially well-suited for use as the height channel speaker in systems equipped with Dolby Laboratories' new ProLogic IIz surround format.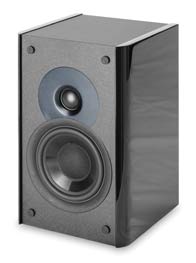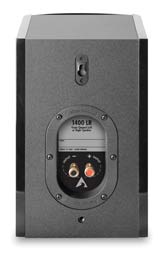 1400 LR
The most significant upgrade to the System 1400 LR and 1400 C speakers is the inclusion of Atlantic's proprietary LRT™ (Low Resonance Tweeter), which extends as much as a full octave lower in the frequency range than conventional tweeter designs. This expanded range of the tweeter leads to more linear dispersion characteristics, especially in the upper midrange band, for improved dialogue reproduction and better soundstage development than conventional satellite speaker designs.
Both the Atlantic Technology 1400 LR and 1400 C speakers are attractive two-way sealed box loudspeakers with 4-1/2-inch GLH (Graphite Loaded Homopolymer) woofers to provide bass and lower midrange frequency reproduction. The 1400 LR speakers use a single woofer, while the 1400 C has a pair of 4-inch woofers flanking the LRT high frequency driver, providing for improved dialogue reproduction and intelligibility.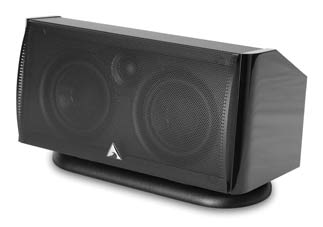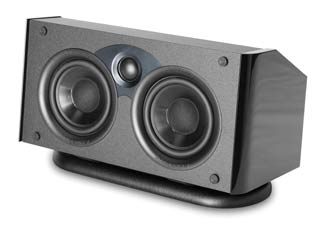 1400 C
The rear panel of the 1400 C includes a pair of controls that can adapt sound quality for different speaker placements. A three-position High Frequency Energy switch adjusts for rooms that are acoustically too bright or too dull. A Boundary Compensation toggle can be used to adjust the lower-midrange output to compensate for the sound colorations caused by placing a speaker close to a TV screen, or building it into a cabinet or shelving unit. Finally, Atlantic's tilting base design allows the speaker to be aimed directly at the listeners for optimum reproduction.
The System 1400 speakers are all finished in attractive satin black finish, with the 1400 LR and 1400 C also available in gloss black, and all will be available in late May. The Atlantic Technology 1400 LR has a suggested retail price of $470/pr., the 1400 C has a suggested retail price of $305 ea., and the 1400 SR-z has a suggested retail price of $425/pr.
From its inception, Atlantic Technology's mission has been to produce home entertainment products that exemplify the very best in both performance and value. The company specializes in complete high-performance multi-channel speaker systems, state-of-the-art home theater electronics components, and products for custom audio/video installation.
Atlantic Technology speaker systems are designed and engineered as integrated multi-channel ensembles, and hand assembled at the company's Norwood, MA facility. These systems are tailored and tuned to provide a seamless and startlingly realistic soundstage for multi-channel music and home theater.
| | | | |
| --- | --- | --- | --- |
| | 1400 LR | 1400 C | 1400 SR-z |
| Type | Sealed-box 2-way | Sealed-box 2-way M-T-M array | Sealed-box dipole/bipole surround speaker |
| Woofer | [1] 4-1/2″ GLH | [2] 4″ GLH | [2] 3-1/2″ poly-treated full-range with HFAR |
| Tweeter | [1] 1″ LRT soft dome | [1] 1″ LRT soft dome | |
| Frequency Response | 90Hz – 20kHz +/- 3 dB | 95Hz – 20kHz +/- 3 dB | 110Hz – 20kHz +/- 3 dB |
| Nominal Impedance | 8 Ohms | 8 Ohms | 8 Ohms |
| Crossover Frequency | 2.5 Hz, 3rd order | 2.3 Hz, 3rd order | N/A |
| Sensitivity | 88dB | 89dB | 89dB |
| Recommended Amplifier Power | 10-100 Watts RMS | 10-125 Watts RMS | 10-100 Watts RMS |
| Magnetic Shielding | Yes | Yes | No |
| Dimensions w/ grilles (w x h x d) | 6.375 x 10.5 x 7 | 12.5 x 7.125 x 6.625 | 12.25 x 8 x 5.375 |
| Weight (each) | 5 lbs. | 8 lbs. | 7 lbs. |
| Finishes | gloss black / satin black | gloss black / satin black | satin black |
| MSRP | $470/pr. | $305 ea. | $425/pr. |