Compact, energy efficient and pre-installed with Windows Home Server, the TS Mini serves the need to access and share content on-demand
ASUS introduced the TS mini small office/home office (SOHO) server. The TS mini targets modern home and small office users that frequently exchange data from multiple computers and require access from various locations. The TS mini secures documents, multimedia, and other digital content into a sleek repository. It further safeguards data on multiple computers across the home or office with automatic backups and cloud storage. TS mini allows centralized file access with local networks, attached storage devices and remotely over the internet. Equipped with an Intel Atom™ processor, the TS mini delivers quiet, energy efficient, always-on access. Operating on the Microsoft Windows™ Home Server Platform, it simplifies management of digital content. The TS Mini is available now for pre-order at Amazon.com and NewEgg.com starting at $349.99 USD.
"Consumer demand for rich content that can be accessed anytime, anywhere, on any device is fueling innovation in networking and storage of media and data in the home," said Seth Bobroff, general manager, Data Center Group — Storage, Intel Corporation. "The Intel Atom™ processor in the TS mini enables ASUS to deliver the ability to stream media, share files and protect data while remotely accessing it, all in a sleek and energy-efficient 2-bay design."
"We are pleased to welcome ASUS, one of the industry's leading PC manufacturers, to the Windows Home Server family," said Leslie McGuire, Microsoft Director of Windows Server Marketing. "Customers tell us they want an easy and inexpensive way to store, manage and protect their digital content. ASUS helps them achieve all of that with their TS Mini Server, which includes a robust option for adding data capacity through external Web storage."
Easy Backup and Restoration of Home Computers
The TS mini can automatically back up data from up to 10 computers daily. With six USB and two eSATA ports, the TS mini lets users directly back up, synchronize, and manage their files across various USB and eSATA devices and the internal hard disk drive. In a recovery scenario, users can bring individual computers or the entire office back online by loading the latest recovery information saved on the TS mini.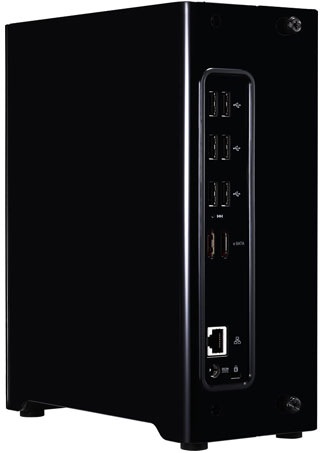 Convenient Content Sharing and Easy Remote Access
The TS mini makes it easy for users to stream photos, music, video and other digital content to various devices including TVs, computers, Media PCs, and gaming consoles–for all-around content access. With the Remote Access feature, users outside the local network can also leverage their personal Windows Live™ account to access the TS mini and its content. Additionally, they can stream music and multimedia content through the online connection.
Large Data Capacity with Exclusive Web Storage
For additional storage capacity, the ASUS offers TS mini users a year of free 500GB storage over the Web. Users can boost their storage or synchronize backups online for improved data security. Additionally, users can save large peer-to-peer files on the Web, and share data with user accounts worldwide.
Energy-saving Features
In line with global energy-saving initiatives, the TS mini uses minimal power–consuming 24.5W when in idle mode and 27.9W during activation. The TS mini is the ideal choice for 24/7, non-stop data center operation.
Pricing
The ASUS TS mini is available in 500G and 2TB models at $349 and $529, respectively.
ASUS HOME SERVER TS mini Specifications
CPU
Intel Atom Processor N280 1.66GHz
Memory
1GB/2GB DDR2-800
Hard Drive
500GB/2TB, 7200 RPM
Networking
1x 10/100/1000 (Gigabit) RJ45 LAN
Interfaces
6x USB 2.0, 2x eSATA, 1x K-Lock
LED Indicators
System, HDD1, HDD2, Network status indicators
AC Power Adapter (Watt)
Output: 19V, 90W
Input: 100-240V AC, 50/60Hz universal
Dimensions
9.6″ (H) x 3.8″ (W) x 8″ (D)
Weight
3.3/3.9 kg; 7.26/8.58 lbs.
Operating System
Powered by Microsoft Windows Home Server
Accessories
Quick start guide
User manual
AC adapter (90W)
Power cord
RJ45 LAN cable
Software installation CD
Recovery DVD
Restore CD
HDD screws package
Warranty card