Enjoy Powerful Performance While Saving the Earth
With the official launch of the Intel X48 chipset drawing ever closer, ASUS, producer of the world's leading motherboards, has announced the release of the ASUS P5E3 Premium WiFi-AP @n motherboard. This powerful motherboard is the newest member in the ASUS EPU family of motherboards, and is equipped with the latest Intel X48 chipset; and showcases the exclusive EPU Technology to combine vigorous performance with superb energy efficiency. Additionally, this outstanding motherboard supports DDR3 2000MHz dual-channel memory, dual PCI Express 2.0 x16 lanes, 802.11n WiFi specifications and the innovative ASUS Express Gate for Internet access in just 5 secs.
Award-Winning Performance
The ASUS P5E3 Premium WiFi-AP @n motherboard has garnered several awards with its excellent overclocking performance. Winner of the Gold Editor's Choice award from Anandtech and HotHardware's Editor's Choice award, this powerful motherboard provides potent performance to suit the user's overclocking needs.
"The combination of this board's extensive feature set and up-to-date design makes for a potent combination. With an excellent BIOS, it proved to be a solid overclocker, and performance and stability were top-notch. An exceptional product if you plan to build a new Intel-based rig using a Wolfdale or Yorkfield CPU — do yourself a favor and put this motherboard on your short list of potential candidates. The ASUS P5E3 Premium is an excellent motherboard and worthy of an Editor's Choice award." Said Marco Chiappetta, reviewer of Hothardware.com — an online hardware and tech review site.
ASUS Exclusive EPU Saves Up to 80.23%CPU Power
Through the exclusive EPU's automatic energy saving chip, the ASUS P5E3 Premium WiFi-AP @n is able to provide users with CPU power savings of 80.23%. Able to digitally monitor and automatically fine-tune the CPU power supply with improved VRM efficiency under any loading, the EPU offers total control and attains the best possible power efficiency when the PC is running low intensity programs. Coupled with the innovative AI Gear3 Plus — which features a new user interface that shows users exactly how much electricity and CO2 is being saved, the ASUS EPU can provide users with up to 50% enhanced power efficiency.
Access the Internet in 5 Secs with Express Gate
With only 5 seconds boot-up time, the ASUS Express Gate offers an optional boot-up selection screen that allows you to instantly surf the Internet without entering Windows. This convenient application will now allow users to enjoy Skype, IM, YouTube, and webmail access quickly without the need to wait for the operating system to load.
Innovative Built-in Features
The ASUS P5E3 Premium WiFi-AP @n comes equipped with numerous innovative technologies like the onboard IEEE 802.11n draft technology support. This standard allows for wider network coverage and data transmissions of up to 6 times faster than 802.11b/g standards. Another feature is the industry-leading Third Generation 8-phase Power Design, which is a VRM design that can provide enhanced power efficiency by utilizing high quality power components that include: low RDS (on) MOSFETs for minimum switching loss & lower temperature, Ferrite core chokes with lower hysteresis loss; and high quality Japanese-made conductive polymer capacitors for longer component life and lower power loss that prolongs CPU lifespans.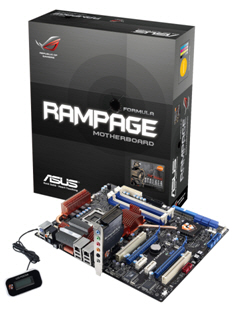 The ASUS P5E3 Premium WiFi-AP @n, together with the ASUS Rampage Formula, form part of ASUS' new X48 chipset family of motherboards.
Specification