ASUS introduced the Republic of Gamers (ROG) G74SX 17-inch gaming notebook featuring 2nd generation Intel Core i7 CPU and NVIDIA GTX 560M GPU with 3GB of GDDR5 VRAM. With support for the latest Microsoft DirectX11 graphics, the G74SX delivers spectacular gaming and multimedia visuals along with NVIDIA 3D Vision and 3DTV Play technology. The G74SX arrives in a sleek updated stealth design in a matte black exterior, ergonomic keyboard, soft touch palm rest and new dual intelligent fan technology that exhausts heat at the back of the notebook for a quieter and cooler gaming experience.
The G74SX supports up to 16GB of DDR3 system memory, 8-channel HD audio with THX TruStudio and Creative EAX Advanced HD 5.0 compatibility, on-the-fly overclocking, ambient lighting, Blu-ray playback and Solid State Disk (SSD) storage options or up to 1.5TB of hard drive capacity.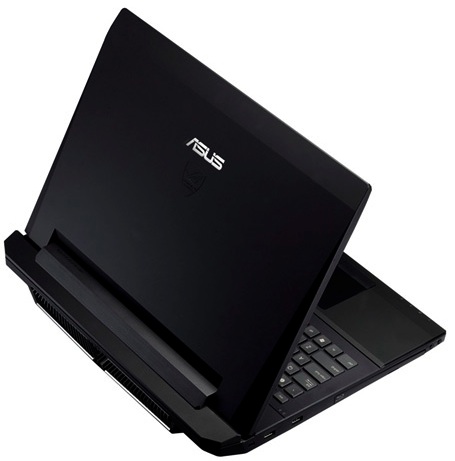 The G74Sx is similar to its predecessor in terms of design, but features improvements to give users an easier way to upgrade as well as a better gaming experience. The five-degree angled keyboard and soft touch palm rest are still present, though the keyboard is more spacious with extra room given for the number pad and arrow keys, as well as a bigger shift key that gamers will appreciate.
The rear venting system has also been upgraded, now consisting of Dual Intelligent Fan technology that independently cools both the CPU and GPU. When there is additional load on the CPU, the GPU fan will automatically switch to assist in cooling the CPU and vice versa resulting in lowering temperatures for a more comfortable gaming session.
A new feature is the Easy Upgrade Cover which allows users to remove a panel underneath the G74SS with a coin so they can upgrade their memory or HDD quickly. With support for up to 16GB of system memory and two slots for hard drives, the Easy Upgrade Cover will be come in handy when it comes time to upgrade.
Price and Availability
The ASUS G74SX gaming notebook is available now starting at $1,399
See more: Notebooks, Gaming, ASUS