ASUS has introduced the powerful 15.6-inch ASUS-Automobili Lamborghini VX7 notebook featuring quad-core 2nd generation Intel Core i7 processors and clocks in as the world's first notebook with discrete NVIDIA GeForce GTX 460M graphics, supported by a massive 3GB of dedicated video memory. Users also benefit from a speedy solid-state hybrid drive of up to 1.25TB in capacity, rated at approximately 10,000rpm for super-fast access and performance.
The VX7 represents the culmination of the ASUS-Automobili Lamborghini co-branding joint venture, delivering a premium product for discerning consumers who hold luxurious craftsmanship and advanced technology in equally high regard. Numerous design touches double as highly practical performance enhancers and tributes to Automobili Lamborghini engineering and style. One clear example of this are the cooling vents at the rear of the VX7, which enable superior heat dissipation just as they echo the unique taillights and exhaust assemblies of Automobili Lamborghini supercars.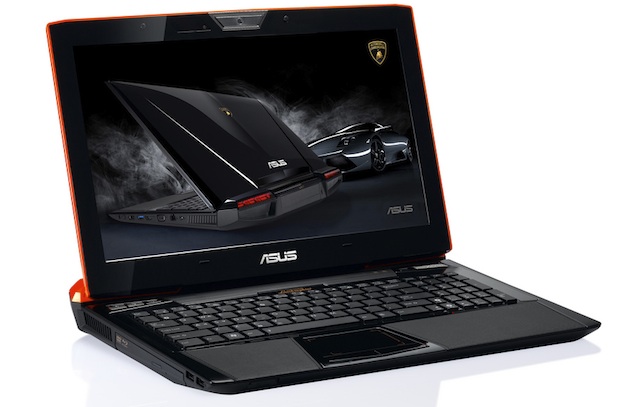 This design philosophy applies equally to the power button, which has been styled as an engine start key, leather-trimmed palm rests and the light but durable aluminum construction.
The VX7 is offered in three classic Automobili Lamborghini colors — orange, black and carbon fiber. All are directly licensed and formulated to retain the iconic and attention-grabbing appearance of the fabled Italian powerhouses.
MSRP: $2,299.99