The Hot Pink Eee PC™ 1008P has a metallic silver bottom layer and a transparent Hot Pink IMR upper layer that makes an instant fashion statement.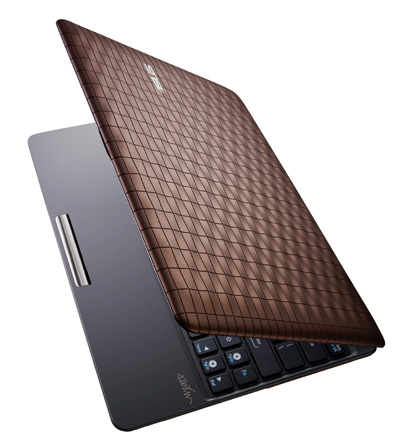 The Coffee Brown Eee PC™ 1008P has two layers: a Coffee Brown bottom layer highlighted with gold glitter, and a soft-to-the-touch upper layer of translucent rubber paint that provides an understated yet elegant look to this Netbook.
Since the introduction of the first Eee PC™, ASUS has been melding technology with modern design. With the Eee PC™ Seashell Karim Rashid Collection (1008P), ASUS has taken that philosophy one step further. Co-conceived by one of the world's leading designers, the Eee PC™ Seashell Karim Rashid Collection is the realization of Karim's vision of computing–one that is more sensual, more human, more hip. Completely contemporary, these Netbooks are designed to appeal to those who want something different, something fashionable, yet something that retains the award winning characteristics of ASUS' Eee PC Seashell products.
The Eee PC™ Seashell Karim Rashid Collection represents ASUS' commitment to designing products that appeal to the five human senses, with an emphasis on vision and touch. To achieve this, ASUS' industrial designers created new materials, production processes, and textural innovations for this product line. The combination of rubber paint, in mold roller (IMR) processes, and metallic materials create two very unique finishes that appeal to your sense of touch and vision.
Making Waves!
Karim's inspired design touch is evident in every facet of the Eee PC™ Seashell Karim Rashid Collection. From top to bottom, the unique 2-dimensional wave pattern conveys a sense of forward movement while offering strikingly beautiful looks. The subtle wave pattern with its perfect color consistency is the result of manufacturing precision, yet it retains the design and feel of a handcrafted product.
Innovative Finishes Convey a Touch of Elegance
The Eee PC™ Seashell Karim Rashid Collection reflects a passion in design to stimulate all five human senses, including the sense of touch, which is often overlooked in the PC world. This product line sets itself apart from other Netbooks through its use of innovative finishes and colors. The Eee PC™ Seashell Karim Rashid Collection is available in an eye catching Hot Pink or classic Coffee Brown.
Stylistic yet Efficient
The Eee PC™ Seashell Karim Rashid Collection features a breathtaking design that includes a 10.1″ frameless LED backlit display and an ergonomic chiclet keyboard. This beauty is matched by its computing prowess. It features the new power-saving Intel Atom™ N450 CPU, which works in tandem with ASUS' exclusive Super Hybrid Engine energy management technology to deliver up to 6 hours of battery life on a single charge. The Eee PC™ Seashell Karim Rashid Collection also offers near-instant access to the Internet thanks to the inclusion of Express Gate, an ancillary operating system that boots up in seconds. Express Gate allows users to make Skype calls, surf the web, browse photos, engage in instant messaging, and much more.
Specifications: Eee PC™ Seashell Karim Rashid Collection (1008P)

| | |
| --- | --- |
| Display | 10.1″ LED Backlight WSVGA Screen (1024×600) |
| Operating System | Genuine Windows 7 |
| CPU | Intel Atom™ N450 |
| Default Memory | DDR2 SO-DIMM 1GB |
| Storage | 2.5″ 250GB/320GB SATA2 HDD 5400rpm + 500GB ASUS WebStorage |
| Wireless Data Network | WLAN 802.11b/g/n @2.4GHz, BluetoothV2.1 + EDR |
| Battery Life | Slim and eco-friendly Li-polymer battery, 6hrs |
| Camera | 1.3M Pixels |
| Audio Codec | Hi-Definition Audio CODEC |
| Speakers | Stereo Speakers |
| Built-in Mic | Digital Array Mic |
| Interface | 1 x Mini VGA Connector, 2 x USB 2.0, 1 x LAN RJ-45, 2 x Audio Jack (Headphone / Mic-in), Card Reader: MMC/SD(SDHC) |
| Physical Dimensions | 262mm (W) x 180mm (D) x 26.2mm (H) |
| Weight | 1.145kg (2.53lbs) |
| Colors | Hot Pink, Coffee Brown |