ARCHOS announced two tablets, the 80 G9 (8-inch, 4:3) and 101 G9 (10-inch, 16:10), powered by Android 3.1 (Honeycomb). Both tablets utilize an OMAP 4 processor with an ARM Cortex dual-core A9 running at 1.5 GHz and provide a choice of 16GB Flash Memory or 250GB Hard Disk Drive (HDD).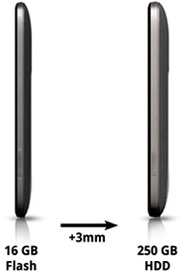 ARCHOS has replaced the standard multimedia apps with ARCHOS boosted apps for video and music to give to users more format compatibility and a unique user interface. With film and TV series metadata automatically downloaded, even video files are automatically organized by title, actor, director, year, season and episode, ARCHOS have redefined the tablet device category by providing consumers more ways to experience HD entertainment.
ARCHOS G9 tablets also feature an HDMI output, giving users full access to their Android experience on TV including movies in 1080p resolution. With 250GB of storage space, users will be able to carry over 50 hours of full 1080p HD to watch on their 10.1″ wide 1280×800 16:10 screen.
Additionally, the G9 tablets feature a unique 3G ready solution where customers no longer need to choose between WiFi and 3G models at purchase. ARCHOS G9 3G Stick ($49) is a standard 3G stick for laptops which has been designed to be compatible with all ARCHOS G9 tablets. All G9 tablets come with a concealed USB port on the back of the device that when paired with the ARCHOS 3G USB Stick will enable 3G connectivity.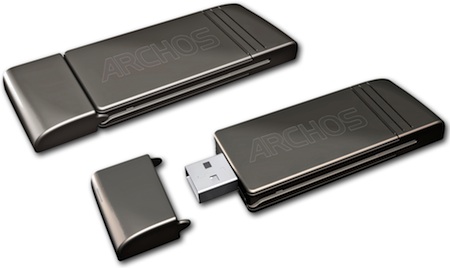 This cutting edge 3G stick offers one 3G solution for both a tablet and a laptop and uses just one data plan. Offered as a Pay-As-You-Go Plan, there is no subscription required and the consumer need only pay for what they need when they need it.
Price and Availability
The ARCHOS G9 tablets will be available by the end of September 2011 at the following prices:
$279 → ARCHOS 80 G9 (4:3 – 1024×728 screen) 8-inch tablet
$349 → ARCHOS 101 G9 (16:10 1280×800 screen) 10.1-inch tablet