New Amplifier and Speakers Give Boaters More Reasons to Upgrade
Boating season is just a few months away, so it's time for improvements and upgrades to make this year's moments on the water more memorable than before. Alpine Electronics of America, Inc., the industry-leading manufacturer of automotive mobile media solutions, today announced two new high-performance, rugged marine products that give boaters the ultimate flexibility to build the perfect custom sound system.
Alpine offers a complete line up of marine sound system solutions, which now includes: two head units (iDA-X100M and CDA-9886M); three digital amplifiers (new PDX-5M, PDX-1.600M and PDX-4.100M); three speaker sets (new SPR-M70 7-inch component, SPR-M700 7-inch coaxial and SPS-M600 6.5-inch coaxial); a subwoofer (SWR-M100); and multiple wireless remote controls/commanders (MC10 wireless commander system, MC1 add-on remote commander, RUE-M1RF and RUE-M1EX remote controls).
Every Alpine marine product is specifically engineered for the harsh marine environment and is designed to work together for maximum performance and durability. They are marine certified and can withstand abuse from water, salt and sun. All Alpine marine products go through American Society for Testing and Materials (ASTM) tests for ASTM B117 salt spray/fog, as well as ASTM G154/D4329 UV resistance.
The full line up of marine products allows boaters to design a sound system that fits their needs and budget. A simple system upgrade could consist of a head unit, remote control and two pairs of speakers. In contrast, a complex system consisting of a head unit, remote control kit, three amplifiers, two subwoofers and four pairs of speakers ensures that the party is on the water.
New Marine Digital Amplifier and Speakers


Alpine adds a powerful 5-channel digital PDX amplifier to its current line up of marine amplifiers. The new PDX-5M amplifier, as with all Alpine PDX amplifiers, combines a small, uniform and stackable design with superb fidelity and maximized output power control. As a 5-channel amplifier, the PDX-5M enables sound quality enthusiasts to build a complete sound system powered by just one PDX amplifier. It delivers 75 watts to each full-range channel and 300 watts to the subwoofer for loud, dynamic sound on the open water. With extremely high efficiency at all power levels, the PDX-5M puts less strain on the boat's electrical system while still providing lots of precise, powerful sound.
Joining Alpine's existing marine speaker line are the new SPR-M70 7-inch component speakers. The easy-to-install SPR-M70 sports an efficient titanium dome tweeter and 7-inch woofer for clear, loud sound output in open-air environments. It comes ready with two grille styles, "Classic" and "Sport," to cosmetically integrate into a wide variety of boat interiors, and is constructed of UV-treated Centrex 813 for hard-wearing durability and UV protection against yellowing. In addition, the crossover is housed inside the woofer frame for durability and easy installation.
Marine Head Units, Commanders and Remote Controls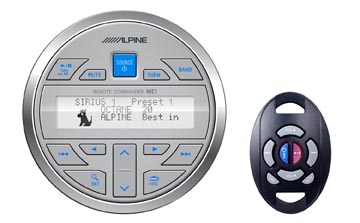 Alpine's two marine head units are the iDA-X100M (see left photo) and the CDA-9886M. Both units offer superior playback of iPod and satellite radio, which are two easy and popular music sources for boaters. The iDA-X100M Digital Media Receiver delivers a fully integrated iPod and satellite radio experience and is based on Alpine's award-winning in-vehicle iPod interface. The 2.2-inch full color TFT screen displays artist, album details, track information and album art (if available) from the iPod. The unit's Alphabet Search, Percentage Search and Quick Search™ features make it easy to quickly navigate through large iPod music libraries. The intuitive user interface makes it simple to quickly search satellite radio channels as well.
The CDA-9886M is a robust CD-R/-RW/MP3/AAC/WMA head unit with simplified, fast iPod connectivity and file navigation via the included KCE-422i Full Speed™ Connection for iPod cable and the Percentage Search function. This head unit, along with the iDA-X100M, can connect to various digital media sources and formats, including HD Radio™, satellite radio, Bluetooth connectivity for hands-free calling, USB mass storage devices and CD changers. (Separate adapters and/or subscriptions required.)
Alpine's MC10 Wireless Marine Commander Kit (see right photo) consists of one RF transceiver and an MC1 wireless remote commander. The MC1 has volume and sub level controls and a back-lit, full dot matrix display that shows metadata (such as album, artist and song information). The MC10 system can control the iDA-X100M and CDA-9886M head units as well as any additional sources such as iPod, HD Radio and satellite radio (additional sources and subscription fees required, sold separately). Additional MC1 remotes (sold separately) can be added to an existing system and installed in various places for flexible sound system control from anywhere in the boat. The MC10 system works as a network, allowing RF communications to hop from commander to commander to get back to the iDA-X100M or CDA-9886M. Each extra MC1 remote has a unique RF (radio frequency) ID so that it does not interfere with another adjacent MC10 system.
Boaters who prefer a handheld remote control system may choose the RUE-M1RF Remote Control for Marine Applications. The RUE-M1RF consists of a receiver and remote transmitter with a 100-ft range. The system can handle up to eight extra remotes (RUE-M1EX, sold separately) and the remotes will float in water if dropped.
PRICING AND AVAILABILITY:
Alpine marine products are available at authorized Alpine dealers.
iDA-X100M — Marine Digital Media Receiver
Availability — Now; Suggested retail index — $450
CDA-9886M — Marine CD Receiver/iPod Controller
Availability — Now; Suggested retail index — $400
PDX-5M — Marine 5-Channel Power Density Digital Amplifier
Availability — February; Suggested retail index — $750
PDX-1.600M — Marine Mono Power Density Digital Amplifier
Availability — Now; Suggested retail index — $650
PDX-4.100M — Marine 4/3/2 Channel Power Density Digital Amplifier
Availability — Now; Suggested retail index — $650
SPR-M70 — 7-inch Component Marine Speakers
Availability — March; Suggested retail index — $330
SPR-M700 — 7-inch Coaxial 2-way Marine Speakers
Availability — Now; Suggested retail index — $200
SPS-M600 — 6.5-inch Coaxial 2-way Marine Speakers
Availability — Now; Suggested retail index — $120
SWR-M100 — 10-inch Marine Subwoofer
Availability — Now; Suggested retail index — $230
MC10 — Wireless Remote Commander with RF Transceiver System
Availability — February; Suggested retail index — $230
MC1 — Additional Wireless Remote Commander for MC10
Availability — February; Suggested retail index — $150
RUE-M1RF — RF Remote Control Kit
Availability — Now; Suggested retail index — $120
RUE-M1EX — Additional Remote Control for RUE-M1RF
Availability — Now; Suggested retail index — $60
ABOUT ALPINE ELECTRONICS
Alpine Electronics is an automotive electronics manufacturer that supports drivers in over 60 countries and provides the world's leading auto makers with audio, video, navigation and driver assistance products. The company specializes in system integration solutions with innovative vehicle entertainment and information technologies.
Alpine's R&D and manufacturing facilities in Japan, China, Europe and North America ensure that all products address the real world requirements of drivers in each market. The company is committed to developing products that are safe, comfortable and eco-friendly for the automotive environment.
For more information about Alpine Electronics, visit www.alpine.com. For more information about Alpine's aftermarket products, visit www.alpine-usa.com.