New High Volume, High Speed, USB Flash Drive Duplicator Makes Up to 118 Copies at Once, No Computer Needed
Aleratec Inc., leading developer and manufacturer of "Prosumers' Choice" solutions for the USB, Flash, HDD, Blu-ray, DVD/CD, duplicating, and DVD/CD publishing markets, announces two new, very fast, systems for duplicating large volumes of flash drives. Data throughput is not limited by the number of flash drives loaded in either the 1:118 USB Copy Tower SA or the 1:27 USB Copy Tower SA flash drive duplicators The 1:118 will copy, compare, or erase up to 118 flash drives and the economical 1:27 will copy, compare, or erase up to 27 flash drives.
Aleratec 1:118 USB Flash Drive Duplicator
These USB flash drive duplicators are stand alone so no computer or any other equipment is required. Professional duplicating control functions are selectable via a built in duplicator controller with a back lighted LCD display.
"USB flash drives have become one of the most widely used tools for businesses and individuals to share data and multimedia files due to size, convenience, and universal compatibility. Many of our Prosumer customers have demanded a faster and more efficient USB duplicators for large numbers of flash drive to distribute product information, sales presentations, photos, and files of all types.," stated Perry Solomon, Aleratec President and CEO. "When copying production quantities of USB flash drives speed is of utmost importance and the Aleratec 1:118 USB Copy Tower SA and the 1:27 USB Copy Tower SA both are capable of copy speeds up to 33MB/sec. Since they are stand alone and incorporate multiple processor technology, the performance of the duplicators is not degraded when simultaneously copying large numbers flash drives, a common shortcoming in most USB flash drive duplicators."
Aleratec 1:27 USB Flash Drive Duplicator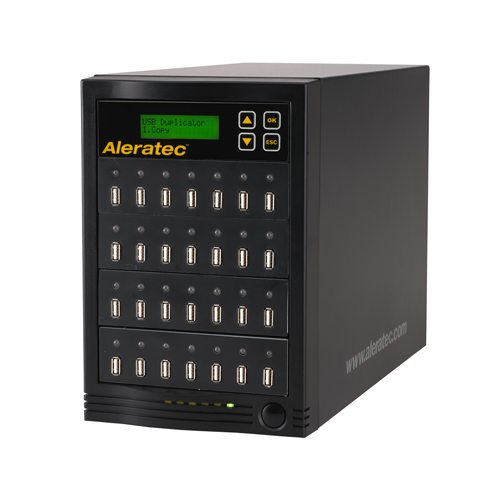 Aleratec's innovative multiple processor architecture is key to achieving very high copy speeds when simultaneously duplicating large numbers of flash drives. 33MB/sec is about 3 times as fast as duplicators using conventional technology. The 1:118 USB Copy Tower SA will copy and compare 118 256MB flash drives in about 50 seconds. This translates to over 6000 per hour. Aleratec has successfully overcome a key shortcoming of alternative solutions, making a practical and affordable solution for customers that need to quickly duplicate large numbers of USB flash drives whether for business, government or education.
Proudly assembled in the USA from components sourced globally, the high throughput 1:118 USB Copy Tower SA (Aleratec Part # 330118, Ingram Micro SKU Y97591) has an estimated retail price of $15,749 and the more economical, speedy 1:27 USB Copy Tower SA (Aleratec Part # 330106, Ingram Micro SKU V04479) has an estimated retail price of $3,799.