Alpha Design Labs (ADL) by Furutech Debut Cruise Portable Headphone Amplifier And ADL iDevice iD355P 3.5mm Companion Audio Cable
Alpha Design Labs by Furutech, manufacturer of ultra refined analog, digital, video cable and accessories, debuts the Cruise 24/96 Headphone Amplifier and a companion 3.5mm audio cable, the iD355P.
The Cruise delivers thrilling sound to match its gorgeous appearance. Whether you're using iTunes for low-bit-rate downloads or higher-resolution music files just connect your computer to the Cruise with one of our matching ADL Formula 2 USB cable or the new i-D35SP analog stereo cable. On the road plug your music player's analog headphone output to the line input of the Cruise opening the volume to maximum on the player, then use the volume control on the Cruise. For higher resolution all-digital signals simply connect the Cruise to your computer's USB port. The USB port charges the battery in the Cruise and you can listen to music while it's charging.
Features
24/96 USB Input and Analog Line input
Beautifully-finished, lustrous carbon fiber and mirror-polish, nonmagnetic stainless steel
Fits in the palm of your hand! Enjoy your music anywhere, on your desk or on the go.
High-quality Volume/On/Off switch
3.5mm analog line input or USB digital input
Runs on USB power, an AC/DC adaptor or the internal rechargeable battery
High-performance headphone amplifier
See full specs (pdf).
ADL iDevice iD35SP 3.5mm Companion Cable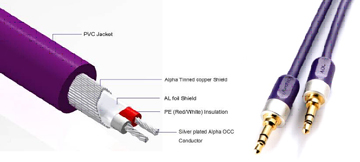 When it's impractical to connect your Cruise headphone amp via its USB input we've created the iD35SP 3.5mm analog stereo cable. The same care, engineering, materials processing and top-notch build quality go into each of these cables as in our top-tier Flux series cables; they're the best we can make.
The iD35SP features silver-plated Alpha OCC conductor for minimal transmission loss and 24k gold-plated connectors. The cable achieves superior noise isolation with two-layer shielding — aluminum foil and tinned copper — in a RoHS-compliant sheath. Conductors are treated with Furutech's Alpha Process — a deep cryogenic and demagnetizing treatment.
USB sounds best, but the iD35SP comes in a close second. Either way you'll enjoy some of the best sound available.