Measuring only 9″ tall, Activated Designs' revolutionary UBL-70 Flat Panel Mount gives interior designers the option of NOT putting the TV on the wall. How about under the bed instead?
For years residential interior designers everywhere have been burdened with the near impossible task of designing a beautiful bedroom with a TV in it. Let's face it, from a design point of view, TVs do very little to enhance the look of a bedroom. Now, the TV can be stored under the bed, utilizing otherwise unused space and, at the push of a button, the TV silently slides out from the foot of the bed and rises up to the perfect viewing position. All of this from a mechanism measuring only 9″ tall, allowing it to fit under almost any bed.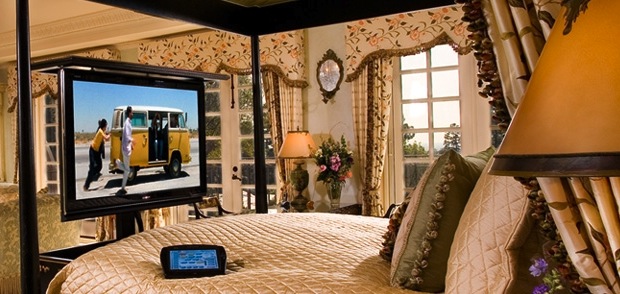 There are two models. One with a 70 lb. capacity (UBL-70) and a heavy duty model with a 120 lb. capacity (UBL-120). A motorized swivel option can be added to either model. Shipped fully assembled, installation and set up can typically be completed in less than 30 minutes. For more information call Toll Free 866.339.1945.
For over 30 years Activated Designs has been a leading innovator of Motorized TV Positioning Platforms and Automated Concealment Devices providing "push-button" solutions for hiding the TV.
About Activated Designs
Custom Motorized TV Mounts and Automated Concealment Systems. Helping designers "Hide The TV" since 1978. Off the shelf mechanisms to conceal audio video equipment within the wall, ceiling, floor, a piece of furniture, etc.