Powered by AMD Athlon II Neo Processors
Acer America recently announced two new versions of its popular Aspire One netbooks, including AMD-based high-definition capabilities. Updated with fresh new ID treatments and powerful AMD Athlon II Neo processors, the 11.6-inch Aspire One AO721 and the 10.1-inch Aspire One AO521 are designed for ultra-portability and usability, delivering high-definition graphics and video playback, and smooth communications. Available for U.S. customers today, the Aspire One AO721 and AO521 are available at retail and e-tail outlets nationwide with prices beginning at $429.99 and $349.99, respectively.
The Aspire One AO721 and Aspire One AO521 utilize AMD Athlon II Neo K125 processors, optimized for improved energy efficiency and designed to deliver balanced performance needed to enjoy multiple applications and features. With the powerful AMD Athlon II Neo processor and ATI Radeon HD 4225 Graphics with 384MB of dedicated system memory, Aspire One users are well-equipped for mobile performance. Users can vigorously multitask, even with visually-intense, high-def applications, while freely exploring the Internet, sending and receiving emails, watching videos and playing games — all on the go and untethered from a power source.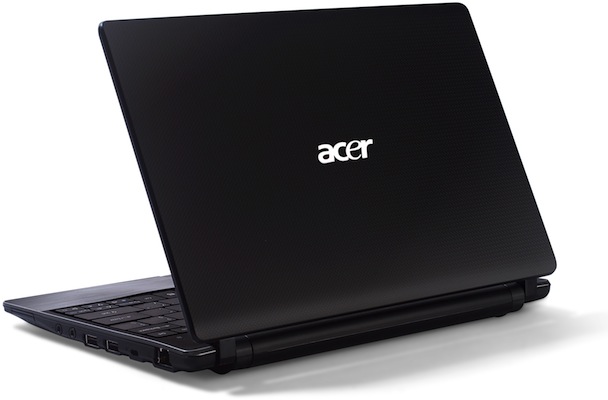 New Eye-Catching Designs with High Performance and Portability
Like its predecessors, the Aspire One AO721 and Aspire One AO521 come with ample memory and a large internal hard drive to store plenty of photo albums, music and documents.
The Aspire One AO721 has a high-definition 11.6-inch CrystalBrite LED backlit display, offering the largest viewing area on an Acer netbook. Housed in a black matte, mesh-textured cover which limits fingerprints and smudging, the Aspire One AO721 is sleek and portable at less than one-inch thin and about three pounds in weight. The Aspire One AO721 boasts a full-sized keyboard, enabling users more accurate and comfortable typing, in a footprint smaller than a magazine. The Aspire One AO721 is equipped with a full 2GB of DDR3 memory and up to a 250GB internal hard drive, providing plenty of storage space for mobile enthusiasts. The netbook also comes with Windows® 7 Home Premium on board for easy productivity.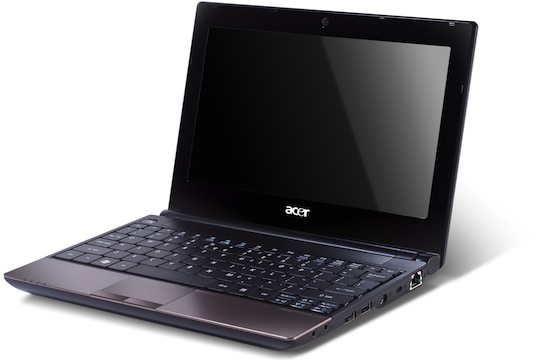 The ultra-mobile Aspire One AO521 netbook features a HD 10.1-inch CrystalBrite LED backlit display, offering a broad viewing area for web navigation and entertainment enjoyment. Just shy of one-inch thin and about 2.75 pounds, the Aspire One AO521 features a 93%-sized keyboard for fast-paced, accurate data input while on the move, 1GB of DDR3 memory and up to 250GB internal hard drive for plenty of media storage. Available in two fashionable, patterned designs in black and brown, the Aspire One AO521 netbooks feature a smooth, glossy exterior. The Aspire One AO521 comes equipped with Bluetooth for seamless connectivity to a variety of devices and Windows 7 Starter.
The Aspire One AO721 and AO521 netbooks feature HDMI connectivity for enjoying high-definition entertainment on large external displays. To remain connected wirelessly, the Aspire One netbooks features 802.11 b/g/n Wi-Fi and fast Ethernet LAN connectivity. The netbooks also come equipped with a built-in webcam, delivering smooth video streaming and high quality images for online chats and video conferences. A built-in digital microphone conveys superior voice quality, keeping background noise levels low and minimizing echoes.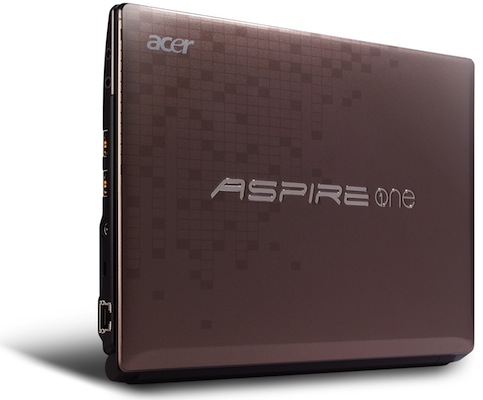 Both the Aspire One AO721 and AO521 netbooks feature a Multi-Gesture Touchpad, allowing users to pinch, flick and swirl their fingers across the touchpad for intuitive navigation. It also allows users to scroll, zoom in and out, and flip through web pages, photos, spreadsheets and more.
The new Acer Aspire One models come with a standard one-year parts and labor warranty, which can be extended to three years with the Acer Advantage service. All Acer netbooks are backed by toll-free service and support.