Having a dock for your iPod, rather than just a charging cable, is a great convenience. It provides a "home" for your player and doubles as a battery charger. And many models let you synch your iPod through the dock to your computer. But docks now serve another function: they can integrate your iPod into your home audio/video system.

Some docks, such as the Marantz IS301, offer
advanced features like wireless connectivity
There's a dizzying array of docks available from dozens of manufacturers. So how do you select the dock that's right for your player and system? Asking a few basic questions can help narrow your choices down to a manageable few.
Is the dock compatible with your iPod?
This is no idle question. Every time Apple redesigns a member of their iPod family, it affects dock compatibility.
Why generations matter
First, size can be an issue. Many docks have their pin connectors set into a recessed well. Sometimes a new generation results in a player that's too large (or too small) to fit into these wells and make a proper connection.
Sometimes the changes involve the iPod's circuitry, which changes the player's pin configurations. So even if your latest generation iPod fits into your older dock, the dock might not be able to recharge your player, for example, or output video from it.
A good rule of thumb if you've purchased the latest iPod is to allow about three months for manufacturers to retool and bring out docks that are fully compatible with your new player. If you're not quite sure exactly what model/generation iPod you have, just consult our handy iPod generations chart.
Is the dock compatible with my audio/video system?
The good news here is that the answer is almost always "yes." The question is what degree of compatibility you can expect to enjoy.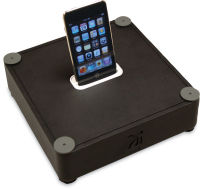 The high performance Wadia 170iTransport
offers coaxial digital audio output and
component video output.
Audio output is seldom a problem
Audio compatibility between dock and receiver (or speakers) is almost never an issue. Virtually all iPod docks have RCA analog stereo outputs, which means you can connect them to any receiver's auxiliary inputs. High performance docks — such as the Wadia 170iTransport — can also use a coaxial digital output for audio. Check to make sure your dock has the necessary audio outputs for the sound quality you're after.
Video output presents more connection options
Some basic docks output audio only. If you want video output, make sure you get a dock with that capability. Nearly any dock with video capability will include composite video. This is the most basic type of video connection, and is commonly found on older TVs.
Many docks offer both composite and S-video outputs. This gives you a choice between a good video connection and one with better picture quality. Some higher-performance docks offer component video output as well. If picture quality is important to you, choose a dock with the highest-quality video connection available on your system.
Can I control my iPod with my system's remote?
Docks designed for use with audio/video systems generally fall into two categories: those made by a manufacturer primarily for their own brand of receiver, and those by third-party manufacturers designed for use with any receiver. Match a manufacturer's dock and receiver, and you can generally control your player with the receiver's remote. Some of these docks can also be used with other brands of receivers, but without full functionality.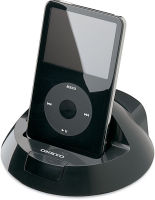 The Onkyo DS-A2X dock allows
iPod control through Onkyo receivers.
Third-party docks, on the other hand, work very well with just about any type of receiver. For that reason, they're sometimes called "universal" docks. Unlike branded docks, though, a third-party dock can usually only control your iPod with the dock's provided remote.
The Onkyo DS-A2X dock is a good example. When used with compatible Onkyo receivers, you can connect the dock's proprietary "Remote Interactive" cable to your system and use your Onkyo receiver's remote. You can, however, forgo this feature and use still the dock with other brands of receivers. The supplied credit card-sized remote gives you basic control over your player, such as stop, play, pause, and skip track.
Can I see my iPod's menu on my TV?
Possibly. Various docks process the visuals from iPods differently. A few display video from your player, but don't show any kind of on-screen menu. Usually their remotes just offer very basic control — stop, play, pause and skip track.
Many docks do generate an on-screen menu for easier navigation through your iPod's library. Some docks made to match specific receivers allow iPod menu information to appear in the receiver's front panel display. Occasionally, high-performance docks come with remotes that display menu information right on the controller.

by Ralph Graves, Crutchfield.com. All rights reserved. (reprinted with permission, originally posted April 3, 2009)