The CEDIA (Custom Electronic Design and Installation Association) tradeshow showcased the latest in home theater products and custom installation options.
My favorite part of CEDIA are the demos. Just about every major manufacturer sets up a demo room to showcase their latest products.
Speaker Systems
---
Runco ($500,000+)
The Runco room showed off their latest projector, with Krell components/speakers, DBOX chairs and a Stewart Filmscreen Cinewide 2.35:1 screen. It earned my accolades as the "Most Outrageous Home Theater Demo". This is the room you wanted to take home with you, if only you had half a million to spare. Not only did everything look and sound fantastic, but the room included custom designed walls and ceilings. Plus the DBOX motion simulator chairs further heightened the entertainment experience — turning casual movie watching into an amusement ride.
McIntosh (250,000+)
It's hard not to leave a McIntosh demo feeling good. The high-end electronics company produces some of the most expensive components — including multiple 1,200-watt amps used in the demo. Since McIntosh doesn't make a blu-ray player yet, they showed up-converted (regular) DVDs that were scaled to 2.35:1 through their video processor. Quite impressive! But it will cost you.
Marantz & Snell ($100,000+)
Another good demo. The Marantz projector is a definite crowd pleaser. I liked the Snell speakers, but they didn't rank among my favorites of the show.
Sony ($100,000+)
Sony showcased their newest components ((VPL-VW70 Projector + SCD-XA5400ES Receiver + BDP-S5000ES Blu-ray Player) with high-end speakers from Wilson Audio. What impressed me most was such clean, dynamic sound came from their receiver. Then again, most of us won't be able to use them with Wilson Audio's Watt Puppy 8 speakers at $27,900 USD per pair either? On the video side, the new VPL-VW70 was very impressive.
JL Audio ($100,000+)
Listening to a $100,000 worth of JL speakers was simply in-your-face incredible. JL's Fathom IWS In-wall subwoofer was my favorite of the show. The X3 Primacy active speakers sounded good but are priced at $10,000 each — ouch!
BG Radia ($25,000+)
BG's demo was impressive because it wasn't in a confined acoustically calibrated listening room. It was just on the open show floor, which is generally not the best way to show off speakers. Nevertheless I was surprised how well this system sounded. If you're considering in-walls there ribbon speakers are definitely worth checking out. Also I liked their unique in-wall BGX-4850 subwoofer.
Polk Audio ($15,000+)
Polk's THX Ultra2 certified RTS100 in-ceiling speakers ($2,500/pair) were very good. I have yet to hear in-ceiling speakers that have sounded better. Now you can finally hide a complete speaker system in your ceiling without sacrificing sound quality.
Epson Ensemble ($7,000)
You won't find a better deal for a complete projection system than this. Epson's Ensemble is an all-in-one system including a 100-inch motorized screen, 1080p projector, 5.1 speaker system, A/V controller and remote. On top of that the entire system can start-up at a touch of a button. Plus they cleverly conceal all wires and speakers into the screen assembly and around the projector mount in the rear.
Genelec ($5,000 to $25,000)
The Genelec demo included speakers of various sizes in their product range. I can't explain exactly why, but I left the demo feeling less than impressed.
Pioneer ($10,000+)
You won't find a better flat panel than Pioneer's latest plasma. Also, their receivers have a nice feature set, but their demo could have had better sound quality. Pioneer used their own speaker line (not sure which models).
Yamaha ($10,000+)
Yamaha's 11.2 demo should have been impressive with their flagship RX-Z11 ($5,499) receiver and 11 speakers, but they chose to show us a promotional infomercial instead of movie or music clips. I was certainly ready to be blown away, but Yamaha's demo failed to meet my expectations.
SoundMatters SLIMstage ($699 to $1,099)
It doesn't seem logical that one speaker bar can produce such immersive surround sound. You'll swear there are speakers behind you when there are not. SoundMatters comes in at a lower price point than Yamaha's Digital Projector which first launched the speaker bar category. However, you'll want a decent external subwoofer to make the experience even better.
HDTVs
---
LG
LG's Scarlet line looks sleek and modern, but what impressed me most is the automatic ambient light feature which automatically adjusts the picture brightness based on the light in your room. In other words it optimizes the picture depending if you're watching during the day or night.
Sharp
The more I see their ultra thin LCD HDTVs, the more I want one. Thin is definitely the new trend, and Sharp's TVs will be one of the first to hit the market in October. I liked the silver finish, but it may not appeal to all.
Samsung
Samsung's new 9 series LCD HDTVs offer a LED backlit panel for improved contrast ratio, but it's not as thin as their lower priced (7-series and 8-series) models. Samsung also debuted a $200 media streamer to play movies and music through Microsoft's Media Store.
Panasonic
Panasonic's plasma line continues to look good. Plus, I believe they are the only manufacturer to include an SD card slot on the front of the TV to make viewing photos or videos on your TV easy.
Hitachi
Hitachi's Director series plasma TVs looked great and are price competitively. Also their ultra thin plasma prototype was hard to take my eyes off it.
Toshiba
Toshiba's new HDTVs have up-converting technology built-in that they call SRT (Super Resolution Technology). It makes regular DVDs and standard definition programs look even better.
---
Da-lite
Dal-lite showed us the future. 3D for the home is closer to reality than you may think. Da-lite's new grayscreen (1.3 gain) optimized for 3D was used with a dual Panasonic DLP projector system. You still need to wear the polarized glasses, but the 3D effects were simply awesome.
Hitachi

Sharp

Sharp

Toshiba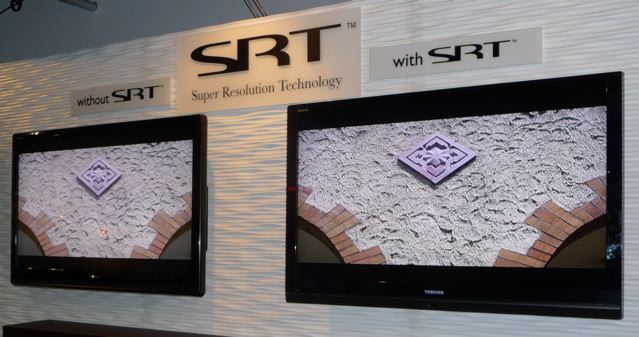 Panasonic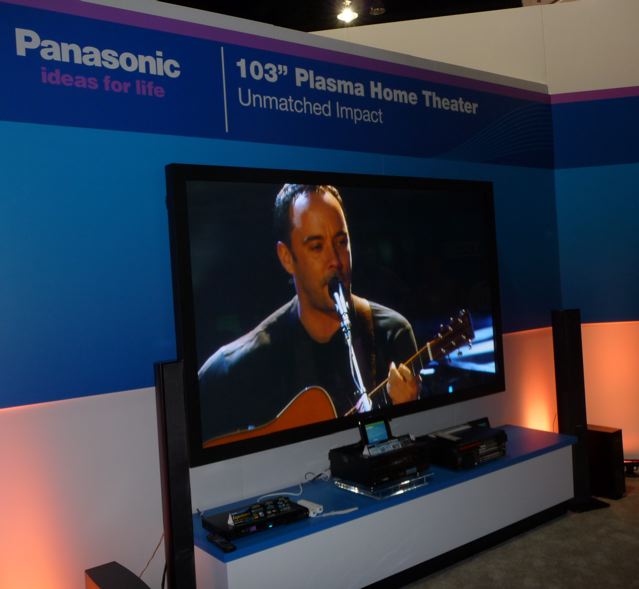 JL Audio Primacy X3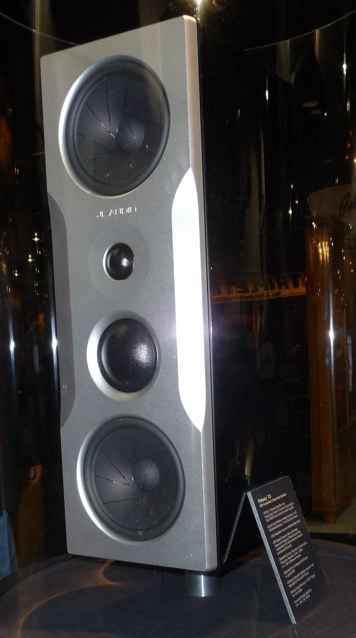 SoundMatters SLIMstage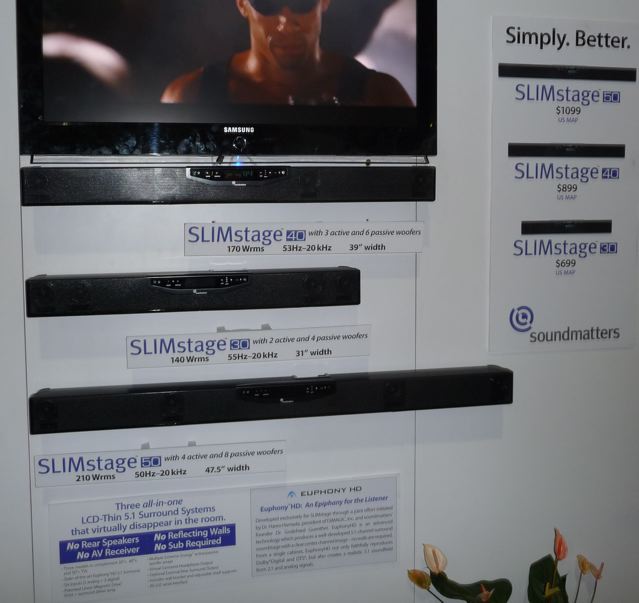 Epson Ensemble

McIntosh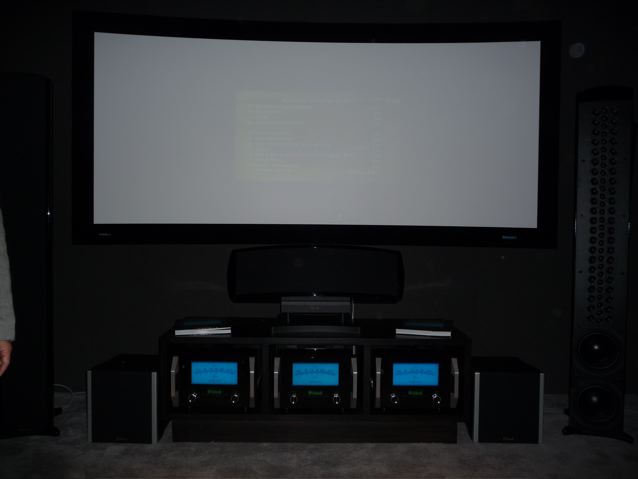 McIntosh


Runco/Krell