When shopping for a TV stand, let's face it — looks matter. However, the BDI Avion 8529 stand is about function as well as design. What sets this stand apart are three main features:
1) a pull-out drawer to conceal a center speaker
2) wheels on the base for mobility and placement
3) an optional plasma mount (model 8540), to adjust height and hide wires

Why this stand?
The number one reason to get this stand is to hide your center speaker! Most center speakers really mess up the look of those oh-so-cool plasmas. In most cases you'll need to mount a center speaker under or over the plasma, or place it on a stand. Either way, it usually looks bad. BDI Avion's cleverly designed, shelf/drawer is large enough to hold most modestly sized center-channel speakers. A black mesh fabric panel conceals the speaker, and does not impeed sound quality.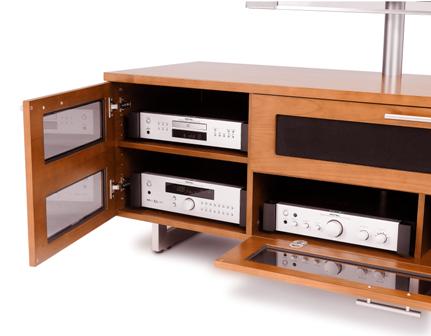 Roll Into Position
The wheels on the base are a nice touch. They make it easy to slide the stand up against the wall. Alternatively, you can slide it away from the wall to access or upgrade your equipment. Once the unit reaches its fixed position, adjustable screw-type feet can be twisted to raise the wheels off the floor, and lock the stand's location.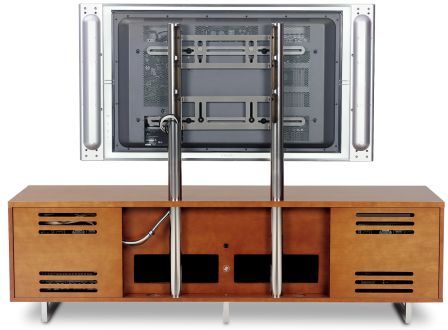 Flat Panel Friendly
An optional mounting bracket (model 8540) can be purchased to attach any flat-panel TV (up to 50-inches) to the base. The mounting bracket allows a flat-panel TV to be raised to a desired level above the top of the cabinet. Plus, the hollow but sturdy polls conceal the wires going to your TV, further enhancing the look.

Big Box, Easy Setup
When the 8529 stand was delivered, I was overwhelmed by the sheer size and weight of the box, but pleasantly surprised how little assembly was necessary. The unit arrived almost entirely pre-built, and in perfect condition. I just had to screw in the door handles, and three metal base brackets. This unit is by no means light, but I was able to tip it on its side with the doors facing up. This configuration allowed me to screw in the handles and base, then tip it over into its normal position. Within 15 minutes I was done with the setup.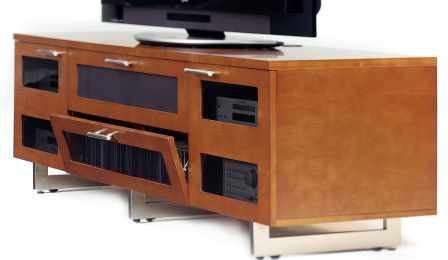 Three Designs/Colors
The Avion series is available in cherry, espresso, or black (Avion Noir 8539). It also comes in two other sizes — the 8527 and 8528. I chose the espresso version, which is the very dark wood finish. The veneer finish looks great, but like any wood finish could be prone to a chip or scratch if you're not careful. During the review period, my unit remained in pristine condition.
Big TV Ready
The BDI Avion's contemporary appeal, combined with functional features make it clear standout in the A/V furniture market. The Avion stand is the perfect complement to show-off your new flat panel or big screen TV. Just about any TV can sit on the 8529. I even saw a 73″ Mitsubishi TV on it at my local Magnolia Store.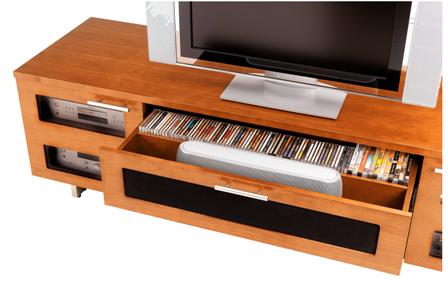 Dual Purpose
BDI has succesfully produced a reasonably priced, contemporary stand that will appeal to home theater afficionados and interior designers alike. Well done!
by Brian Mitchell, Founder & CEO, eCoustics.com
http://www.bdiusa.com
BDI Avion 8529 – MSRP: $1,999 (check price)
BDI Avion 8540 – MSRP: $499 (check price)