10.2-inch touch-screen LCD monitor that can receive live mobile digital TV signals and has the ability to play an unlimited number of media formats
Winegard Company just introduced Cio Mobile Digital TV. It's a sleek, self-contained device, perfect for home and mobile applications. Powered by a 12-volt automotive system, an AC power adapter, or a rechargeable battery back, Cio can be viewed anywhere.
The patents-pending Cio comes equipped with a universal, clamp-style headrest mount that fits 90 percent of new vehicle models without professional installation. In addition to providing a complete automotive mobile entertainment solution, Cio is fully portable for in-home and handheld use.
Cio's 10.2-inch diagonal LCD touch-screen is the largest of any headrest-mounted screen in the world. The PCAP touch-screen technology is hi-bright and provides a super fast, super clear and intuitive user-interface.
What can you Cio?
Designed to receive live mobile digital television (DTV) signals, Cio is equipped with Winegard's touch-screen technology and plays a wide range of other formats, including 3G Internet, DVD, CD, iPod music and video, MP3, SD card photo and video files, USB audio and video storage and game devices.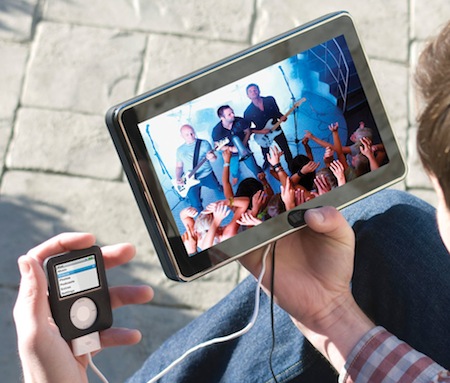 "Perhaps the most exciting aspect of Cio is its ability to receive live mobile DTV signals, which is the most cutting-edge technology available today," said Aaron Engberg, director of the Mobile Entertainment Division, Winegard. "Cio can provide everything consumers want, all in a small, portable device. It's truly the most comprehensive portable entertainment device on the market today."
Mobile DTV enhances the existing "terrestrial" digital television system by allowing a high-quality digital broadcast signal to be received by a moving receiver — either at walking or driving speeds — and is being transmitted by broadcasters across the country.
Mobile DTV systems from current television broadcasters use the existing digital television spectrum and the existing, nationwide digital television infrastructure. As such, the broadcast industry has a substantial amount of spectrum available and has already invested and built the majority of the infrastructure needed to enable mobile DTV.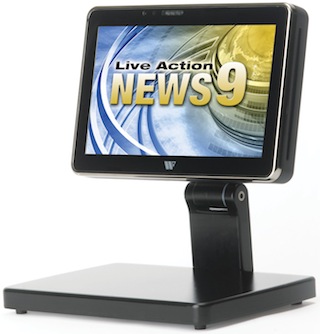 The unique QuickLink mating connector allows Cio to plug into either an optional Cio home-counter stand or Cio battery pack for handheld use. Cio also comes standard with dual-channel wireless headphones and a multi-channel FM modulator for audio playback through a vehicle's factory sound system.
Cio will be available in the first quarter of 2010 at mobile electronics outlets and Winegard dealers across the country. It will be released in three versions: V1, which will feature a DVD player and a multitude of media inputs; V2, coming in April 2010, which will add ATSC-MH mobile digital television and Wi-Fi; and V2.2, due May 2010, which will add 3G Internet to the existing features.
About Winegard
Winegard Company has been manufacturing quality television and radio reception products for more than 55 years. Headquartered in Burlington, Iowa, Winegard enjoys a worldwide reputation that is based on many industry "firsts," including the all-channel "Yagi" TV antenna, 82-channel antenna, antenna mounted preamplifiers, antenna amplifiers, the anodizing process, perforated aluminum satellite antenna and the RV television antenna, among others.