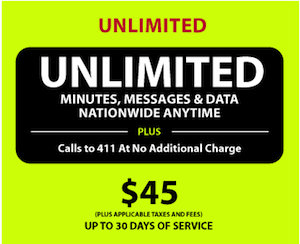 Walmart to Launch Straight Talk — No-Contract Wireless Plans Starting at $30 a Month
Dedicated to providing families affordable wireless solutions, Wal-Mart Stores, Inc. announces today it will launch Straight Talk, a new solution in no-contract cellular, exclusively at more than 3,200 Walmart stores nationwide starting October 18, 2009. Straight Talk will bring to the market a new low price for no-contract wireless service with two prepaid plans now available to customers nationwide at $30 and $45 a month. Straight Talk will only be available in Walmart stores and online.
The average U.S. adult spends $78 on his or her cell phone bill to receive 1,000 minutes a month.* By switching to the $30 Straight Talk plan, for example, the average 1,000 minutes-per-month consumer could save more than $500 per year and still be on a reliable nationwide network.
To help drive down no-contract wireless pricing for customers, Walmart will launch Straight Talk providing customers the following two options:
Straight Talk "All You Need" 30-day Plan that includes the following for only $30 a month:

1,000 minutes, 1,000 texts and 30MB of mobile web access
Nationwide coverage
411 Information calls at no extra charge

Straight Talk's Unlimited 30-day Plan that includes the following for $45 a month:

Unlimited minutes, unlimited text and unlimited mobile web access
Nationwide coverage
Unlimited 411 Information calls at no extra charge

"It has been very encouraging to see the excitement and response to the Straight Talk pilot in 234 stores that began last summer at Walmart," said Greg Hall, vice president of Media Services, Walmart U.S. "In light of the savings customers continue to need, we have worked very quickly to extend this offering to all of our Walmart customers nationwide, and just before the holidays."
Consumers may refill their monthly balances by buying refill cards at Walmart, or by registering online at Walmart.com or StraightTalk.com. Also available at Walmart are a range of Straight Talk phone products to suit different needs, from the entry-level LG 220 flip phone at $39.98, to the LG Slider 290 at $79.98 to the Samsung 451 QWERTY keyboard phone at $99.88.
Straight Talk is an exclusive Walmart service developed with TracFone Wireless, Inc. TracFone Wireless currently sells TracFone and NET10 prepaid wireless phones and airtime at Walmart stores and online.
* Source: Nielsen Mobile Bill Panel Data
About TracFone Wireless
TracFone Wireless, Inc. is a subsidiary of America Movil (NYSE: AMX), (Nasdaq: AMOV) and has more no-contract cell phone customers than any other carrier in the U.S.