Kid-Friendly Edu-Gaming With Touch Screen Technology
Educators and parents agree that there is a direct correlation between the way kids play and how they learn. With edu-gaming on the rise, parents are looking for new ways to provide a playful, educational experience for their children.
VTech 's newly launched MobiGo combines touch screen technology with important early learning games that develop skills such as math, language and logic for 3- to 8-year-olds.
Children can explore a world of learning through the interactive games, coloring book pages, and drawing instruments on MobiGo with the touch, tap and flick of their fingers, and the QWERTY keyboard allows older children to develop early typing skills — all while keeping little fingers away from those expensive touch screen phones.
MobiGo recently received the Dr. Toy award for "Best Vacation Children's Product," and positive feedback from new users:
"This summer we will be road tripping to Colorado with the entire family of 7 and…the VTech MobiGo will be coming too. This has all the cool features kids covet from big people phones, with the added bonus of educational play including lovable characters."
— Stephanie, And Twins Make 5

"The touchscreen makes them feel like they have a gadget that is just as hip, cool and grown up as my "DROID" phone that they beg me constantly to play with!"
— Courtney, One Bored Mommy

"Frankly, I thought no one could get the right mix of playability and education into one box. And then we tried the MobiGo by VTech."
— Jessica, The Lemonade Stand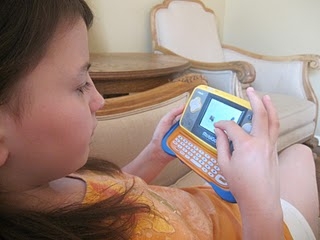 MobiGo will grow alongside kids, launching an online store in July that will host downloadable games and progress reports for parents. An initial offering of 11 licensed MobiGo games — including Disney/Pixar's Toy Story 3, Shrek and Disney Princesses — are uniquely designed to seamlessly combine play and learning.
MobiGo, SRP $59.99, is now available at Toys R' Us , and nationwide in August at key retailers, www.amazon.com and www.vtechkids.com.