HP Delivers Stunning Design, Personalization and World-class Engineering in New Voodoo Portfolio
HP (NYSE:HPQ) today announced a new portfolio of Voodoo-branded computing devices targeted at the growing segment of consumers who demand products that combine luxurious quality, personalized styling and unmatched technology innovation.
The first two in the portfolio – the powerful Voodoo Omen desktop and the ultra-mobile Voodoo Envy 133 notebook – were unveiled at the HP Connecting Your World event.
The new Voodoo Omen and Voodoo Envy 133 set the tone for the new portfolio with striking design elements, world-class engineering and extensive personalization options.
"The new Voodoo portfolio is designed to appeal to consumers who have very high expectations for form, function and looks," said Mike Perkins, vice president and general manager, Voodoo Business Unit, HP. "Our new Voodoo systems exemplify technology excellence while also looking like they would fit as well at an art gallery as on a desk."
Customers can purchase and personalize Voodoo-branded devices at the redesigned Voodoo website – http://www.voodoopc.com. Voodoo Envy 133 is expected to be available this summer, and initially, the new Voodoo Omen will be available by invitation only to customers who have previously purchased a Voodoo PC. General availability is planned to follow later this summer.
For gamers and performance users, HP continues to support and develop the HP Blackbird 002 and a family of "HP with Voodoo DNA" products. HP Blackbird 002 and anticipated "HP with Voodoo DNA" products are expected to be available at http://www.hp.com/voodoodna. An exclusive configuration of HP Blackbird 002 is planned for availability through select retailers.
The pinnacle of design and performance
Supporting up to four graphics processing units and sporting advanced thermal engineering, the modern-styled Voodoo Omen blends art and technology inside and out. The Omen features integrated copper liquid cooling pipes and a built-in, fully functional LCD auxiliary screen. Its advanced thermal engineering with liquid cooling makes it run quietly, even when performing at high levels.
Customers can add the finishing touches to their Voodoo Omen via an extensive palette of Voodoo Allure paint color choices. The new Voodoo Omen will be available for a starting price of $7,000.(1) Other key features include:
Vertical diffusion thermals – the power of natural convection currents is harnessed for advanced cooling and quiet acoustics.
Auxiliary LCD – a 7-inch (diagonal) built-in auxiliary LCD is a full-function secondary display.
Advanced liquid cooling – copper cooling pipes embedded in the chassis, aircraft-quality quick-release hose connectors, and more combine in one of the most advanced liquid cooling systems on the planet.
Tool-less architecture – side panels, hard drives, video cards and other critical components can be removed without tools.
Top-loading cables – cables plug into the system under a removable top panel, improving access to the cable connections and contributing to the clean exterior design.
Interior lighting – battery-powered interior lighting gives users visibility to upgrade components when the system is powered off.
The head-turning ultra-mobile notebook
Measuring just over half an inch thin and weighing less than 3.4 pounds,(2) the Voodoo Envy 133 is a showcase of ultra-mobility and thermal engineering in a tiny, sophisticated chassis. Its Voodoo IOS (Instant-On Solution) makes it one of the fastest-loading systems ever launched by HP, giving mobile users near-instant access to the Internet and Skype.(3)
The Voodoo Envy 133 was developed using the smallest available Intel Centrino technology. Despite its small size and elegant design, the notebook offers a wide range of functionality typically associated with larger notebooks, and includes Ethernet and wireless connectivity,(4) a wide selection of ports, a replaceable battery and more.(5)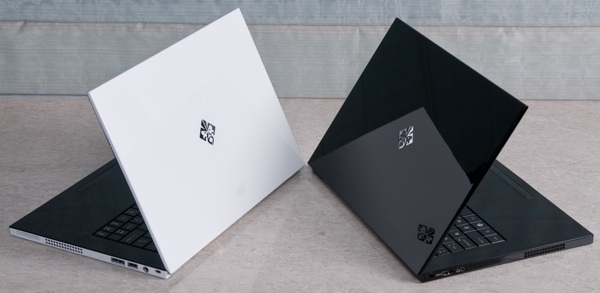 "We worked with HP to enable the Voodoo Envy 133 to be as small as possible without losing key features such as performance and battery life," said Mooly Eden, corporate vice president and general manager, Mobile Platforms Group, Intel. "The final outcome is a terrific notebook that showcases the benefits of our Intel Centrino platform, which retains a high level of performance and low-energy consumption even after we shrunk it by more than 50 percent using our expertise in packaging technology."
To appeal to everyone's unique tastes, customers can personalize their Voodoo Envy with Voodoo Allure paint colors. A high-quality, backlit keyboard, full 13.3-inch LED display and coordinated peripherals add to the overall styling and sophistication of the notebook.
The Voodoo Envy 133 will be available for a starting price of $2,099.(1) Other key features include:
Voodoo Aura PowerConnect – establishes a one-to-one wireless connection between the Envy 133 notebook and an Ethernet connector located on the power supply, allowing users to roam free from the wired connection.(3)
Multiple gesture touchpad – more than a standard touchpad, the Envy 133 also provides capabilities such as a circular gesture called chiral scroll and pinch options.
Durability – the carbon fibre casing and fused composite glass covering the display provide surprising strength and durability.
External optical disk drive – an ID-coordinated external eSATA optical drive is included with every unit.
Professional backlit keyboard – reminiscent of old-school tactile desktop keyboards with just enough "click" to get even the most die-hard tech enthusiast smiling.
Ports – extensive usability via a variety of I/O ports, including headphone/microphone, HDMI, USB 2.0 (1x) and a shared e-SATA/USB (1x).
About HP
HP focuses on simplifying technology experiences for all of its customers – from individual consumers to the largest businesses. With a portfolio that spans printing, personal computing, software, services and IT infrastructure, HP is among the world's largest IT companies, with revenue totaling $110.4 billion for the four fiscal quarters ended April 30, 2008. More information about HP is available at http://www.hp.com.
(1) Estimated U.S. street prices. Actual prices may vary.
(2) Actual weight will vary by configuration.
(3) Internet access required and sold separately.
(4) Wireless access point and Internet service required and not included.
(5) Battery life will vary depending on the product model, configuration, loaded applications, features and power management settings. The maximum capacity of the battery will decrease with time and usage.
Intel and Intel Centrino are trademarks of Intel Corporation in the United States and other countries.