2005 will be the 2nd year at CES for Vifa International A/S. Vifa International designs, manufacturers and sells integrated Home Theatre Systems in audiophile quality, and in a display of our commitment to the business, we will exhibit at an 80 m3 stand in the South Hall, stand number 25911.
Vifa Home Theatre Systems are easy to use, beautifully designed and represent great value while still delivering true audiophile sound quality.
The systems include 5.1 speaker systems featuring proprietary Vifa drive units and a complete range of Vifa electronics, including DVD players, receivers and DVD receivers. The receivers and DVD's are designed with emphasis on sound and picture quality rather than excessive features and are controlled with one single remote control. All drive units feature low-compression and low-loss design as well as flux stabilizing rings in the magnet system. At the 2005 CES Show, Vifa International will show five 5.1 speaker systems, three Receivers and two DVD players.
• The REFERENCE and SENSE Home Theatre Systems are classic high-end systems with focus on uncompromising sound quality and excellent finish.
The REFERENCE speaker system features our patented dual concentric diaphragm tweeter with wave-guide centre plug and a 6 ½" midrange with cast frame. Integrated into the base of the cabinet is a 10″ long stroke sub powered by 150 watt.
SENSE features two 6 ½" woofers with glass fibre diaphragms and our newly developed Wide Dispersion Array (WDA) mid-high drive unit configuration with a 3″ midrange and a 20mm neodymium silk dome tweeter. WDA ensures very uniform coverage throughout the listening room. A compact powered 10″ subwoofer with two 10″ passive radiators is featured in the SENSE system as well.


A strong 6.1 Receiver delivering 6×130 watt is developed to drive the SENSE and REFERENCE systems. It has the power of a separate system combined with the convenience of an integrated approach and decodes most common surround formats including DTS and DTS ES. The DVD player features progressive scan and DVD Audio. One remote control operates the receiver and DVD player.

• TOUCH and INSPIRATION have been developed for the design oriented music lover with focus on full range reproduction from slim and elegant cabinets.
TOUCH features two side-firing 6 ½" bass units, two 4″ mids and a 1″ silk dome tweeter, housed in an elegant slim cabinet with curved sides, two-color piano paint and excellent finish.
INSPIRATION features a 1″ silk dome tweeter and two 4″ low mid units supported by 4 passive radiators housed in an elegant aluminum cabinet. A powered 8″ subwoofer is designed for the TOUCH and INSPIRATION systems.
TOUCH and INSPIRATION are powered by our new DVD Receiver. With 5×70 watt, the Vifa DVD Receiver is among the most powerful on the market and it delivery true Hi-Fi performance in a compact and elegant design.
• BLUE SPARK delivers high output and impressive bass performance. The receiver offers the opportunity of connecting a game console to the Home Theatre system.
The BLUE SPARK speaker system features a 10″ side firing bass unit, a 5″ mid with phase plug and a 1″ dome tweeter. With a sensitivity of 92 dB, BLUE SPARK is a highly efficient speaker system that will get the most out of the amplifier. The BLUE SPARK receiver delivers 5×90 watt and decodes Dolby and DTS formats.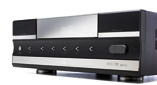 Vifa International A/S invite you to see and hear our new systems at the 2005 CES Show or to visit www.vifa.dk for further information.