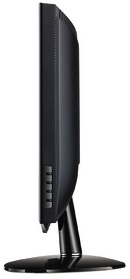 World's First 27″ Full HD Monitor With 1ms Response Time
ViewSonic Corp. just announced that its VX2739wm — the world's first 27″ Full HD monitor with a blazing fast 1ms response time — is available for pre-order.
"We have been in the monitor business for more than 20 years, and every day we continue to innovate and push the limits of what is possible," said Sean Gunduz, senior product manager for ViewSonic. "We are proud to announce that our new VX2739wm is the world's first and only 27″ 1080p entertainment monitor to offer a 1ms response time. This is truly an industry-leading display experience."
Ideal for gaming and entertainment, the VX2739wm packages a 1080p Full HD panel and crystal clear 100,000:1 dynamic contrast ratio into a sleek and sexy design. With its 1ms super fast response time and built-in speakers with SRS Premium Sound, the VX2739wm delivers truly immersive viewing.
With HDMI, DVI and VGA for video connectivity and a 4-port USB hub, the VX2739wm offers the diverse connectivity options consumers demand. A multipurpose device, the VX2739wm is perfect as a monitor or game console on the desktop or wall with its VESA compliant design, or as an entertainment display when hooked up to a DVD player or cable/satellite box. Teamed with an ECO mode feature for energy savings of up to 35%, the VX2739wm is not only powerful but can save money and help save the environment too.
The VX2739wm comes with ViewSonic's strongest pixel performance guarantee as well as a three-year limited warranty. It will be offered at a special introductory price of $349.