SAN JOSE, Calif., April 26, 2005 — Transferring home movies to DVDs has never been easier than with Sony's next-generation DVDirect (pronounced DVD Direct) recorder, which lets you convert footage in real-time, from a digital camcorder to a DVD without using a computer.
The DVDirect recorder also works with analog camcorders, VCRs and other video sources. What's more, it can be attached to a computer for more advanced DVD burning projects.
This second-generation model includes a digital video (DV) input (i.LINK/FireWire/IEEE 1394) that allows for quick and easy high-quality video transfers from a digital camcorder, including full camcorder control from DVDirect in synchronized recording mode. Sony has also added stand-alone recording support for DVD-R and DVD-RW discs, in addition to DVD+R, DVD+R double layer (DL) and DVD+RW discs, providing an array of media options.
DVDirect is the answer if you have degrading videotapes or if you use a camcorder and want to ensure that your taped memories are preserved into the future. Transferring home movies to DVDs is as easy as connecting a camcorder to the DVDirect drive and pressing the record button. The recorder automatically creates a DVD menu and can automatically or manually generate titles and chapters on a disc, making videos easier to watch.
"With DVDirect, converting taped footage to DVD is as simple as dubbing an audio cassette tape," said Robert DeMoulin, marketing manager for branded storage products in Sony Electronics' IT Products Division. "It can be used for basic camcorder-to-DVD transfers in standalone mode or it can be attached to a computer for more advanced DVD authoring projects."
The DVDirect recorder can burn up to 12 hours of high-quality hardware encoded MPEG-2 video onto compatible DVD+R DL discs or up to six hours onto standard single layer discs, which can then be played back and enjoyed on most home DVD players. The high capacity allows you to consolidate multiple tapes onto one disc, which is easy to share with friends and family.
Take Video to the Next Level Using a Computer
DVDirect can be attached to a PC via Hi-Speed USB (USB 2.0) for advanced DVD authoring and burning projects, such as adding graphics and music to home movies. In computer-attached mode, DVDirect can burn DVD-R and DVD+R discs at 16X, which equates to about six minutes of recording time. It also supports 8X DVD+RW, 6X DVD-RW, 48X CD-R and 24X CD-RW recording speeds.
DVD and CD Software Suite
The hybrid DVD recorder comes with the Nero software suite to use when it is attached to a computer. The package features software for DVD video authoring and DVD/CD burning, as well as for packet writing, so you can easily burn files and folders by dragging them to the icon of a DVD+RW/CD-RW disc.
Rounding out the impressive bundle are DVD-video playing software, backup software, virtual disc drive software, management/jukebox software, disc label creation software and drive tool software. All tasks and applications are accessible via the Nero StartSmart launcher, which makes it simple to load all necessary software.
Availability and Pricing
The DVDirect recorder (model VRD-VC20) will be available in May for $299 MSRP. Sony DVD/CD rewritable drives are sold through resellers and retailers nationwide, mail order catalogs, and select online shopping sites, including SonyStyle.com. Pre-orders for this model are now being accepted on SonyStyle.com.
Specifications for Sony's New DVDirect Recorder (Model VRD-VC20)
Stand-Alone Recording Mode:
Supported Media for Stand-alone Operation: DVD+R, DVD-R, DVD+R DL (Double Layer), DVD+RW, DVD-RW
DVD Recording Mode: DVD+VR, DVD-VR
Supported Video Format: MPEG2
Automatic Chaptering: 5, 10 or 15 minutes
Synchronized Recording:
Complete control of DV-based camcorders
Auto-start/stop recording with analog camcorders
Recording Times:
HQ (single layer: 1 hour, double layer: 2 hours)
SP (single layer: 2 hours, double layer: 4 hours)
SLP (single layer: 6 hours, double layer: 12 hours)
Supported Sound Format: Dolby Digital (AC3)
Inputs:
DV (i.LINK/FireWire/IEEE1394 compatible) x 1
Composite video (yellow RCA jack) x 1
S-Video x 1
Analog audio 2ch (red and white RCA jacks) x 2
Computer-Attached Recording Mode:
Supported Media Types & Speeds:
DVD+R DL: 4X CLV (max.) writing
DVD+R: 16X CAV (max.) writing
DVD+RW: 8X CLV (max.) rewriting
DVD-R: 16X CAV (max.) writing
DVD-RW: 6X CLV (max.) rewriting
DVD-ROM reading (single layer): 16X CAV (max.)
DVD-ROM reading (dual layer): 8X CAV (max.)
CD-R: 48X P-CAV (max.) writing
CD-RW: 24X Z-CLV (max.) rewriting
CD-ROM: 48X CAV (max) reading
Interfaces: Hi Speed USB 2.0 and i.LINK/FireWire/IEEE1394
OS Support: Compatible with Microsoft Windows 2000 / Windows XP
Burst Data Transfer Rate: High Speed USB 2.0: 480 Mbit/s max
Random Access Time: 140 ms (CD-ROM), 135 ms (DVD-ROM)
Buffer Memory: 8 MB
Buffer Under-run Error Protection Technology: Sony Power-Burn conformed
Compatible Disc Formats: DVD-ROM, DVD-Video, DVD+R DL, DVD+RW, DVD+R, DVD-RW, DVD-R, CD-ROM, CD-DA, Video CD, Photo CD (multi-session), CD TEXT, CD Extra, and others
Recording Methods (CD): Disc at Once, Track at Once, Session at Once, Packet Writing (DVD): Random Access Write (DVD+RW/DVD-RW/CD-RW), Sequential Write (DVD+R/+RW, DVD-R/-RW/CD-R/RW)
Dimensions: 164 x 66 x 234 mm (H x W x L)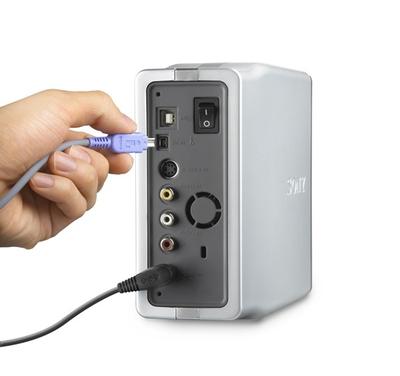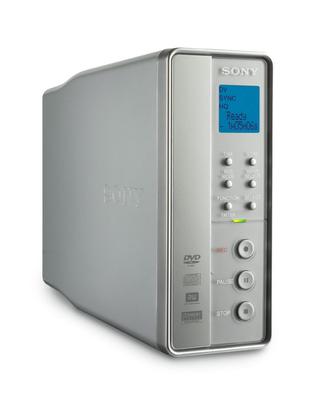 # # #
Editor's Note: Features and specifications are subject to change without notice. Non-metric weights and measurements are approximate. For additional information about Sony DVDirect, Dual RW and CD-R/RW products, consumers can call (800) 352-7669, or visit Sony's web sites at http://www.sony.com/dvdirect or http://www.sony.com/dvdburners. Product information and images can also be found on Sony's news and information web site at http://www.sony.com/news.
Sony and DVDirect are trademarks of Sony. All other trademarks are the property of their respective owners.