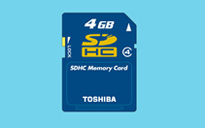 TOKYO – Toshiba Corporation announced new SD Memory Cards that will extend both the ultra-small and the ultra high-capacity segments of its comprehensive product line-up. The company will launch new microSD Memory Cards in July and August, and follow up in September with the introduction of SDHC Memory Cards. All the new memory cards will be available in the global market.
Toshiba is a technology and market leader in applying NAND flash memory to compact memory card solutions that add to the functionality and performance of portable digital equipment, and that provide highly flexible bridge media for transferring data between products as diverse as digital cameras, PCs, TVs and personal video viewers. SD cards are the most widely used multi-platform memory cards. The different versions meet diverse needs, and continue to bring increasingly large capacities to increasingly small cards. Toshiba provides the global market with a full line-up of SD cards that offer the latest advances in memory capacities and the evolving SD standard.
The microSD Memory Card is the world's smallest memory card, just a quarter of the size of the miniSD card. It nonetheless provides the high capacities needed to support the must-have high-resolution cameras and digital music players that are increasingly integrated into mobile phones, while also supporting continued product miniaturization. The microSD Memory Card fully complies with the SD Memory Card standard, and can be slipped into an adapter for use in products with slots for standard SD cards. Toshiba will meet growing demand for memory cards in this small format with 256 MB, 512MB and 1GB capacity microSD Memory Cards.
The SDHC Memory Card brings SD card to new level of performance in terms of capacity. SDHC meets the new SD Memory Card Ver2.00 for cards with a capacity of over 2GB, and will boost memory capacity to 32GB in the near future. It also complies with Class 4 of SD Speed Class*1, a newly defined standard for data processing speed, and it supports maximum write speed of 6MB per second. As a result, SDHC Memory Cards are optimized for high capacity and for such application as digital video and continuous shooting mode for high-end digital still cameras. Toshiba will bring a 4GB SDHC Memory Card to the world market.
*1: Based on the SD card Association Standard, SD Speed Class indicates minimum data transferring speed for reading and writing, which Class 4 applies to the minimum speed of 4MB per second.