Toshiba Announces Affordable 2.9-Pound Mobile Projector That Features 2,200 ANSI Lumens and PC-Less Presentations for Under $1,000
Building on its leadership in the small projector category, Toshiba's Digital Products Division, a division of Toshiba America Information Systems, Inc., today announced the company's latest ultraportable projector offering the TDP-PX10U for mobile presenters, business users and consumers. The fully-loaded projector weighs in at a scant 2.9-pound, fits easily into a briefcase or carry-on luggage and is available for the low single estimated unit price (ESUP) of $999(1).
Small but mighty, the HDTV/DTV compatible projector offers incredible power and top performance features, such as a brilliant 2,200 ANSI lumens XGA 1,024 x 768 native resolution, razor sharp contrast ratio of 2000:1 and USB port for "PC-free" presentations, making it the ultimate choice for road warriors, corporate trainers and digital home entertainment on-the-go, such as video gaming, weekend sports and DVD movies. For added value, the projector also features a rich, vibrant DLP BrilliantColor™ display. The DLP BrilliantColor™ technology utilizes up to six separate colors: red, blue, green, cyan, yellow and magenta for a wider variety of accurate, vibrant colors that won't fade over time. BrilliantColor™ technology enables up to a 50 percent increase in the brightness of colors.
"The TDP-PX10U ultraportable projector offers mobile professionals and consumers everything they need for extraordinary presentations and digital home entertainment without the back ache and premium pricing," said Sam Malik, director of projector sales and marketing, Toshiba Digital Products Division. "Less than two-thirds the size of a sheet of paper and capable of creating up to an amazing 300-inch diagonal image, the TDP-PX10U projector will grab any audience's attention."
Presenters looking for a projector that is easy to use will appreciate the TDP-PX10U projector's automatic set up feature and smart keystone correction system to ensure images are projected clearly, even in the most unforgiving presentation situations. The TDP-PX10U projector is equipped with a variety of connectivity options for presentations from the latest multimedia devices and includes a 2.0 watt speaker for enhanced presentations. The projector comes with a fully-loaded remote control and the unit can be hooked up to a cable or satellite set-top box for viewing high-definition television.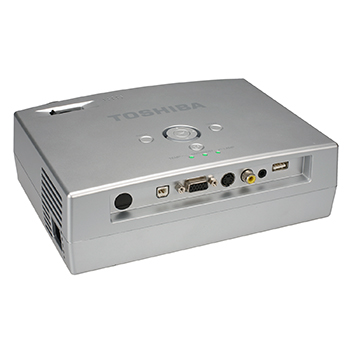 The Toshiba TDP-PX10U is currently available to order through Toshiba's authorized distributors, VARs, mail-order outlets and www.toshibadirect.com.
Toshiba TDP-PX10U projector specifications:
| | |
| --- | --- |
| Model | Toshiba TDP-PX10U |
| Display Technology | 0.55″ DMD DLP |
| No. of Pixels | 1024 x 768 |
| Standard Lens | 1.17x Manual Zoom |
| Projection Lens | F/f (mm) F = 2.5 – 2.74, f = 22 – 25.5mm |
| Light Source | 180W (160W in low mode) |
| Brightness | 2200 ANSI lumens (target) |
| Native Resolution | XGA 1024 x 768 |
| Color Reproduction | Full 16.7 Million Colors |
| Contrast Ratio | 2000:1 |
| Projection Screen Size | 40 – 300 inches (Diagonal) |
| Projection Distance | 5.3 ft – 39.4 ft |
| Throw Ratio | 1.94 – 2.27:1 |
| Internal Speaker | 2.0-Watt Monaural |
| External Dimensions (W x H x D) | 8.3″ x 2.6″ x 6.5″ |
| Weight | 2.9 lbs. |
| Power Source | 100-240V, 50/60Hz |
About Toshiba America Information Systems, Inc. (TAIS)
Headquartered in Irvine, Calif., TAIS is comprised of four business units: Digital Products Division, Imaging Systems Division, Storage Device Division, and Telecommunication Systems Division. Together, these divisions provide mobile products and solutions, including industry leading portable computers; projectors; imaging products for the security, medical and manufacturing markets; storage products for automotive, computer and consumer electronics applications; and telephony equipment and associated applications.
TAIS provides sales, marketing and services for its wide range of information products in the United States and Latin America. TAIS is an independent operating company owned by Toshiba America, Inc., a subsidiary of Toshiba Corporation, which is a global leader in high technology and integrated manufacturing of electrical and electronic components, products and systems, as well as major infrastructure systems. Toshiba has more than 191,000 employees worldwide and annual sales of over US $60 billion (FY2006). For more information on Toshiba's leading innovations, visit the company's Web site at http://www.toshiba.com.
1. Reseller prices may vary. ESUP means "Estimated Single Unit Price."
2. RoHS. This product is compatible with European Union Directive 2002/95/EC, Restriction of the use of certain Hazardous Substances n electrical and electronic equipment (RoHS), which restricts use of lead, cadmium, mercury, hexavalent chromium, PBB, and PBDE. Toshiba requires its projector component suppliers to meet RoHS requirements and verifies its suppliers' commitment to meeting RoHS requirements by conducting component sampling inspections during the product design approval process.
(C) 2007 Toshiba America Information Systems, Inc. DLP and the DLP logo are registered trademarks of Texas Instruments. All product, service and company names are trademarks, registered trademarks or service marks of their respective owners.Information including without limitation product prices, specifications, availability, content of services, and contact information is subject to change without notice. All rights reserved.