14-inch Notebook PC with Windows 7, Delivering Windows Touch and Fast Sleep-and-Resume
Toshiba today unveiled several enhancements to its line of Satellite laptops that take advantage of new capabilities in Windows 7.
Two new Satellite laptops will feature touch screens, the Satellite U505 Touch and Satellite M505 Touch models. In addition, the recently announced ultrathin Satellite T100 laptop takes Windows 7 performance a step further, with Fast Sleep-and-Resume functionality so it's ready when needed — up and running in seconds.
"The performance and functionality in Windows 7 has enabled us to deliver the features that consumers want, such as touch and Fast Sleep-and-Resume, in affordable mainstream laptops," said Carl Pinto, vice president of product development, Toshiba America Information Systems, Inc., Digital Products Division. "We are applying our expertise in tablet PCs to bring an intuitive touch experience to laptops built for mobility — so customers can easily interact with their media on the go."
New Ways to Interact
Users now will have a new choice in ways to interact with their laptop, whether flicking through photos, shuffling files, browsing online or playing games, utilizing Windows Touch-enabled functionality. The new Satellite M505 Touch and Satellite U505 Touch laptops let users tap, drag-and-drop and scroll through files, Web pages and images.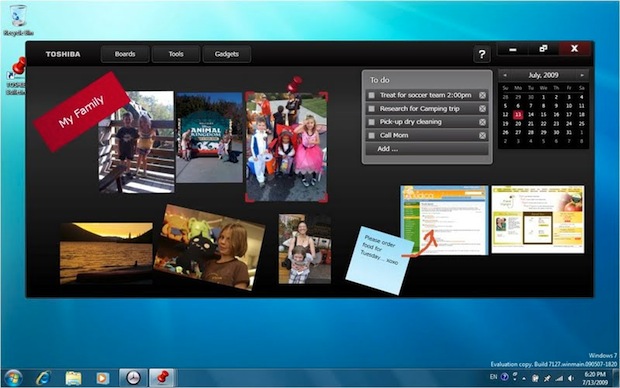 Bulletin Board
To bring the new Windows Touch feature to life, Toshiba is also introducing new, innovative touch-ready software pre-installed exclusively on the new touch-enabled laptops, called Toshiba LifeSpace™. LifeSpace consists of two applications designed to increase personal productivity in a unique and fun way:
Bulletin Board — Gives users fast access to day-to-day activities, tasks and projects in a simple, visual and fun way. Get creative when organizing projects with the ability to drag and drop photos, videos, links, documents and applications into one place. Personalize and organize the board by moving, rotating and resizing using gestures to fit personalized style. Bulletin Board also includes several built in gadgets such as labels, calendars, a clock and a to-do list.
ReelTime™ — Helps users easily find files based on when they were opened with a simple, fun visual history. With the flick of a finger, quickly scroll through automatically generated previews of documents, photos, videos and more, filter by file type or use the calendar to go back weeks or months.


ReelTime
Simplified Desktop, Faster Boot
Toshiba will also deliver a simplified, clean desktop on all new Windows 7 laptops. Out of the box, customers will simply have the Recycle Bin on their desktop and minimal software running in the background like anti-virus on startup. As a result, startup, shutdown and Fast Sleep-and-Resume performance will be improved. Customers will also experience longer battery life, as a result of several power conservation improvements in Windows 7, such as a reduction in background activities, which enable the laptop's processor to remain idle more often and intelligent screen brightness optimization.
Features available on the Toshiba Satellite M505 Touch (M505-S4990-T) laptop include:
14.0-inch diagonal widescreen HD TruBrite LED Backlit TFT LCD Touch-screen display
Windows 7 Home Premium
Intel Core™ 2 Duo processor T6600 (2.2GHz)
Intel Graphics Media Accelerator 4500MHD
4GB DDR2 800MHz RAM, upgradable to 8GB
500GB HDD
Slot-loading DVD SuperMulti drive with Labelflash supporting 11 formats
Webcam and microphone
Fusion Finish in Sonic Black
802.11b/g/n wireless LAN and 10/100 Ethernet
5-in-1 Memory Card Reader
HDMI-CEC
S/P DIF output port
6-cell Lithium Ion battery
1 eSATA/USB combo port with USB Sleep-and-Charge and 2 USB 2.0 ports
Toshiba PC Health Monitor
Toshiba eco utility™
One-year international limited warranty and award-winning Toshiba service and support
Pricing and Availability
The Satellite M505 Touch laptop ($949.99 MSRP) will be available on October 22 at select retailers, as well as direct from Toshiba on toshibadirect.com.
Reviews Around the Web:

toshiba satellite m505