Highly Integrated Device Can Support Two LCD Displays, Employs 8Mb Embedded DRAM for a Lower Power Solution, and Can Display 16-Million Colors for an Enhanced Viewing Experience
Toshiba Corporation today announced the introduction of the world's first MDDI-compliant LCD controller optimized for cell phones equipped with high-resolution VGA LCD displays. Dubbed the MDDI LCD Bridge and designated TC358720XBG, the highly integrated, single-chip device is well suited for the new generation of advanced multimedia cell phones with MDDI interfaces, including 3G cellular handsets. It has a high-speed serial digital packet host interface that supports throughputs of up to 400Mbps by using two low-voltage differential signal pairs. Toshiba will start sample shipments in April 2006. The company will display the device at the 2006 3GSM World Congress being held in Barcelona, Spain from February 13-16, 2006.
Toshiba's industry leading development of the MDDI LCD Bridge demonstrates the company's commitment to customers building the next generation of high-resolution, dual-LCD-panel cell phones with MDDI interface requirements. It supports two color LCD panels from a single controller, uses Toshiba's patented "magic square algorithm" technology to achieve a 16-million color display, and employs embedded DRAM to enable a low-power solution and mitigate the load on the baseband.
The MDDI LCD Bridge takes cell phone display resolution to the level of high-definition with support for VGA and W-QVGA LCDs. It optimizes low-power data transfers within cell phones, including video data transfers, through direct connection to the MDDI interface of QUALCOMM's Mobile Station ModemTM (MSMTM) baseband LSI. Its design also integrates 8-megabits of embedded DRAM to improve color image quality.
Equipped with an RGB interface plus an MPU interface, the device can control both a primary panel and a secondary panel. The image data needed to display images on two panels is stored in the embedded DRAM and only the updated parts of the display data need to be transferred from the baseband. When displaying still images, data need not be transferred from the baseband and this advance reduces the power consumption of the entire cell phone. The moving-image display function is supported on both the primary and secondary panels, and provides a mechanism for transferring image data to match the LCD display refresh timing. With the primary panel, it is possible to display VGA-size moving images and update only the locations displaying QVGA-size moving images, such as terrestrial digital broadcasts. This simplifies and reduces power consumption from baseband processing.
With the Toshiba "magic square algorithm", an RGB666 18-bit LCD panel can produce a display equivalent to that of an RGB888 24-bit LCD panel with up to 16-million colors. In addition, the algorithm enables display of 8-bit gray scale images even if the LCD panel only has a 6-bit gray scale capacity. The chip has independent 8-bit lookup table format gamma correction circuits for each color. The lookup table format converts 8-bit input into 8-bit output. This function permits fine adjustments to the brightness, even in LCD panels with a limited range of tones.
Main Features
Compatible with the MDDI standard, supporting high-speed data transfer rates up to 400Mbps, and directly connectible to the MDDI interface of QUALCOMM's MSM baseband solutions.
Integrates 8Mb embedded DRAM with a primary frame buffer for the primary display and a secondary frame buffer for the secondary display
Display interface supports two panels with a maximum VGA LCD size:
Supports primary displays up to VGA size with a 60Hz refresh rate: RGB565, RGB666 format and 16-/18-bit RGB interface displays
Supports secondary display up to QCIF+ size: RGB565, RGB666 and RGB888 format, 8-/16-/18-bit MPU interface.
Has programmable gamma correction and RGB format conversion
Supports 180-degree rotation and mirroring
Uses Toshiba's patented "magic square algorithm" technology to interpolate RGB666 to pseudo RGB888 image data with up to 16 million colors
Uses SPI and I2C to control LCD panels and peripheral circuits
Has PWM control output for adjusting LCD backlight brightness with two channels enabling independent brightness adjustments of the primary panel and the secondary panel
Has up to 10 GPIO ports; the additional pins at the upper clamshell chassis allow I/O expansion for baseband processors
About MDDI
The Mobile Display Digital Interface (MDDI) is a serial interface standard approved by the Video Electronics Standards Association (VESA). It provides an interconnect solution between the upper and lower clamshell in a flip phone, decreasing the number of signals that connect the digital base band controller with the LCD display and camera. MDDI is a high-speed solution that supports variable data rates and low-power consumption.
Pricing and Availability
Samples shipments are scheduled to begin in April 2006 with volume production planned to start in June 2006. Pricing is 900 yen each in 10,000-piece quantities.
Technical Specification Summary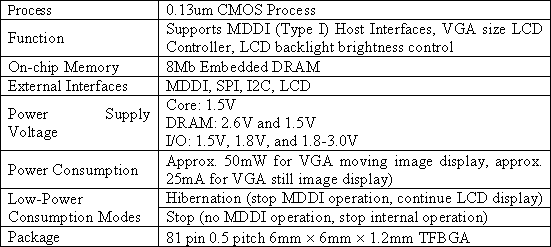 All trademarks and tradenames used herein are the properties of their respective holders. QUALCOMM is a registered trademark and Mobile Station Modem and MSM are a trademarks of QUALCOMM Incorporated.