100 Percent Adoption in CNET Asia's Top 5 Blu-ray Notebooks Exemplify NVIDIA GPU Leadership
All five notebook PCs in the April 2nd CNET Asia Top 5 Blu-ray notebooks article feature NVIDIA GeForce GPUs, including the Dell XPS m1730, winner of CNET's Editor's Choice and Reader's Choice awards(1). The PCs, featuring Blu-ray HD drives, are all based on GeForce GPUs with PureVideo HD technology, which provides outstanding visual quality and stutter-free performance during Blu-ray and DVD playback. Now that Blu-ray has emerged as the standard high-definition movie disc format, more PC makers are adding Blu-ray to their notebook PCs and NVIDIA is providing the graphics horsepower under the hood.
By using dedicated GPUs specifically designed for processing complex 3D graphics and HD video, top notebook makers have created the latest generation of laptop PCs optimized for the visual-computing lifestyle of modern consumers. The Top 5 Blu-ray notebooks from the CNET article demonstrate this:
Dell Inspiron 1520 (NVIDIA GeForce 8400M GS GPU)
Dell XPS M1730 (NVIDIA GeForce 8700M GT GPU)
HP Pavilion dv6700 (NVIDIA GeForce 8400M GS GPU)
Sony VAIO VGN-AR59GU (NVIDIA GeForce 8600M GT GPU)
Sony VAIO VGN-FZ28G (NVIDIA GeForce 8400M GS GPU)
"While integrated graphics are fine for casual browsing and emails, a GPU greatly increases the PC's capability to handle interactive and immersive content and Blu-ray is a key consumer requirement," said industry analyst, Jon Peddie of Jon Peddie Research. "A GPU delivers visual realism, snappier response, smoother movie playback, and better compatibility with a wide range of modern HD and 3D content. And soon complex tasks like video editing and encoding will be accelerated on GPUs, making the GPU an essential processor in modern PCs."
With the explosion of ultra-realistic PC games, huge megapixel photos, 3D applications, and graphically enhanced operating systems, people are demanding a better visual experience from their PCs. All of these new visual computing trends will benefit from more powerful graphics processors.
NVIDIA Corporation pioneered a solution for playback of high-definition movies on the PC with GeForce GPUs and PureVideo HD technology delivering efficient decoding, advanced video processing, and compliant content protection. NVIDIA graphic processing technologies enabled Sony and Toshiba to deliver the world's first Blu-ray PCs and GeForce GPUs remain a central component of most Blu-ray PCs today.
"Recognition from CNET and PC manufacturers is affirmation of NVIDIA's position as the leader in visual computing," said Jeff Fisher, senior vice president of the GPU business unit at NVIDIA. "We are continuing to innovate and set the standard for video and graphics processing on the PC."
For more information about Blu-ray PCs powered by NVIDIA Geforce GPUs and PureVideo HD technology please visit www.nvidia.com/purevideohd.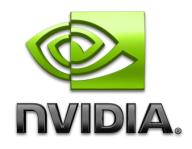 About NVIDIA
NVIDIA is the world leader in visual computing technologies and the inventor of the GPU, a high-performance processor which generates breathtaking, interactive graphics on workstations, personal computers, game consoles, and mobile devices. NVIDIA serves the entertainment and consumer market with its GeForce graphics products, the professional design and visualization market with its Quadro graphics products, and the high- performance computing market with its Tesla™ computing solutions products. NVIDIA is headquartered in Santa Clara, Calif. and has offices throughout Asia, Europe, and the Americas. For more information, visit http://www.nvidia.com.