Tivoli Audio introduced the PAL+ portable radio, an update to their original PAL model adding support for DAB, DAB+, DMB in addition to FM RDS reception. PAL stand for Portable Audio Laboratory.
The PAL+ comes standard with a built-in Nickel Metal Hydride (NiMH) environmentally friendly battery — NiMH batteries use ecologically friendly metals, have no memory effect, and offer high energy density — and a 3-1/2 hours full charge delivers up to around 10 hours of mains-free listening. Additionally the PAL+'s integrated smart charger eliminates the need for an expensive, separate charging station — yet the radio still weighs in at less than one kilogram. Add the weather-resistant design — available in five dapper finishes — as well as dual, independent alarms with snooze functions, and you've got a radio set for the road. Or the beach. Or the garden. Or, well, wherever you are headed.
Playing home or away, though, the PAL+ is always simple to use. Tivoli Audio values simplicity and the PAL+'s large display with adjustable backlight means you can't miss info, such as the time or station details. The portable includes a holder for the full-function remote control, and the top-located control wheel let's you access features when you're up close and personal. Round the back of the PAL+ you'll find a 3.5mm aux-in — perfect for hooking up the likes of an Apple iPhone or Android smartphone and enjoying your mobile's music library or even tunes streamed via Spotify Mobile — as well as a stereo headphone output that is switchable to mono for improved reception of noisy FM stations.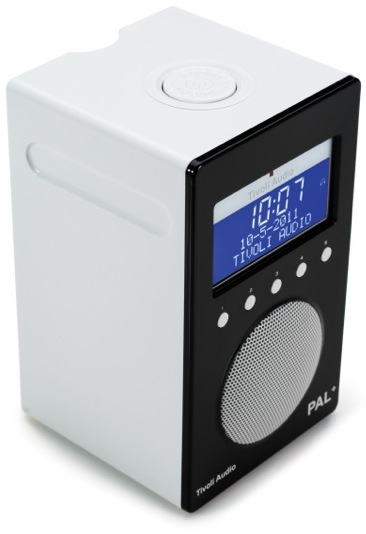 Using Tivoli Audio's award-wining circuitry combined with its magnetically shielded 6.5cm full-range driver the portable delivers a superbly balanced sound that belies its diminutive dimensions.
"The PAL+ embodies our design principles — it looks and feels beautiful, is easy to use, and sounds wonderful," says Tom DeVesto, Tivoli Audio CEO and founder. "The original PAL is a much loved model and we have worked long and hard to ensure the PAL+ has the chance to engender similar levels of public affection."
Price and Availability
The Tivoli Audio PAL+ launches October 2011 for £249.