Single-chip solution includes ST's innovative PTETM (Playback Time Extender) function, reducing system power consumption for longer music playback time, plus on-chip power management enabling direct connection to battery
STMicroelectronics (NYSE: STM) announced a very high performance 24-bit audio DAC (digital to analog converter) that is intended for the mobile music market and provides 103dB signal-to-noise ratio through the whole audio path, while also embedding the company's innovative PTETM Playback Time Extenderprocessing scheme to minimize power consumption. The single-chip STw5210 audio solution also integrates power management circuitry to simplify system design and enable direct connection to the battery, and is available in small TFBGA and VFQFPN packages and, soon, in a tiny 2.6 x 2.6mm WLCSP.
The new DAC, with Line and Headset outputs, meets the increasing demand for mobile music handsets to provide higher audio quality coupled with longer playing time. Normally an increase in quality means increased power consumption, due to the additional processing required. However, the STw5210 embeds a PTE block, allowing music to be played autonomously, driven by the phone's 32kHz clock while the rest of the platform is switched into a power-saving state. Overall, power consumption is reduced dramatically, therefore increasing battery life and playback time without compromising audio quality, making the chip ideal for mobile phone applications. For example, use of the chip could enable the doubling, or more, of the typical 10 hour music playback time currently available on cellular phones.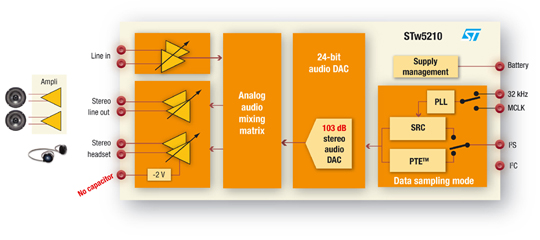 Easy system implementation, minimum bill of materials (BOM), and a very small footprint are ensured by integrated power management, eliminating the need for an external voltage regulator, and the built-in 50mW headset amplifier, which operates without coupling capacitors.
For more advanced multimedia smart phones, the STw5210 is also an ideal match for ST's STn8810/8815 Nomadik™ multimedia processor family and its companion STw4810/4811 power management unit, as well as the TS4962 high-efficiency Class D audio power amplifier for loudspeaker outputs. The chip is also ideally suited for any mobile music application based upon competitive companion devices, but especially in mobile phone platforms where playback time is likely to see the greatest increase.
The STw5210 extends ST's wide portfolio of audio DAC and ADCs with enhanced audio performance. The chip's high level of integration — including the PTE function and power management — is made possible by ST's leading-edge 0.13-micron analog CMOS process.
Samples of the STw5210 are available now to lead customers, with volume production planned for March 2008. It is packaged in a 4 x 4 x 1.2mm TFBGA40, with 0.5mm ball pitch, and a 7 x 7 x 1mm in QFN44, with 0.5mm pitch. A 2.6 x 2.6 x 0.6mm WLCSP36 packaged version, with 0.4mm ball pitch, is planned for introduction in Q3 2008. The DAC is priced at $1.80 in quantities of 1000 units.
About STMicroelectronics
STMicroelectronics is a global leader in developing and delivering semiconductor solutions across the spectrum of microelectronics applications. An unrivalled combination of silicon and system expertise, manufacturing strength, Intellectual Property (IP) portfolio and strategic partners positions the Company at the forefront of System-on-Chip (SoC) technology and its products play a key role in enabling today's convergence markets. The Company's shares are traded on the New York Stock Exchange, on Euronext Paris and on the Milan Stock Exchange. In 2007, the Company's net revenues were $10.0 billion. Further information on ST can be found at www.st.com.