Professional gaming gear manufacturer, SteelSeries, has announced that their signature headphones, the SteelSeries Siberia Full-size Headset will now be available in Red. During this year's E for All Expo, SteelSeries will be making their presence known inside the Sharp Gamers Lounge with pro-game play by Team Fnatic and original music mixes that attendees will be able to listen to on the redSteelSeries Siberia Full-size Headsets.
"The SteelSeries Full-size Headsets continue to be among some of our most popular products," said Kim Rom, vice president of marketing for SteelSeries. "Red was one of the most requested colors and a logical choice that would compliment our existing white, black and pink versions."
The new Siberia Red will be at the Sharp &ProGamerGamers Lounge and in the DJ booth where SteelSeries' is presenting their own twist on the lounge through a unique mix of electronica, house, trance and retro gaming beats. The Gamers Lounge will feature console and PC Gaming, as well as a chance to go head to head with Team Fnatic during the three day E For All Expo.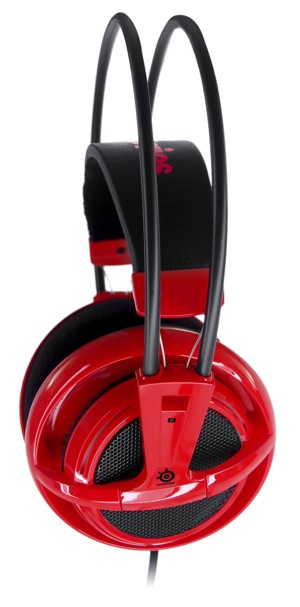 The headset's huge popularity has grown among gamers worldwide because of its crisp soundscape and has moved into music and fashion audiences because of its unique design. The SteelSeries Siberia Full-size Headset specs include:
Headphone
Frequency response: 18 – 28.000 Hz
Impedance: 40 Ohm
SPL @1kHz, 1V rms: 99 – 104 dB
Cable length: 1,0 m + 1,8 m = 2,8 m / 9,2 ft.
Jack: 3,5 mm (6,3 mm converter included) Microphone
Frequency response: 80 – 15.000 Hz
Impedance: 2K Ohm
Pick-up pattern: Uni-directional
Sensitivity (1V/P @1 kHz): -38 dB
Click design, can be attached to cord, screen or clothing
With an MSRP of $79.99 USD, the SteelSeries Siberia Full-size Headset (Red), will be shipped in Q4 2008 and available from SteelSeries.com, NewEgg.com, Amazon.com and other resellers.
Reviews Around the Web:

steelseries siberia red