A time-honored name for a new product that brings sophistication, style and precision to the wireless phone market
The legendary Katana, best known as a precision instrument sword used by the Samurai, has a new identity, that of a cutting-edge wireless phone by Sprint (NYSE: S) and SANYO (NASDAQ: SANYY). This ultra-thin, affordable phone features Bluetooth Wireless Technology and a built-in camera and is designed to appeal to the fashion-centric consumer who likes to make a statement with the wireless phone he or she carries. Making its debut throughout the month of July in four bold colors, including Mystic Black, Blue Sapphire, Cherry Blossom Pink, and Polar White, which is a color that will be sold exclusively at RadioShack, the Katana will be available at Sprint Stores, online (www.sprint.com) and at select third-party retailers for $279.99 or $79.99 after rebates with a two-year subscriber agreement.
"The Katana by SANYO bridges the best in mobile phone design with Sprint's powerful network to deliver an affordable wireless phone that's truly unique and exclusive to Sprint customers," said Oliver Valente, senior vice president of product development for Sprint. "With four colors to choose from, customers get to express themselves via a very personal device that's always with them. The wireless phone is becoming a cultural staple of our day, and it can be as unique as the person who carries it."
"The Katana wireless phone is symbolic of SANYO's highly regarded craftsmanship, which has earned us high marks from consumers and from our peers in the industry," said Andy Kodera, senior vice president and general manager of SANYO Fisher Company's Wireless Communications Division. "The SANYO Katana™ is fashioned from a long-standing tradition of precision, style and beauty – much like the katana sword of the past," Kodera explained.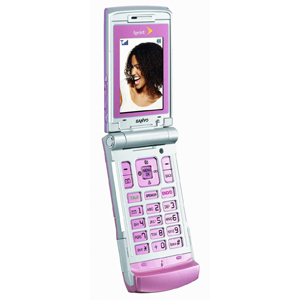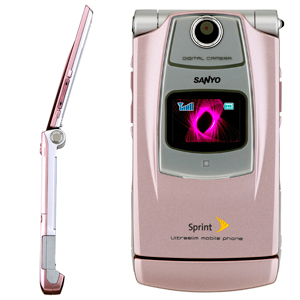 Key Features
Sleek Profile – Ultra-thin clamshell design and internal antenna.
Bluetooth Wireless Technology – Enjoy hands-free communication by using headsets, car-kits, and other select Bluetooth-capable devices. Transfer addresses using Bluetooth and use the phone as a dial-up modem for quick access to the Internet. Bluetooth accessories sold separately.
Large, High-Resolution Main Display – See more detail and more text in high resolution.
Built-In VGA Camera – Capture images up to 480 x 640 pixels with the built-in VGA camera with digital zoom.
Built-in Speakerphone – Accomplish other tasks while you talk with callers through a two-way speakerphone.
Services Supported*
Sprint PCS Vision – Download images, ringers, games, and other applications with Sprint PCS Vision to make your phone unique to you!
Sprint PCS Picture Mail(SM) (www.sprint.com/picturemail) – Instantly shoot, share, and print your digital pictures through participating retailers across the country.
Text Messaging – Instantly send and receive SMS Text Messages across the room or across the country.
Wireless Backup – Restore your contact information quickly and easily if your phone is ever lost, stolen, damaged or replaced. Additional charges may apply.
About Sprint Nextel
Sprint Nextel offers a comprehensive range of communications services bringing mobility to consumer, business and government customers. Sprint Nextel is widely recognized for developing, engineering and deploying innovative technologies, including two robust wireless networks offering industry leading mobile data services; instant national and international walkie-talkie capabilities; and an award-winning and global Tier 1 Internet backbone. For more information, visit www.sprint.com.
About SANYO
SANYO Electric Co., Ltd. is a $20 billion manufacturer and distributor of consumer electronics and commercial equipment, including multimedia and telecommunication products. SANYO Fisher Company (a division of SANYO North America Corporation, a subsidiary of SANYO Electric Co., Ltd.), based in Chatsworth, California markets PCS phones, audio systems, portable and mobile electronics, televisions, dictation devices, digital camera/camcorder combinations, home appliances, LCD projectors, security video equipment and air conditioning systems.
SANYO was recently ranked "Highest in Customer Satisfaction with Wireless Mobile Phones, Three Times in a Row, Tied in 2005" in the J.D. Power and Associates 2006 U.S. Wireless Mobile Phone Evaluation StudySM – Volume 1*.
For more information, visit SANYO Wireless Communications online at www.sanyowireless.com.
* Sanyo received the highest numerical score among wireless users in the proprietary J.D. Power and Associates 2004-2006 U.S. Wireless Mobile Phone Evaluation StudySM. 2006 Study (Volume 1) based on responses from 18,740 consumer responses who have owned their current wireless phone for less than two years, measuring eight wireless handset manufacturers and measures opinions of consumers with their wireless handset. Proprietary study results are based on experiences and perceptions of consumers surveyed in October 2005 and February 2006 who have owned their current wireless phone for less than two years. Your experiences may vary. Visit jdpower.com/cc.
Related Links
Sanyo Katana Fact Sheet (pdf)