New Sets are 20-40 Percent Slimmer Than Previous Models and Offer a High Frame Rate.
Sony today unveiled five new BRAVIASXRD (Silicon X-tal (Crystal) Reflective Display) micro-display HDTVs featuring Motionflow 120Hz high frame rate technology and dramatically thinner cabinets.
About 20 percent slimmer than last year's sets, Sony's A3000 line features three new models including the 50-inch KDS-50A3000, the 55-inch KDS-55A3000, the 60-inch KDS-60A3000 (screen sizes measured diagonally) models.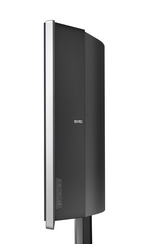 With cabinets about 40 percent thinner than its predecessor models, the XBR micro-display line features two new sets – the 60-inch KDS-Z60XBR5 and 70-inch KDS-Z70XBR5 (screen sizes measured diagonally). Sony's engineers were able to decrease the depth of each model without increasing the height of the models.
"Going bigger is not a compromise with Sony SXRD micro-displays," said Randy Waynick, senior vice president of Sony Electronics' Home Products Division. "With slim cabinets, advanced features like high frame rate and full HD 1080p resolution, SXRD TVs give consumers who want big picture impact exactly what they have been looking for."
Key to the outstanding picture quality is Sony's Motionflow 120Hz high frame rate technology. The feature is adjustable with four modes (including "off") that the user can change to match the content, be it high-definition sports or Blu-ray Disc movies.
Enhancing image quality further is the adoption of the new industry color standard for video, xvYCC, also referred to as x.v.Color™ technology. This standard expands the potential color data range of video by about 1.8 times resulting in the display of more natural and vivid colors similar to what the human eye can actually see with supporting video sources such as select Sony camcorders.
Developed in consultation with the Sony Pictures Entertainment movie studio, the new BRAVIA HDTVs feature Theater Mode that adjusts the TV to display movies better preserving the mood and detail that the filmmaker intended. When the Theater button on the television's remote control is selected, the TV automatically adjusts settings to one that has been specifically optimized for BRAVIA LCD and SXRD display technology. Sony's Theater Mode is the result of consultation with the people who bring Blu-ray disc and DVD for home viewing to reproduce an exceptional cinematic experience of the movie theater in your living room.
BRAVIA TVs are not just optimized for movies, however. More and more people want to view photos from their compatible digital cameras on their large-screen HDTV, expanding beyond just viewing them on computer monitors. The new PhotoTV HD mode brings the look of actual printed photography to the set, reproducing high quality digital photos by fine-tuning parameters, including sharpness, gradation and color.
The TVs are compatible with Sony's Digital Media Extender (DMeX) offering a digital connection path for the BRAVIA Internet Video Link module (sold separately). Announced earlier this year, the BRAVIA Internet Video Link, allows users to view select Internet video content, including high-definition, from providers AOL, Yahoo! and Grouper, as well as Sony Pictures Entertainment and Sony BMG Music.
The module mounts on the back of a compatible Sony TV and connects directly to the Internet via the users existing broadband Ethernet connection (3 Mbps or greater) without the use of a personal computer. The feature will give users access to select Internet video, music videos, movie trailers, user generated videos and RSS feeds without additional charges.
Providing easy access to Internet videos as well as user and set up menus on most of Sony's new models is the Emmy Award-winning Xross Media Bar™ (XMB) interface. The XMB incorporates a simple graphic user interface to help users maneuver through the menu systems easily and quickly.
Also simplifying operation is Sony's BRAVIA Theatre Sync™ feature simplifies the situation with its one-button command, which integrates the operation of the television with supporting external components connected via an HDMI™ input (based on industry standard HDMI-CEC). Through a one-button click of the remote, users can easily enjoy viewing a Blu-ray Disc™ movie, listening to surround sound audio via an AV receiver, and controlling other components, all over just one single cable connection avoiding the hassle of powering on individual components, changing AV receiver audio input, switching TV video inputs, etc. (HDMI cable sold separately).
For content that does not match the razor sharp resolution and rich colors available on a Blu-ray disc or a high-definition broadcast, the A3000 models feature Sony's BRAVIA Engine™ EX full digital video processing system with Digital Reality Creation-Multifunction v1.0. The technology up-converts all non-HD signal to 1080i, delivering an exceptional image to the screen.
The XBR models also add BRAVIA Engine Pro circuitry with Digital Reality Creation-MultiFunction v2.5 which up-converts signals, including 720p and 1080i, to 1080p.
When high-definition signals are available, however, all of the models feature 1080p input capability via HDMI, component, and PC inputs (with supporting PC graphics cards) for an outstanding picture. Additionally, the HD component and HDMI inputs are compatible with both 1080/60p and 1080/24p sources.
Adding the ability to personalize for home decor, the A3000 models also feature an interchangeable speaker grille, which can be swapped out for one of four optional colors including Burgundy Red, Metallic Silver, Satin Black and Cacao. The speaker grills are sold separately for about $50 each.
The KDS-50A3000, KDS-55A3000 and KDS-60A3000 models debut in August for about $3,000, $3,300 and $3,500, respectively. The KDS-Z60XBR5 and KDS-Z70XBR5 ship this fall for about $5,000 and $6,000 respectively.
All models will be offered direct at sonystyle.com and Sony Style retail stores nationwide, as well as at military base exchanges and authorized dealers around the country.