Features Built-in Speakers For Unique User Experience
Sony today unveiled the stylish new S Series Walkman Video MP3 player, featuring high-quality built-in stereo speakers that allow users to share music out loud.
"By outfitting this Walkman with internal speakers, we feel that we are adding a new social element to the world of digital music and video," said Katie O'Brien, manger of the Walkman business for Sony. . "Consumers now have a fast, simple and easy solution for sharing their personal music and video library with others."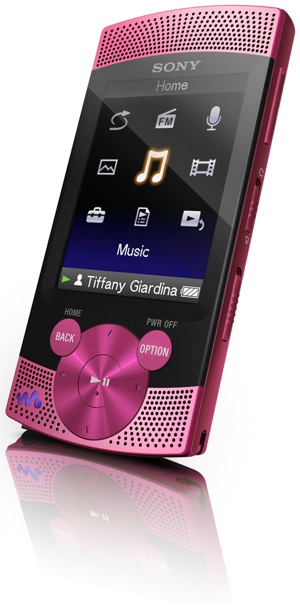 Even with the built-in stereo speakers, the new Sony S Series Walkman player features a slim, compact and lightweight design, measuring less than a half-inch thin. It has a bright, high-contrast 2.4-inch QVGA LCD screen (measured diagonally) that has an ultra-quick response time, with smooth playback at up to 30 frames per second. And thanks to the unique "Clear Audio" and "Digital Linear Phase Speaker System" technologies in the S Series, this new model carries on Sony's legacy of superior sound quality, both inside and out.
Further, the S Series Walkman player has an exceptionally long battery life, with up to 42 hours of music playback and up to 6.5 hours of video playback through the headphones. Through the speaker output, the new model features up to 17 hours of music playback and up to 5 hours of video playback.
The new S series also introduces a voice recording and FM recording feature. This enables recording favorite songs from the radio, or capturing quick messages and reminders on the go. Importing music, video and photos is quick and easy, with simple drag-and-drop from your compatible PC's media folder or via iTunes 8.1 using Content Transfer.
The new S Series player supports a variety of codecs, both of the audio and video variety. Audio codecs supported include MP3, WMA(DRM), AAC(non DRM) and Linear PCM. The video codec support includes AVC (H.264/AVC) Baseline Profle, MPEG-4 and WMV(DRM). The new model also supports JPEG photo format.
Pricing and Availability
The Sony S Series Walkman video MP3 player will be come in several colors including black, red, violet and pink colors. It will be available in capacities of 8 GB and 16 GB. Both the 8GB and 16GB models will be available next month for about $110 and $130, respectively.
The Walkmans and a variety of accessories will be available online at www.sonystyle.com, at Sony Style retail stores, at military base exchanges and a variety of authorized dealers nationwide.