New Camcorder, Deck, Professional Hard-disk Unit and Functionality Upgrades Deliver Greater Production Flexibility
The expanding family of Sony's XDCAM EX™ video production technology now includes new models that increase the benefits of a solid-state workflow for new and existing users. These include the PMW-EX3 semi-shoulder camcorder, the PMW-EX30 deck, and the PHU-60K professional hard-disk unit.
Sony is also unveiling a prototype 32GB version of the SxS PRO™ solid-state memory card."Following on from the successful launch of the PMW-EX1 SxS PRO™ solid-state camcorder in Europe, the new products will form part of an extended family of XDCAM EX products based on state of the art ExpressCard technology — the new standard of PC card interface," said Bill Drummond, Product Marketing Manager. "Now, users have access to enhanced workflows and greater functionality, plus all the benefits of the original XDCAM EX camcorder, including superb full HD 1920 by 1080 image quality without spatial offsetting."
The PMW-EX3 semi-shoulder camcorder features similar functionality to the PMW-EX1, but it allows the user to make lens choices depending on the nature of their project, through its interchangeable lens system.
The PMW-EX3 features gen-lock and timecode in/out for multi-camera operation. For use in a studio configuration, model RM-B150/B750 remote controllers will adjust basic camera parameters such as gain, iris, white balance, pedestal, and gamma through the 8-pin remote connector on the PMW-EX3 camcorder.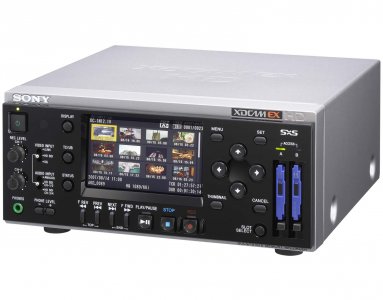 PMW-EX30 XDCAM EX Deck
The PMW-EX30 is Sony's first solid-state memory recorder/player. The 1080i/720P switchable unit has an HDMI digital connection for use with an external monitor. It has HD-SDI in/out, making it ideal for recording live HD content, as well as dubbing to other formats. The deck can also be used as an SxS PRO™ card reader/writer, and for feeding content to existing HD and/or SD non-linear editing systems with its built in DV down-conversion via i-Link.
Specifically designed for use with XDCAM EX camcorders, the PHU-60K hard-disk unit is a 1.8-inch, 60GB external storage unit with an USB 2.0 interface. Users can achieve approximate recording times of 200 minutes in 35Mbps HQ (high-quality) mode and 260 minutes in 25Mbps SP (standard play) mode. When attached to a camcorder, the hard-disk unit functions just like an SxS PRO card, with thumbnail views available on the LCD panel of the PMW-EX1 or PMW-EX3 camcorders or PMW-EX30 deck. A new "dumping" system is being used to protect the HDD from a 1.5m height drop, and buffer memory is being used to allow recording immediately after powering on. Also, a salvage function enables restoration of content damaged by battery/cable disconnection or accidental powering down during recording.
A 3-D G sensor and the buffer memory allow for stable recording. When the G sensor detects that the unit is being dropped, the head of the HDD is immediately parked to protect the HDD. The content is temporarily stored in the buffer memory and then restored in the HDD when it is operating again. Approximately 12 hours of continuous operation are possible on a small size BP-U30 battery.
32GB SxS PRO™ Memory Card
Sony plans to introduce a 32GB SxS PRO™ memory card later this year. One 32GB SxS PRO™ Memory Card will record 100 minutes of full HD 1920 by 1080 video at 35Mbps, and 140 minutes of 1440 by1080 video at 25Mbps. Pricing will be announced at a later date.
Clip Browser Version 2.0
The Clip Browser software supplied with each XDCAM EX camcorder is expected to be upgraded to version 2.0 this summer. Enhancements will include the capability to use XDCAM EX content within a DV editing workflow.
Optional plug-in software separately under development for Clip Browser 2.0 will export XDCAM EX files on SxS PRO™ Memory Cards to Professional Optical Disc, allowing XDCAM HD Professional Optical Disc products to seamlessly interoperate with content shot by the XDCAM EX camcorder.
Other optional plug-in software under development for Clip Browser 2.0 will enable XDCAM EX files to be viewed on a range of portable consumer devices or to be uploaded to video sharing web sites. Non-linear editors can deliver higher-quality footage and accelerate the post production process by editing XDCAM EX files natively. Major NLE vendors have solutions that support a true file-based workflow with XDCAM EX files without the need for transcoding. Adobe is announcing native support for all XDCAM EX formats through its Adobe Premiere Pro CS3 video editing and production software. Also this summer, Avid's non-linear editing systems are expected to fully support 35Mbps HQ (high quality) mode at 1920×1080/50i and 1280×720/50p.
The new XDCAM EX products are expected to be available Summer 2008.