At this year's TechSec Solutions Conference, Sony will unveil five IP-enabled security cameras, along with a new network video recorder and a server, for the rapidly growing security market.
Derived from the combination of Internet Protocol (IP) and "bella," the Italian word for "beautiful," Sony's IPELA cameras all have multi-codec capabilities supporting both JPEG and MPEG4 compression to increase flexibility and optimize bandwidth usage.
Sony's new NSR-100 network surveillance recorder is designed for multi-camera monitoring, recording and playback, and is suitable for a wide range of IP security applications.
The SNT-V704 is a compact, high-performance video network server that enables remote monitoring of analog cameras over a network.
"Our new lineup features a breadth of high-tech equipment for a wide range of security applications," said Sony Electronics Product Manager Allen Chan. "These devices are well-equipped to handle the needs of today's security personnel, especially as the market turns to more inclusive, cost-efficient surveillance solutions."
IPELA Camera Lineup
In addition to being able to send simultaneous JPEG and MPEG4 streams, the latest generation network video SNC-RX550N and SNC-CS50N cameras incorporate a Voice Alert function, robust motion detection and intelligent object detection capabilities. The PKI (Public Key Infrastructure) anti-tampering feature is also incorporated for added security.
All three feature day/night function, and slots for either wireless option or additional memory. They can be programmed for pre/post alarm recording to capture events.
Audio capabilities include two-way communication using bandwidth-efficient G.711 and G.726 codecs. Each integrates a microphone input and active speaker output. An audio message can even be stored in the cameras to play on schedule or upon trigger by an alarm event.
These cameras also offer VGA, QVGA and QQVGA resolution, along with a maximum frame rate (in VGA) of 30 fps in either JPEG or MPEG4.
The SNC-RX550N PTZ camera features a 360-degree "endless" pan and can tilt from 0 to 90 degrees. The full-range pointing capabilities can be masked to create privacy zones with spherical (3-dimensional) tracing. The high quality 26x optical zoom lens has a broad magnification range from a focal length of 3.5 mm to 91 mm. The high sensitivity 1/4-inch Exwave HAD CCD allows the camera to operate on a minimum of 1.0 lux in color, 0.15 lux for B/W.
The SNC-RX550N PTZ camera is now available with a suggested list price of $3,000.
The fixed-angle CS mount SNC-CS50N is designed for high resolution "look-ins" under a broad range of lighting conditions. It utilizes a high performance 1/3-inch SuperExwave™ CCD that operates on a minimum of 0.4 lux in color, 0.035 for B/W. The supplied IR compensated lens has a variable focal length from 2.9 – 8 mm, F0.95 – F1.6. The SNC-CS50N camera is also Power over Ethernet (PoE) IEEE 802.3af compliant.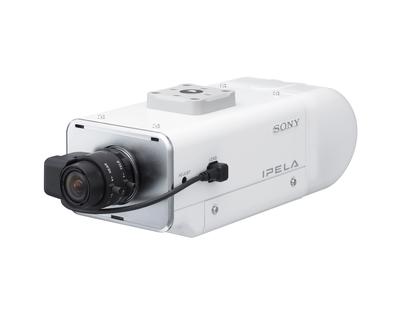 The SNC-CS50N fixed-angle camera is now available with a suggested list price of $1,584.
Apart from the new camera introductions, Sony is also showcasing its MPEG4/JPEG selectable series of IP cameras.
The SNC-RZ25N camera produces high-quality MPEG-4 images with 640 x 480 maximum resolution at up to 15 fps, and up to 30 fps at 320 x 240 resolution, or industry standard JPEG images with 640 x 480 resolutions at up to 18 fps, and up to 30 fps at 320 x 240. The camera also features an integral 18x auto-focus zoom lens.
Equipped with a built-in web server, the SNC-RZ25N camera's capabilities maximize bandwidth resources to create an effective and economical platform for IP surveillance systems to operate on a broad base of existing academic, corporate and institutional networks.


The SNC-RZ25N network camera is now available with a suggested list price of $1,600.
Also being displayed is the SNC-P5 Pan/Tilt/Zoom camera, offering wide area coverage, which has a 3x optical zoom lens enabling users to monitor small or distant objects with exceptional clarity. The camera has a high resolution 1/4-inch type progressive scan CCD, a 3.5 lux sensitivity and analog video output with 400 TV lines, and bi-directional audio transmission capability. The SNC-P5 model has motion detection, and supports MPEG-4/JPEG compression formats. The camera has a frame rate of up to 30 fps at 320 x 240, and can support up to 10 users in MPEG-4 mode and 20 users in JPEG mode.


The Sony SNC-P5 is now available with a suggested retail price of less than $950.
Lastly, the SNC-DF70N vandal resistant, IP66-rated, mini-dome camera with Power over Ethernet (PoE) 802.3af capability, popular in high-traffic areas such as building entrances, transportation hubs and shopping malls, offers a 1/4-inch Super HAD™ CCD, providing an analog output producing 480 TV lines of resolution. The camera is CS mount, supplied with a 3-8 mm auto iris vari-focal IR compensated lens to offer a broad range of viewing options, and day/night functions for optimized sensitivity in light or dark environments.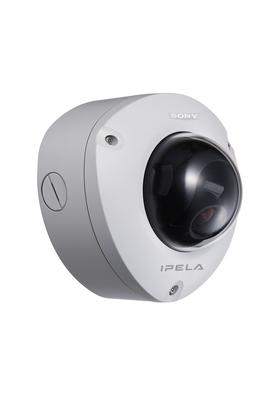 The SNC-DF70N is now available with a suggested price of $1,100.
The NSR-100 Network Surveillance Recorder
The new NSR-100 Linux-based network video recorder, with a storage capacity of 1 terabyte (or 1000 GB), offers intelligent motion detection, audio monitoring, flexible recording/playback capability, RAID (a feature to help prevent data loss), alarm functions, dynamic masking, Pan/Tilt/Zoom camera control, and "Hot Spot" monitoring.
Along with these features, the recorder achieves a maximum 480 fps when the image size is VGA (640 x 480), and supports the Real Shot Manager client/controller software to remotely view, control, record and playback images on a client PC.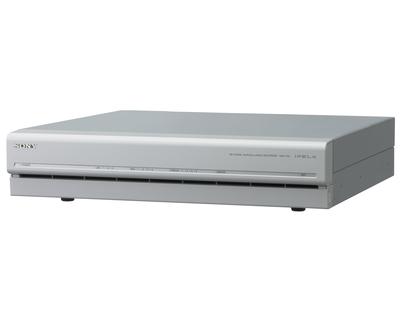 The NSR-100 network surveillance recorder is planned to be available in March with a suggested list price of $12,000.
The SNT-V704 Video Network Server
The SNT-V704 video network station is Sony's response to the growing migration of analog into IP video monitoring systems. The server supports four looping analog video inputs, and utilizes MPEG-4 and JPEG compression formats. The SNT-V704 server has a high frame rate of 30 fps at 720 x 480 resolution per port (120 fps global), a USB 2.0 port for external data storage and built-in activity detection. It has built-in PTZ control support for other vendor PTZ cameras, as well as Sony pan/tilt/zoom cameras such as the EVI-D70 model. Bi-directional audio support is also built-in, featuring an external MIC input as well as an active speaker output (max 1Vrms).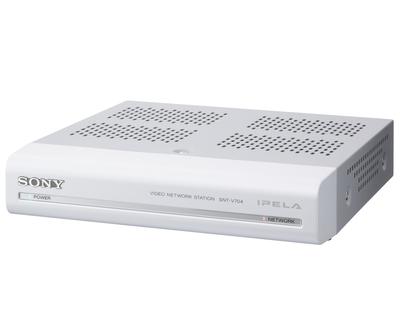 The SNT-V704 video network station is now available with a suggested list price of less than $810.