New Line Includes Designs for Active Sports Lifestyles, Travelers and Children
Marking its broadest headphone introduction ever, Sony is launching 20 new models that meet an array of consumer audio needs.
"Sony has continually led the headphone market because we are able to pair superior audio quality with the best designs," said Andy Bubala, director of audio accessory products for Sony Electronics. "I believe this is the most robust collection we've introduced to consumers, and we're offering wonderful color and style options for anyone between 8 and 98."
Sony Enters Children's Headphone Category
Designed for smaller, more sensitive ears, Sony's first model of children's headphones are suitable for ages eight and older. The MDR-222KD headphones (above) will be available in April for about $15 in black or cotton-candy pink. These headphones are sized smaller to fit child-sized heads and reduce the maximum volume delivered through the open-air earpieces compared to similar adult headphones.
For ease of use, the single-side cord design reduces cord tangles while they are worn.
Active Style Headphones Perfect for Sport and Fitness Enthusiasts
Sony is also introducing a line of headphones that are designed to stay put when you're not. Whether on the treadmill, the track, or trekking through the mountains, the new Active Style collection features five headphones with a slim design styled with black silicone rubber with orange-red accents. In addition, all active style headphones have moisture-resistant features.
MDR-AS20J
The MDR-AS20J headphones fit around the outer ear with an earbud that sets inside the ear canal. The MDR-AS40EX headphones feature a convertible ear hanger so you can transform them from over-the-ear headphones to a traditional earbud style, offering users versatility and personal preference.
| | |
| --- | --- |
| MDR-AS100W | MDR-AS40EX |
| | |
| | |
| --- | --- |
| MDR-AS50G | MDR-AS30G |
| | |
The collection also will include more traditional headband style headphones (model MDR-AS100W), behind-the-neck earbud headphones (model MDR-AS50G) and behind-the neck open air headphones (model MDR-AS30G). The headphones will range in price from $20 to $100.
New Noise Canceling Headphones Take Weight Off Ears
Sony is launching its fifth model in its line of noise canceling headphones with a new lightweight design that shifts excess weight from the headband and earpieces by putting the battery pack onto the cord of the headphone.
The MDR-NC40 headphones have an open air design that distributes pressure evenly across the outer ear, and the soft, pressure-reducing urethane cushioning prevents user fatigue during long trips. Available in March for about $100, these headphones fold into a case the size of a softball to fit easily in your carry-on bag or briefcase.
| | |
| --- | --- |
| MDR-EX700LP | MDR-NC40 |
| | |
EX Series Headphones Get a Makeover
Sony is also updating its flagship EX series of earbud headphones with a new reference standard, the MDR-EX700LP model. These feature lightweight magnesium housings, an exclusive multilayer diaphragm for reproducing your audio with balance and clarity, and seven sizes of hybrid-silicone earbuds to give users a more comfortable and secure fit. This model will be available in March for about $300.
| | | |
| --- | --- | --- |
| MDR-EX32LP | MDR-EX55 | MDR-EX75 |
| | | |
Three additional models in the EX line have updated designs with several color options. The MDR-EX32LP earbud headphones, available for about $25, are available in pink or blue with white accents, solid black or solid white. The MDR-EX55 earbud headphones use soft silicone for the entire spherical earbud housing to increase comfort and are available in two-toned pink, royal blue, white and black for about $40. The MDR-EX75 earbud headphones, available for $50 in black, white and silver, sport a new cylindrical shape for a more comfortable fit.
Earbuds and Behind-the-Neck Headphones
Sony's core earbud and behind-the-neck headphones feature new styles with more colors, lighter materials and cords that don't get in the way of your music.
The MDR-E10LP fashion earbuds will offer and array of colors to coordinate with your MP3 player. Available in pink, red, pastel green, pastel blue, violet, gray, white and black these headphones will be available in March for about $10.
MDR-E828LP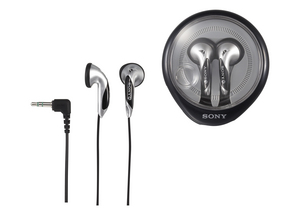 The MDR-E828LP/SLV headphones use Sony's acoustic twin turbo circuit for enhanced bass response and a silent cap to prevent sound leakage. They are available in black and silver for about $10.
| | | |
| --- | --- | --- |
| MDR-E10LP | MDR-E11LP | MDR-E12LP |
| | | |
Using a large driver, the MDR-E11LP headphones deliver full, rich sound in a compact, earbud style. The angular earbuds are available in blue, orange, white and black for about $13. The step-up model, the MDR-ED12LP headphones, features the same 16mm driver with an added bass booster. These headphones come in four metallic colors, red, blue, gold and silver, for about $15.
The MDR-G45LP headphones, available for about $15, have a flexible behind-the-neck band, a four-foot, single-side cord, with black ear caps. For personalization options, the MDR-G55LP behind-the-neck headphones feature interchangeable colored caps in pairs; black with red or white with gold for about $25.
To keep the cord out of the way, the MDR-G75LW behind-the-neck headphones have a retractable cord and a collapsible neck band for easy carrying. Available in black for about $50, these headphones use urethane cushioning in the earpieces for a more comfortable fit.
All of these headphone models can be purchased online at www.sonystyle.com, at Sony Style retail stores, at military base exchanges and at authorized dealers nationwide.