Combining functional and aesthetic design, the four new E-Series projectors are targeted at the education and business market and include a WXGA flagship model.
With the new E-Series multi-use business projectors, Sony incorporates state-of-the-art BrightEra™ 3-LCD technology into affordable entry-level projectors for the first time. The new line-up now includes Sony's first high-brightness, 2500 ANSI lumen model in the under-3kg weight category (VPL-EX50) as well as Sony's first native 1280 x 800 WXGA entry-level projector (VPL-EW5), which follows the trend to widescreen laptops and 16:9 video sources.
Sharp, precise imagery from the BrightEra LCD Panel
BrightEra™ 3-LCD technology, which has had a transformative effect on the capacities of Sony's installation projectors, is now incorporated in three of the new E-Series models. The innovative projection system offers unparalleled picture quality and high brightness, while the inorganic LCD alignment layer offers greatly increased panel life and colour stability as UV light can pass freely through the LCD panels.
The functional design of the new E-Series projectors makes their setup quick and easy. An 8-degree tilt angle design creates an optical shift so that it is not always required to adjust the projector's height upwards, and short projection distances help cope with limited space in classrooms or small conference rooms. Automatic V keystone correction, as well as "Quick Start" and "Off&Go" technology, also help save valuable time.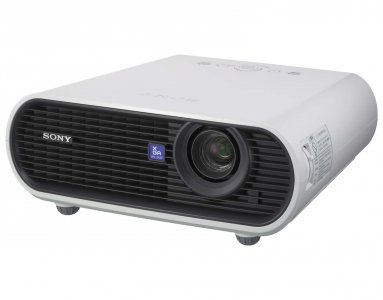 The sleek VPL-EW5 delivers outstanding clarity
Robert Meakin, Product Manager for Sony Professional Solutions Europe, comments, "In an industry first, Sony is able to offer the unparalleled picture quality of BrightEra 3-LCD technology in an entry-level business projector. The competitively priced E-Series range uses the best technology available today to address key requirements in the business and education projector market. We also anticipate the flagship VPL-EW5 model to be successful for home entertainment due to its WXGA resolution."
BrightEra™ 3-LCD technology is a feature of the VPL-EW5/EX50/EX5, giving them outstanding brightness of 2500lm (EX50) and 2000lm (EW5/EX5), and a contrast ratio of 900:1 (EX50/EX5) and 700:1 (EW5). The flagship VPL-EW5 has an HDMI input which makes it HD ready, and a power consumption in standby mode of less than 3W, the lowest in its class.
The E-Series range also incorporates a variety of interfaces, such as a second RGB input for multi-PC connectivity (VPL-EX50), and RS232C for control of external devices (VPL-EX5/EX50/EW5. Also available is the SVGA VPL-ES5 projector which is the most affordable of the new E Series range. While not utilising BrightEra technology, it offers all the simple set-up, security and built-in design features as other models in the range and provides exceptional brightness to 2,000 lumens at SVGA 800×600 resolution.
5 years PrimeSupport
From 15 April to 31 July 2008, end users purchasing the VPL-EX5, VPL-EX50 or VPL-EW5 projectors are entitled to an additional 2 years PrimeSupport cover — (in addition to the standard 3 year cover). To activate the 5 year cover, end users must register here before 31 October 2008. After 31 October 2008, the cover duration will revert back to the standard 3 Year PrimeSupport cover.
For full terms and conditions of this promotion, please click here.
For terms & conditions of the PrimeSupport programme, please refer to the onbox PrimeSupport registration card or click here. If you have any queries, please call our multi-lingual helpdesk on +44(0) 1256 683850.
Participating Countries: Austria, Belgium, Bulgaria, Cyprus, Czech Republic, Denmark, Estonia, Finland, France, Germany, Greece, Hungary, Ireland, Italy, Latvia, Lithuania, Luxembourg, Netherlands, Norway, Poland, Portugal, Romania, Slovakia, Slovenia, Spain, Sweden, Switzerland and United Kingdom.