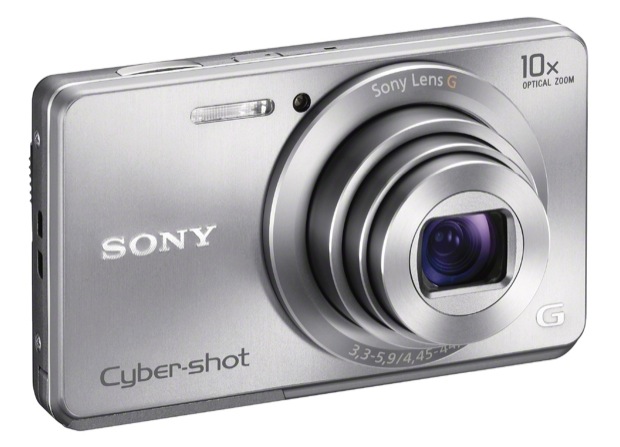 Sony announced a new line of slim Cyber-shot cameras which include the DSC-WX150, DSC-W690, DSC-TX66 compact cameras, along with the rugged, waterproof DSC-TX20.
The DSC-WX150 and DSC-W690 models (pictured above) are the world's thinnest 10x optical zoom cameras — slimmer than any other 10x compact cameras currently offered in market (measured at slimmest part excluding lens). This exceptionally thin design is largely attributed to the new "Advanced Aspherical" lens element, which allows the lens unit to be drastically smaller than those in previous 10x zoom Cyber-shots while still producing very highly detailed, accurate images.
The new TX66 camera (above) features an ultra-slim, front-sliding design and measures about 12.2 mm (excluding lens cover), which is about the thickness of a standard AA size battery. The similarly thin TX20 camera (below) is Sony's most "rugged" compact camera offering — waterproof (up to 5m or 16ft), dustproof, shockproof (up to 1.5m or 5 ft) and freezeproof (up to 14 degrees F).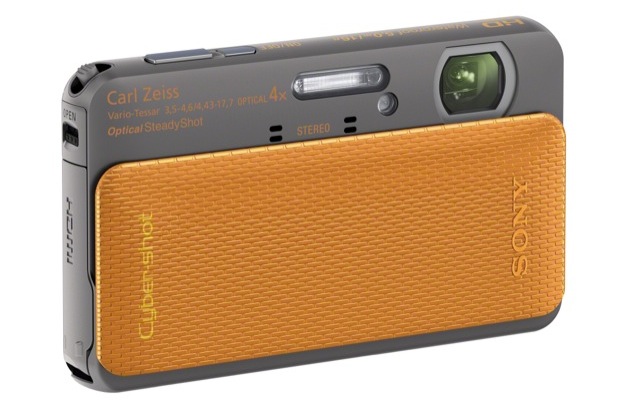 Each of the new WX150 ,TX66 and TX20 cameras features a high-resolution "Exmor R" CMOS sensor and advanced BIONZ image processor, enhancing low-light performance, Auto Focus speeds, image stabilization and opening up various multi-shot capabilities including 10 fps burst mode, "Background Defocus" mode, 3D still image shooting and more. These models also have "Dual Record" functionality for capturing high-resolution still images while shooting video, and "Clear Image Zoom" digital zoom technology, which boosts optical zoom to 2x virtual capability (i.e. 5x optical zoom to 10x virtual zoom) at full camera resolution.
Each of the new models can shoot full HD video (at various resolutions) and offer "Picture Effect" options for creative photography.
Product Specs, Pricing and Availability
Sony DSC-W690 → $180 (silver, black, red and blue – May 2012)
Sony DSC-WX150 → $250 (silver, black, red and blue – May 2012)
Sony DSC-TX20 → $330 (orange, green, black, blue and pink – May 2012)
Sony DSC-TX66 → $350 (silver, gold, red, white, purple and pink – March 2012)
DSC-WX150
Effective 18.2 MP "Exmor R" CMOS sensor
Lightning-fast AF speed of approximately 0.13 second in daylight, 0.20 seconds in low-light (speeds may vary based on shooting conditions)
3.0-inch 460k dot LCD screen
10x wide-angle optical zoom lens (25-250mm in 35mm format) with 20x digital "Clear Image Zoom" at full resolution; includes newly developed "AA" lens element
"Extra High Sensitivity" technology enhances low-light shooting capabilities
Captures 13 MP equivalent still images while shooting video via "Dual-Record"
Full HD Movie Shooting capability (1920×1080/60i)
Enhanced Optical SteadyShot reduces hand shake during still and video shooting
9 total "Picture Effect" options, allowing for creative, custom styled photographs
DSC-W690
Effective 16.1 MP CCD sensor
3.0-inch 230k dot LCD touch screen
10x wide-angle optical zoom lens (25-250mm in 35mm format) including newly developed "AA" lens element
720p HD Movie Shooting capability
Enhanced Optical SteadyShot reduces hand shake during video shooting
4 total "Picture Effect" options, allowing for creative, custom styled photographs
DSC-TX66
Effective 18.2 MP "Exmor R" CMOS sensor
Ultra-thin design measuring at 12.2 mm thick (excluding lens cover)
Lightning-fast AF speed of approximately 0.13 second in daylight, 0.25 seconds in low-light (speeds may vary based on shooting conditions)
5x wide-angle optical zoom lens (26-130mm in 35mm format) with 10x digital "Clear Image Zoom" at full resolution
"Extra High Sensitivity" technology enhances low-light shooting capabilities
3.3-inch Xtra Fine OLED touch-screen
Captures 13 MP equivalent still images while shooting video via "Dual-Record"
Full HD Movie Shooting capability (1920×1080/60i)
Enhanced Optical SteadyShot reduces hand shake during still and video shooting
"Photo Creativity" interface plus 9 "Picture Effect" options for creating unique, custom-styled photos and video
DSC-TX20
16.2 MP "Exmor R" CMOS sensor
4x wide-angle optical zoom lens (25-100mm in 35mm format) with 8x digital "Clear Image" Zoom at full resolution
Waterproof (up to 5m,16 feet), dustproof, shockproof (up to 1.5m or 5ft) and freeze-proof (up to 14 degrees F)
"3.0-inch Xtra Fine LCD touch-screen with 921k dot resolution
Captures 12 MP equivalent still images while shooting video via "Dual Record"
Optical SteadyShot Active Mode reduces hand shake during video shooting
7 "Picture Effect" options for creating unique, custom-styles photos and video