Dual Use PC Headsets That Double as High-Quality Headphones With a Removable Voice Tube
Sony DR-350USB
High quality headphone sound with 30mm driver
Unique dual-function mic design with removable voice tube for extra-clear speech (DR-350USB, DR-320DPV)
Light, comfortable styling for extended wear
USB adaptor for direct PC connection (DR-350USB)
Now you can listen — and be heard — even more clearly with a choice of comfortable, colourful new PC headsets from Sony. A stylish alternative to flimsy, drab-looking headsets, the DR-350USB and DR-320DPV are the perfect add-on for your netbook, notebook or desktop PC.
Offering sparkling hi-fi audio, they're ideal for chatting with friends around the world over VoIP, taking command in multi-player games… or just relaxing while listening to your favourite sounds. Blending smart looks and crystal-clear sound, both PC headsets are also ideal for listening to music and podcasts on your PC or laptop.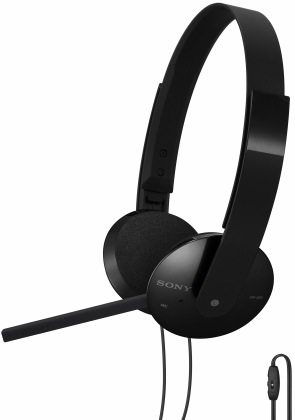 Sony DR-320DPV
The DR-350USB and DR-320DPV feature a high quality omnidirectional microphone module that's embedded discreetly in the headset.
As an extra refinement, the supplied voice tube routes speech directly from mouth to mic, reducing background noise when you're chatting to friends and family or fellow gamers. The tube removes effortlessly when it's not needed, transforming the headset into a stylish headphone for your notebook or desktop PC.
Both new PC headsets are designed with maximum comfort firmly in mind. The light, low-pressure adjustable head band and foam earpads assure effortless listening while you're immersed in the longest gaming or chat sessions. As an extra personal touch, the DR-320DPV is available in red or black to co-ordinate with your VAIO PC.
Whether you're staying in touch with relatives overseas or just enjoying your digital music collection, sound quality from the precision 30mm ferrite driver is crisp and clear with these PC Headsets.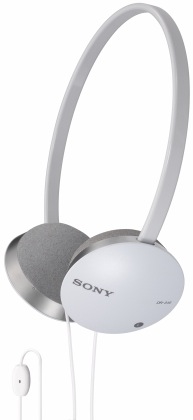 Sony DR-310DP
Ideal for connection to your laptop or PC, the 2.5m cord of the DR-320DPV includes an in-line volume control. It's a simple way to make quick level adjustments without reaching over to your PC's keyboard. When you're listening to music on headphones and don't need to speak, the mic jack stows neatly into a handy plug rest to cut the clutter of dangling wires.
For extra convenience, the DR-350USB features a USB adaptor module with integral volume and mute controls. As well as assuring super-clean direct digital connection, it's a handy way to free up your computer's jack socket for plugging in PC speakers.
Also available, the new DR-310DP is a super-light PC headset with discreetly concealed in-line microphone. Offered in a choice of fresh green, white, pink and blue colour variations, it's ideal for chatting over VoIP, gaming or listening to your favourite sounds. The high-quality headset features a slim, comfort-wear headband and cushioned earpads.
The new DR-350USB, DR-320DPV and DR-310DP PC headsets by Sony are available from April 2010.
Key technical specifications:

| | | | |
| --- | --- | --- | --- |
| | DR-350USB | DR-320DPV | DR-310DP |
| Headphone type | Open | Open | Open |
| Freq. resp. | 14-22,000 Hz | 14-22,000 Hz | 14-22,000 Hz |
| Driver | 30 mm, ferrite | 30 mm, ferrite | 30 mm, ferrite |
| Power handling | 1000mW | 1000mW | 1000mW |
| Microphone | In-line type (omnidirectional) with detachable voice tube | In-line type (omnidirectional) with detachable voice tube | In-line type (omnidirectional) |
| Cord length | 1.2 m (analogue) + 1.3m (USB) | 2.5m | 1.2m |
| Weight | 110 g (headset) + 20 g (USB adaptor) | 110 g | 60 g |
| Available colours | Gold | Red, black | Green, white, pink, blue |
| | check price | check price | check price |