Sony is debuting two lightweight photo printers with built-in carrying handles and the ability to print pictures in less than a minute.
The DPP-FP70 and DPP-FP90 PictureStation™ photo printers also offer extensive editing capabilities with a one-button print process and simple set-up for operation virtually anywhere.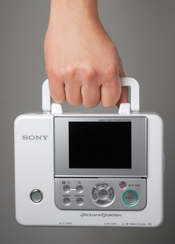 "Our new personal printers bring the photo lab to you, whether you're out at a party or in the comfort of your home" said Kelly Davis, Sony Electronics' senior product manager for PictureStation. "Digital cameras have brought picture-taking into our daily lives and our PictureStation photo printers are designed to complement the camera's ability to capture and share memories in the moment."
The printers allow users to preview and edit photos before printing with built-in displays and enhanced editing features so the quality of digital images can be maximized. And Sony's Bionz image processor needs just 45 seconds to create a 4 x 6-inch print from a Memory Stick™.
Edit the Scene on Screen
The DPP-FP90 printer has a 3.6-inch LCD screen that tilts and adjusts for easy viewing. The DPP-FP70 model features a 2.5-inch built-in viewing screen.
Both photo printers offer the Auto Touch-up feature that corrects common picture problems like exposure, focus and red-eye.
With the touch of the Auto Touch-up button on the unit, either printer can correct the exposure of a face if it is over- or under-exposed without affecting the exposure of the background. This same button also gives users the ability to sharpen out-of-focus images by creating several simulations of camera lens movement, checking the contrast of each simulation and then selecting the best simulated image to improve the original photo for printing.
Making Prints Personal
Sony is also introducing the superimpose mode in both of these printers. This helps personalize photos by superimposing a special message. You can select from pre-set phrases, such as "happy birthday," "thank you" and "congratulations." You can also customize the color and placement of the superimposed text by using the cursor buttons on the printers.
The filter feature on both new printers offers six options for modifying digital photos before printing. The cross filter can make the lights in a photo more dramatic, while the partial color filter lets you highlight the subject of a photo in full color and remove color in other areas of the print.
The paint filter adjusts the image to appear as if were printed on canvas and the monochrome and sepia filters let you create a more artistic black and white image from a color photo. The fish-eye filter lets you add a new perspective to a portrait or landscape picture.
Put Your Best Print Forward
While these new printers are compatible with most PictBridge-enabled cameras, they offer optimized performance with Sony's Cyber-shot and Alpha D-SLR cameras. Each printer can access the MakerNotes in the picture files created from Sony digital still cameras and use this data to create the best print based on the settings used when the photo was taken.
All PictureStation photo printers use dye-sublimation technology that ensures a continuous color tone for each print. Prints are sealed with SuperCoat 2™ laminate, a durable coating that protects photos from fading and makes them resistant to water, heat and fingerprints.
Printing with the DPP-FP90 and DPP-FP70 photo printers costs as little as 29 cents per print. Sony offers several print packs of high-quality paper to fit most photo-printing needs. The SVM-F40, F80P and F120 print packs offer 4 x 6 high quality papers with snap off edges and SuperCoat lamination in quantities of 40, 80 and 120 sheets, respectively.
The DPP-FP90 and DPP-FP70 printers will be available in March for about $200 and $150, respectively. The SVM- F40P, -F80P and the F120P print packs are available for $20, $30 and $35, respectively. Both PictureStation models and the print packs will be sold online at sonystyle.com, at Sony Style stores (www.sonystyle.com/retail) located in fashion malls across the country, and at authorized dealers nationwide.