Sony introduced two digital binoculars with HD video recording, zoom, autofocus and SteadyShot image stabilization. The new models, DEV-3 and DEV-5, are ideal for nature/bird watching, they can record Full HD video in AVCHD 2.0 format with stereo sound at the touch of a button, and even add a 3D mode that records scenes as thrilling stereoscopic video footage for playback on most 3D HDTVs.
Users can select the variable zoom on both models to scan a wide area at low magnification before zooming in seamlessly to pinpoint a subject, such as birds in a field. Turning on the digital zoom at magnification settings over 10x boosts the DEV-5 model's total magnification range from 0.9x up to 20x digital (image quality is reduced when digital zoom is on and recording 2D video at magnifications higher than 10x), rivalling many high-powered conventional binoculars. The DEV-3 model pulls wildlife, sporting subjects and architectural details closer with a maximum magnification of 10x optical. In 3D mode, the binoculars' maximum magnification is 5.4x optical.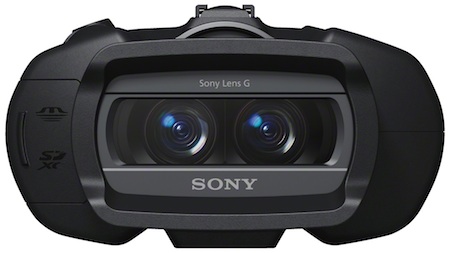 Sony DEV-5
Unlike traditional binoculars, electronic autofocus keeps moving subjects sharply in focus at all times. A comfortably positioned dial allows fingertip adjustment of manual focus — ideal for focusing selectively on a subject, rather than overhanging branches or other obstructions in the field of view.
Electronic autofocus allows both binoculars to focus cleanly on subjects less than half an inch away when recording in 2D (minimum of 32 inches when recording in 3D).
Separate images for left and right eyes are captured by a matched pair of precision G Lens optics by Sony with "Exmor R" CMOS sensors and powerful BIONZ processors. Independent electronic viewfinders provide clear, detailed images for left and right eyes, offering a stereoscopic viewing experience that's comfortable, natural and highly immersive.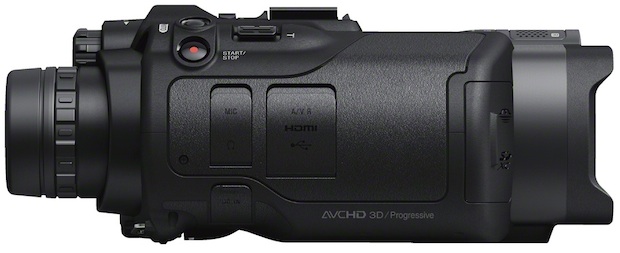 Sony DEV-5

Sony DEV-3
The DEV-3 and DEV-5 digital binoculars feature Optical SteadyShot image stabilization (Active mode), the optical stabilization system that's found on Sony Handycam camcorders and Cyber-shot cameras. Optical SteadyShot image stabilization helps keep images clear and stable, even when viewing at high magnifications. The binoculars can be connected via HDMI to a Sony BRAVIA HDTV or any HD television with HDMI input for viewing images (cable sold separately). 3D videos can be enjoyed on virtually any 3D-compatible TV, including Sony BRAVIA models. There's also a USB connection for transferring video clips to a PC for storing, editing and sharing.
The binoculars feature a "stealth" design that eliminates distracting buttons or external details that could reveal a user's position to wildlife.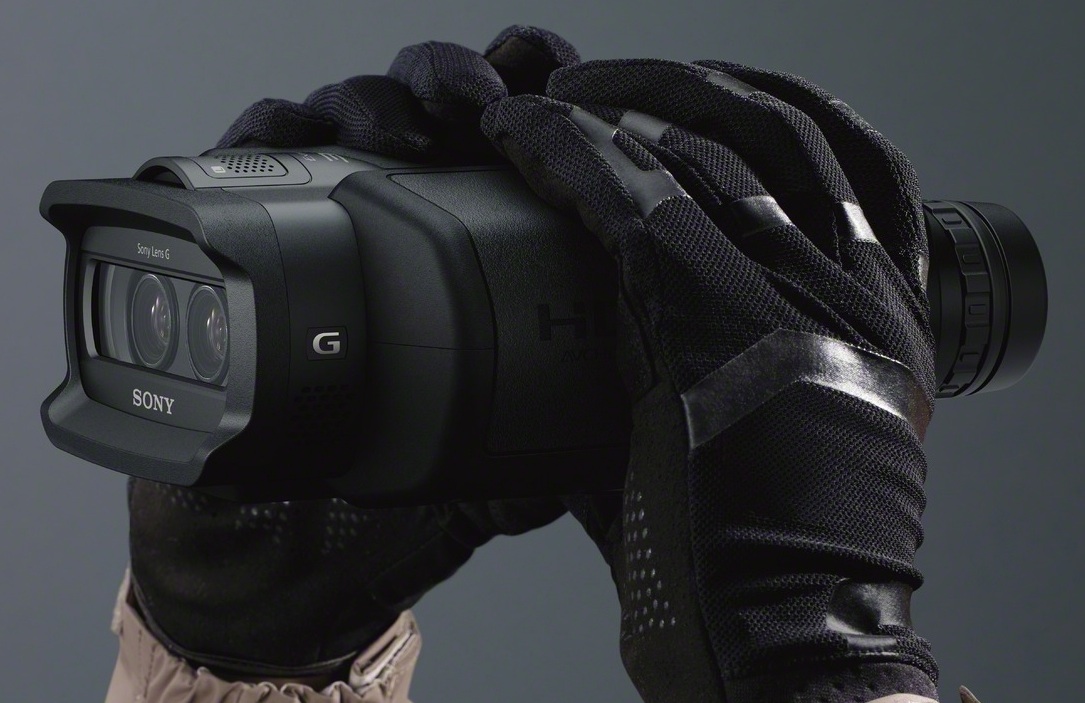 Sony DEV-3
Both binoculars feature an ergonomic grip area that's coated with an elastomer material for sure handling and stable operation. Top-mounted controls allow easy operation with gloved fingers, while dual buttons are provided to start recording instantly with either hand.
The DEV-5 model includes an on-board GPS receiver that automatically geo-tags video clips and photos. Tagged images can be viewed after shooting in online maps (requires compatible software).
Both binocular models come with a high-capacity rechargeable battery pack (NP-FV70) that allows up to approximately three hours of 2D recording on a single charge. Remaining battery time (minutes) is displayed in the electronic viewfinder.
The DEV-3 and DEV-5 models also include a battery charger/adaptor, A/V connecting cable and USB cable for PC connection. In addition, the DEV-5 binoculars are supplied with lens cover, finder cap, large eye cups, a carrying case and neck strap.
"Now consumers can watch birds, wildlife, sports action and more in steady, sharply-focused close-up views, while capturing their subjects in crisp Full HD," said Andy Bubala, director of the camcorder business at Sony Electronics. "These new models add entirely new levels of flexibility and convenience to viewing, recording and enjoying your favorite images and scenes."
Price and Availability
The Sony DEV-3 and DEV-5 digital recordable binoculars will be available in November 2011 for about $1,400 and $2,000 respectively.