Sharp Introduces LC-65GE1 AQUOS 65V-Inch*1 Digital High-Definition TV
LCD TVs Are the Choice for Viewing Impressive High-Resolution Images on the Big Screen
Sharp Corporation announces the introduction into the Japanese market of the LC-65GE1 AQUOS 65V-Inch*1 Digital High-Definition LCD TV, the world's largest*2 LCD model.
The LC-65GE1 features a full-spec high-definition LCD panel with resolution of 1,920 H x 1,080 V pixels that can precisely display digital content in Hi-Vision (high definition) format (1080i) exactly as broadcast, enabling users to enjoy beautiful, life-like, high-definition images on an impressively large screen that far surpasses other video systems, regardless of the brightness of the room. In addition to outstanding features deriving from its high-resolution, low-reflection Advanced Super View LCD panel, the LC-65GE1 also reproduces high-speed full-motion video such as sports programs with bright, clear, easy-to-view images thanks to Sharp's QS (Quick Shoot) Technology that improves moving video responsiveness.
Sharp has also developed a new Four-Wavelength Backlight that adds the wavelengths of "crimson" to blue, green and red for faithful reproduction of pure red colors. In addition, Sharp's High-Aperture Speaker System and highly rated 1-Bit Digital Amplifier deliver clear, natural, high-resolution sound.
The LC-65GE1 is designed with full attention to environmental considerations: power consumption is only 619 W, which is less than PDP televisions of the same 65V-inch class, and it uses materials well suited to recycling. Also, the ability to mount the LC-65GE1 on a wall even with its large screen size allows user to fully enjoy the LCD TV experience in a diverse range of living spaces.
This new AQUOS model has opened still more new doors for television in screen size, picture quality, color reproduction, environmental performance and design.
Sharp will continue to respond to the diverse needs of customers in the future by offering an extensive line-up of 38 AQUOS LCD TV models, with this current announcement, ranging in screen size from 13V- to 65V-inches*1.
Product name: Terrestrial/BS/CS110° Digital High-Definition: LCD TV
Nickname: Aquos
Model name: LC-65GE1
Design type: Bottom-speaker design
Suggested retail price: 1,680,000 yen (before-tax price: 1,600,000 yen)
Date of introduction in Japan: August 1, 2005
Initial monthly production 300 units
Major Features
1. 65V-inch digital high-definition LCD TV, the world's largest.
2. Features a full-spec high-definition panel with 1,920 H x 1,080 V resolution that can precisely display Hi-Vision content exactly as broadcast.
3. Newly developed Four-Wavelength Backlight adds "crimson" to the three colors of blue, green and red to reproduce "pure red."
4. Crisp, clear sound thanks to a high-aperture speaker system and Sharp's proprietary 1-Bit digital amplifier.
5. Environmentally friendly design such as low power consumption, long service life, the use of halogen-free materials, etc.
*1 "V-inch" is a measure of the true size of the flat TV screen, standardizing on the length of the diagonal dimension of the actual viewing area.
*2 Current as of June 3, 2005, for digital high-definition LCD televisions.
Outstanding Features
1. 65V-inch*1 digital high-definition LCD TV, the world's largest*2
1) Enjoy high-resolution digital HDTV broadcasts on the impressively large screen
The LC-65EG1 features a giant 65V-inch LCD panel, allowing viewers to enjoy high-quality HDTV broadcasts on a large screen never experienced before.
2) Total LCD TV design concept based on AQUOS Platform
Basing the design on the AQUOS Platform allows unparalleled high-resolution image quality and large screen size. The AQUOS Platform is built around a Network Engine, Digital Image Processing Engine, High-Efficiency LCD Drive Engine, Digital Audio Engine, and Environment Engine with the LCD panel at its core.


3) Newly developed panel driver IC uses proprietary bit depth expansion circuit in the High-Efficiency LCD Drive Engine
Using a proprietary algorithm that exploits the characteristics of human vision perception, this circuit drives the full-spec high-definition LCD panel in color depth equivalent to 10 bits for each color, thus reproducing smooth, beautiful pictures.
4) Uses Sharp's proprietary Single-Chip Digital Video Quality Enhancement IC
Sharp's proprietary high-performance digital image processing ICs are used in the Digital Image Processing Engine. Various image processing algorithms ensure highly clear and detailed image reproduction.
Unique technologies integrated into Sharp's proprietary Single-Chip Digital Video Quality Enhancement IC
All images are processed at high resolution with 10-bit color depth.
• I/P Conversion
Proprietary "Pattern Matching Motion I/P Conversion Circuit" compatible with full-spec high-definition images smoothes out edges and near-horizontal jagged lines.
• Noise Reduction
Advanced noise analysis enables natural noise reduction. Compatible with high-definition signals, this technology reduces characteristic MPEG "mosquito noise".
• Advanced Scaling
Smooth-shaping compensation precisely converts NTSC signals to high-resolution images on the full-spec high-definition LCD panel.
• Unveil Control
Based on a process used in photographic development that sharpens the picture by increasing the contrast on the edges in all sections of the picture, this technology yields natural, sharp images unattainable using conventional edge enhancement processes.
• Color Management
This function provides full control to vary the brightness, saturation and hue of the six colors (red, green, blue, cyan, magenta and yellow).
• Active Contrast Control
This technology renders video with a greater sense of contrast by controlling the brightness signal to match the image.
2. Full-spec high-definition LCD panel (1,920 H x 1,080 V pixels) that precisely reproduces HDTV broadcast content
1) Faithfully displays high-resolution, high-quality digital HDTV broadcasts
The state-of-the-art LC-65GE1 uses a 1,920 H x 1,080 V full-spec high-definition panel, the highest level in the industry. Digital HDTV broadcast content is reproduced precisely with full HD spec resolution (1080i).
2) 16:9 aspect ratio
The screen aspect ratio is 16:9, the same as the HDTV broadcast standard for accurate reproduction of digital HDTV content. Viewers enjoy detailed, true-to-life images.
3) Advanced Super View low-reflection black TFT LCD
This innovative LCD delivers crisp, super-black blacks with a high 800:1*3 contrast ratio and wide viewing angles of 170° vertically and horizontally*4.
*3 When viewed from in front of the screen.
*4 Complies with JEITA standards (angle at which a contrast ratio of 10:1 can be guaranteed).
3. Newly developed Four-Wavelength Backlight adds crimson to blue, green and red to reproduce pure red
1) True reproduction of the color crimson
The newly developed, high-brightness Four-Wavelength Backlight adds the wavelengths of
"crimson" to the wavelengths of blue, green and red. Colors previously impossible to reproduce, such as the deep red of aged wine, are displayed with clarity and depth.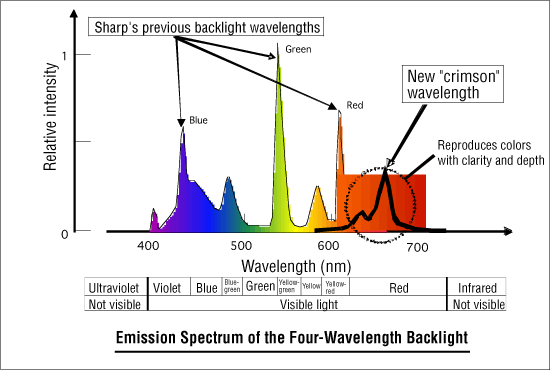 2) High brightness at 450 cd/m2 for easy visibility even in bright rooms
Improved LCD panel transmissivity combined with greater efficiency in the backlight optical system delivers a high brightness of 450 cd/m2 and ensures high image quality, making the screen easy to view even in bright spaces.
3) Brightness Sensor enhances video image reproduction in response to brightness of surrounding light
This feature monitors the brightness of the room where the viewer is watching the TV and automatically optimizes the brightness of the backlight to ensure an easy-on-the-eyes, strain-free viewing experience.
With this sensor set to ON, the brightness of the backlight is automatically adjusted to match the brightness of the viewing environment surroundings (ambient brightness). For example, movie scenes with a dark setting will appear vividly realistic.
Turning this sensor ON also saves energy.
4. High-aperture speaker system and Sharp's proprietary 1-Bit digital amplifier for impressively realistic, clear, detailed sound reproduction
1) High-aperture speaker system
(1) The mesh on the front surface of the speaker enclosures is stainless steel with an extra-high aperture ratio (approximately 50%). These speakers combine a freshness of design with clear, detailed, natural audio reproduction.
(2) The speakers' stand-alone design independent of the main unit minimizes resonance distortion.
(3) The speaker units use a 2-way 4-speaker system, including a tweeter and a passive radiator to suppress resonance distortion and that is ideal for reproducing low-range audio, ensuring a rich sound texture across the entire audio range.
2) Sharp's proprietary 1-Bit digital amplifier
A High-Precision Single-Chip Delta-Sigma Modulator IC samples at a high-speed sampling rate, delivering dynamic, richly detailed audio reproduction with a clear, natural sound by conveying an amount of information extremely close to the original.
5. Environmentally friendly design such as low power consumption, long service life and the use of halogen-free materials
1) Energy-efficient, long-service-life design
(1) The LCD panel means low power consumption: 619 W for a 65V-inch model.
(2) The LCD panel itself experiences almost no degradation over its service life, while the LCD backlight features a long service life of approximately 60,000 hours*5.
(3) Equipped with No-Signal Auto Power Off and No-Action Auto Power Off functions that reduce unnecessary power consumption by automatically shutting off the power when the broadcast day ends or when the TV has not been operated for a predetermined length of time. Another convenient energy-saving feature is Picture Off that turns only the picture off, allowing users to enjoy just the audio, such as music or the sound portion of TV broadcasts.
2) Environmental impact substances eliminated
(1) Lead-free solder used in all printed circuit boards.
(2) Use of PVC eliminated in wiring within the main unit.
(3) Hexavalent chromium, cadmium, PBB (polybrominated biphenyls) and PBDE (polybrominated diphenyl ethers) totally eliminated.
3) Environmentally friendly materials used
(1) Halogen-free materials, which have less of a tendency to generate dioxins when incinerated, used in the outer cabinet.
(2) Speaker grilles use plastic resin containing recycled material.
(3) Recycled paper used for the instruction manual. 100% recycled pulp-molded paper and 100% recycled expanded styrene used for cushioning and packaging.
*5 A measure of the time until screen brightness declines by half under continuous viewing in a room at 25°C with screen brightness in Normal mode.
6. A suite of input/output jacks, including HDMI and DVI-I input jacks
The LC-65GE1 is standard-equipped with an HDMI (High-Definition Multimedia Interface) input jack, a digital interface that allows input of images and audio from peripheral equipment through a single cable connection. Plus, a DVI (Digital Visual Interface) input jack enables connection with a PC or a DVD player for high-quality image viewing.
A variety of connection jacks
(1) Two sets of D4 inputs for display of all sorts of high-quality image sources.
(2) In addition to a built-in high-speed modem (56 kbps) and Ethernet port (10Base-T/100Base-TX) that support interactive digital broadcasts, two built-in i.LINK (TS) jacks provide connectivity for in-home digital networks with digital AV equipment, expanding the ways you can enjoy your LC-65GE1.
(3) You can also connect your existing AAC 5.1-channel audio system via the digital audio output (optical) jack or the center-speaker input jack to enjoy the LC-65GE1 as part of a home theater system.